Bond Market's Slide Deepens as Traders Waken From Stimulus Coma
By and
Yields rise as investors mull limits to global monetary easing

U.S. 10-year yields climb to highest since May as bunds tumble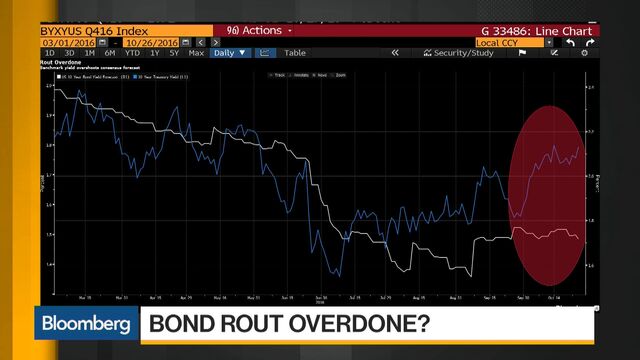 Global bonds plunged as investors reconsidered how much longer central banks in advanced economies will maintain exceptional monetary policy.
The slide began in European trading hours and cascaded into the U.S., where Treasury 10-year note yields climbed to the highest since May amid increasing confidence that the Federal Reserve will tighten policy in December. U.K. gilts spurred declines after a report showed Britain's economy grew more than forecast in the third quarter, paring expectations that the Bank of England will cut interest rates further to cushion against possible Brexit fallout.

"This is a combination of better economic growth and changing expectations for monetary policies," said Gary Pollack, who manages $12 billion as head of fixed-income trading at Deutsche Bank AG's Private Wealth Management unit in New York. "This is following the selloff in global bond markets as investors pared back their expectations for further easing by global central banks. Now long-term bond yields won't go as low as we expected."
Bonds have lost 2.5 percent in October, according to the Bloomberg Barclays Global Aggregate Index, on course for their worst month since September 2014. That was when Federal Reserve policy makers raised the estimate for their benchmark interest rate as the economic recovery firmed. European debt led Thursday's selloff, with German 10-year bund yields climbing to the highest level in almost five months, despite speculation the European Central Bank will extend its asset-purchase program this year.
U.S. 10-year yields surged six basis points, or 0.06 percentage point, to 1.85 percent as of 5 p.m. New York time, the highest closing level since May 25. The price of the 1.5 percent security due in August 2026 fell 17/32, or $5.31 per $1,000 face amount, to 96 27/32. Treasury yields serve as a benchmark for lending rates from mortgages to corporate obligations.
"People are starting to look at interest rates and where they are, and they are getting a little nervous," said Charles Comiskey, head of Treasury trading in New York at Bank of Nova Scotia, one of 23 primary dealers that trade with the Fed. "What you are seeing is what you haven't seen in some time -- lower pricing is attracting selling."

The selloff pushed the yield on German five-year notes above the ECB's minus 0.4 percent deposit rate, meaning they are now eligible for purchase under the institution's quantitative-easing program. That helps to ease the risk that the central bank may run into a scarcity problem, and may reduce pressure for an immediate change in the program. Under the rules of the program, the central bank isn't allowed to buy securities that yield less than the deposit rate.
U.K. 10-year gilt yields climbed to the highest level since June.
"It's been a big move, and if you look at the price action it's really been led by gilts," said Ed Al-Hussainy, senior global interest-rate analyst at Columbia Threadneedle Investments in Minneapolis. "One of the narratives is criticism of what the Bank of England is doing –- it's skepticism about whether they can ease further, and some uncertainty about whether they're going to look past rising inflation measures there."
'Global Theme'
Bank of Japan Governor Haruhiko Kuroda said Thursday that longer-term yields may rise even as he doesn't see an immediate need to alter rates.
"It's back to a more global theme about how much can the different central banks really do in terms of easing at this stage," said Anders Moller Lumholtz, chief analyst with Danske Bank A/S in Copenhagen. "It's the potential fear that, although most agree there will be an extension" from the ECB, "it could come with signals that at some point QE will be fading in terms of the size."
Changes to the monetary-policy status quo have shocked the global bond market before. In May and June 2013, sovereign debt markets plummeted in an event now known as the taper tantrum, when then-Fed Chairman Ben S. Bernanke signaled the central bank might slow its bond buying. November 2010, during the height of the European debt crisis, remains the worst month in the past two decades for the global bond market, which tumbled 3.8 percent.
Term Premium
A Fed Bank of New York measure of the 10-year term premium, a metric that reflects the extra compensation investors demand to hold longer-maturity debt instead of successive short-term securities, this month touched the highest since June after plunging to unprecedented levels in July. The gauge, a product of the perceived riskiness of longer-dated securities, rose to negative 0.41 percentage point Wednesday. Many bond professionals view a level below zero as signaling the debt is theoretically overvalued.
"Everything in the bond market is priced to perfection," Seth Masters, chief investment officer at AllianceBernstein Holding, said in an interview on Bloomberg Television. "The things that people think are safe have gotten so expensive that they're actually risky now."
Traders are pricing in a 73 percent probability of tighter Fed policy by year-end, up from a 68 percent chance seen a week ago, according to futures data compiled by Bloomberg. The calculations assume that the effective fed funds rate will average 0.625 percent after the next increase. Traders now only see a 17 percent change of an interest-rate hike at Fed's November policy meeting, about a week before the U.S. presidential election.
The rout didn't deter buyers as the U.S. sold $28 billion in seven-year notes Thursday, with direct bidders -- non-primary-dealer investors that place bids with the Treasury -- taking the highest share at a sale of the securities since May.
— With assistance by Eliza Ronalds-Hannon, Charlotte Ryan, David Goodman, and Brian Chappatta
Before it's here, it's on the Bloomberg Terminal.
LEARN MORE