Europe's Top Trading Firms Have Good News as Revenue Jumps
By and
Credit and rates trading business fuel revenue at both firms

Barclays chief says he's "pleased" with credit and macro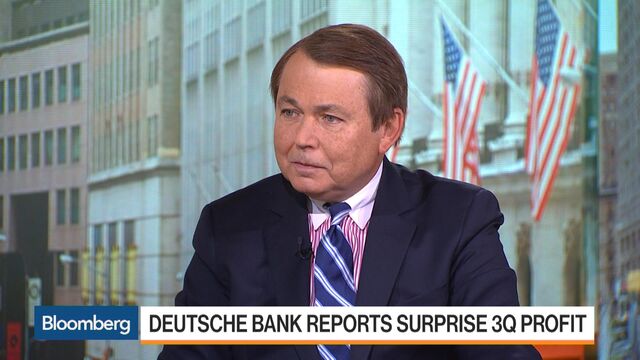 For the debt-trading desks at Europe's biggest investment banks, the hemorrhaging paused.
Barclays Plc and Deutsche Bank AG reported year-over-year jumps in fixed-income trading revenue that topped analyst estimates and helped boost third-quarter profit at both firms. The two banks' share of revenue from that business among the seven largest global firms increased slightly, after it dropped below 20 percent in the second quarter for the first time since 2013, according to data from Bloomberg Intelligence.
Barclays Chief Executive Officer Jes Staley said his firm's investment bank has picked up market share and is ready to stop shedding jobs. While Deutsche Bank CEO John Cryan said clients were unsettled by questions about the firm's capital, revenue from its trading desks climbed when a drop was predicted.
"They both did very well in fixed income," Christopher Wheeler, a bank analyst at Atlantic Equities LLP, said on Bloomberg Television. The most important task for Cryan "as he rebuilds his business is to make sure he doesn't lose his revenue streams. These numbers show that he's holding on to them."
Revenue from Barclays credit and macro business, which houses the rates and foreign exchange business, surged 40 percent to 947 million pounds ($1.16 billion) in the third quarter, the British bank said in a statement Thursday. Deutsche Bank said its debt sales and trading revenue for the same period climbed 14 percent to 2.07 billion euros driven by credit and rates at its global markets arm.
Repeat Performance?
Staley said in an interview on Bloomberg Television he's "very pleased" with the results from "principal trading desks like credit and macro" in the third quarter. "We also gained quite a bit of market share, particularly in the United States, so we feel good about our investment bank performance, it's a key part of the bank's strategy."
Bond trading has been fueled by the unexpected U.K. vote to leave the European Union, disparate views on the direction of interest rates, and an overhaul in money-market regulations. The many factors that contributed last quarter led some analysts to question whether banks will be able to replicate the results in coming months.
Banks' traders desire volatility, or swings in asset prices, as it can generate revenue by spurring clients to make bets and hedge potential losses. Yet the Bank of America Merrill Lynch GFSI Market Risk Index, a measure of future price swings implied by options trading on global equities, interest rates, currencies and commodities, has slumped since the Brexit vote in June and fell to its lowest in almost two years this week.
'Mean Reversion'
"You will need a Brexit event every six months to keep that trading productivity going or else there is a significant mean reversion coming," said Chirantan Barua, an analyst at Sanford C. Bernstein in London. "The next stop is U.S. presidential elections and Italian referendum. But, if you look at volatility, it has already started to come down. In short, unsustainable is my view."
Others pointed to debt underwriting driven by low interest rates as a factor that could help fixed-income trading hold up. Companies are on track to issue more than $2 trillion of corporate bonds in 2016 for the fifth straight year, according to data compiled by Bloomberg.
"If primary issuance stays strong and spreads low, it creates a favorable backdrop for market making," said Joseph Dickerson, an analyst at Jefferies Group LLC. "So, to that extent it could be sustainable."
U.S. Results
While the European banks held their ground last quarter, their share of the debt trading business has shrunk this year from 24 percent in 2015, data for the seven firms show.
Citigroup Inc. said this month that its bond-trading revenue surged 35 percent, and JPMorgan Chase & Co. posted $4.33 billion from the business, $1 billion more than estimates. The U.S. banks said they benefited from the uncertainty around Deutsche Bank, which has said it's losing out on business as it battles to retain confidence amid mounting legal charges.
"We've a situation where most of these fixed-income businesses have been right-sized," Wheeler said. "We've lost all the froth of the products that were around before the crisis. It's now a matter of whether or not industry is back, engaged and actually funding their businesses."
— With assistance by Richard Partington, and Stephen Morris
Before it's here, it's on the Bloomberg Terminal.
LEARN MORE