Democrats' Claims of GOP Voter-Intimidation Plot in Court Nov. 2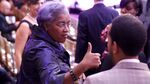 The Democratic National Committee's accusations that Republican Party leaders are conspiring with Donald Trump's presidential campaign to suppress minority-voter turnout will be considered by a federal judge Nov. 2.
U.S. District Judge John Michael Vazquez rejected the DNC's request for a temporary restraining order against the Republican National Committee but said he would make a final ruling after the hearing six days before the election.
Democrats allege the RNC is violating earlier court orders in a New Jersey case first filed in 1981. The GOP denies those claims.
The case is Democratic National Committee v. Republican National Committee, 81-cv-03876, U.S. District Court, District of New Jersey (Newark).
Before it's here, it's on the Bloomberg Terminal.
LEARN MORE