Clinton Campaign Battles Complacency in Race's Last Stretch
By
Democrats trying to keep voters energized until Election Day

Trump exudes confidence to prevent discouragement in ranks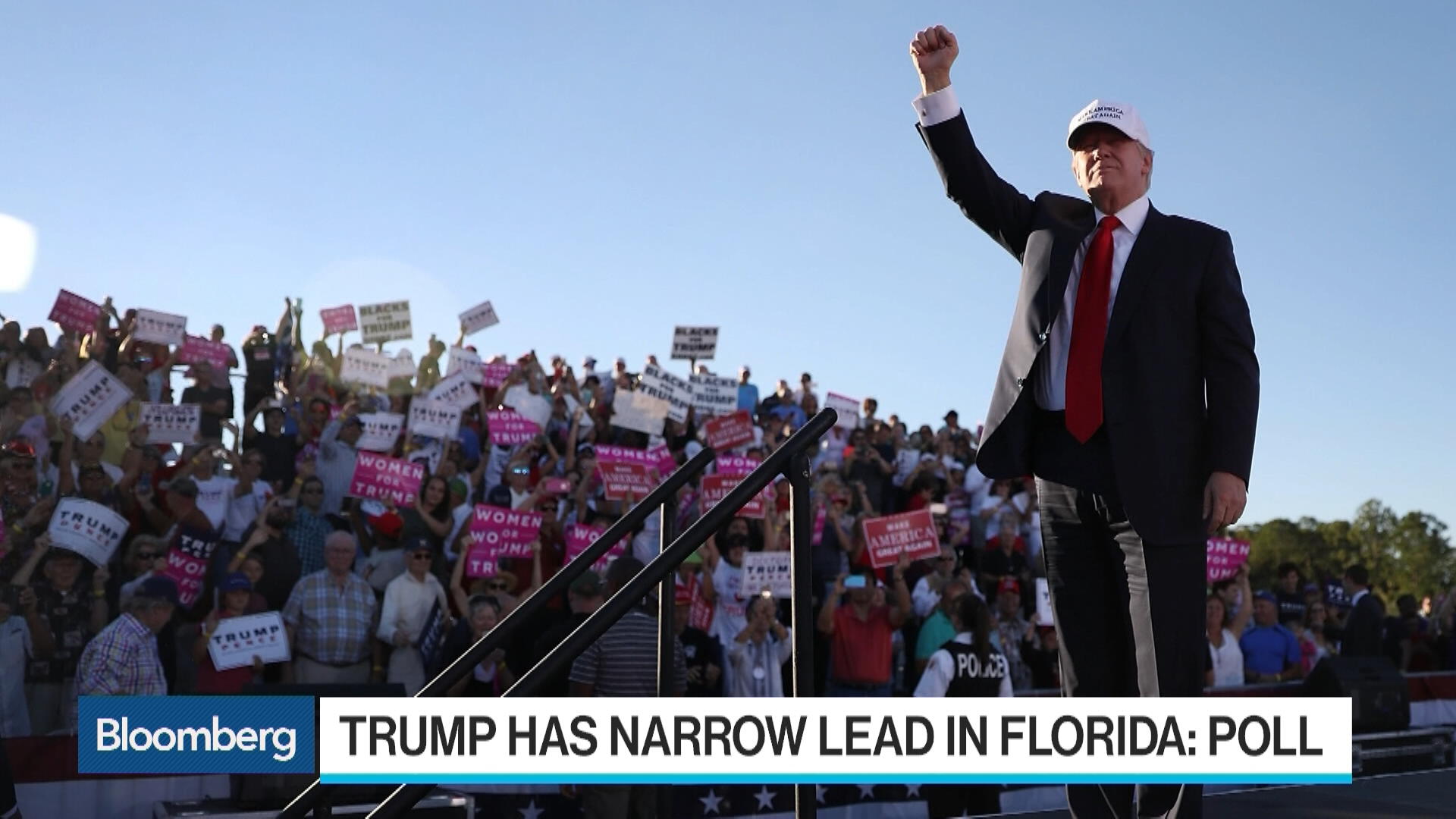 Hillary Clinton's lead in national and battleground polls and her forays into Republican strongholds belie deep concerns within her campaign that supporters, whether enthusiastic or marginal, may consider a victory over Donald Trump a foregone conclusion and skip casting a vote.
In the closing days of the race, the Democratic presidential nominee and her strategists are pulling out all their weapons, including celebrity endorsements and almost non-stop campaigning by her most prominent and popular surrogate, President Barack Obama. Clinton will campaign alongside first lady Michelle Obama, who's been especially effective in motivating the Democratic base, in the battleground state of North Carolina on Thursday.
Clinton's message on the stump is direct: pay no attention to the polls.

"No complacency here. Nobody flagging. We've got to get everybody out to vote," Clinton told her audience Wednesday in Tampa, Florida.
Clinton has been holding onto a consistent lead over Trump since August, yet the polls have been volatile and the margins varying widely, from 1 point in an Investors Business Daily/TIPP tracking poll released Wednesday to 14 points in an Associated Press/GFK poll the same day. A Monmouth University poll showed Clinton's lead in the battleground state of New Hampshire shrinking over the last month to 4 percentage points from from 9 percentage points. An NBC News/Wall Street Journal poll released hours later gave her a 9-point advantage in the state, up from 7 points a month earlier.
Close or Cakewalk
That's created a sense of both comfort and skittishness within the campaign. While a close fight can energize supporters, a potential cakewalk risks complacency.
Trump "could still win. So we're going to stay really vigilant," said Clinton communications director Jennifer Palmieri. "We feel we have the wind at our backs but we are concerned that people think that she's ahead and that they don't have to hustle as hard and we want to keep everybody hustling."
Clinton's team is so concerned about supporters taking her lead in most polls for granted that Twitter-averse campaign manager Robby Mook started tweeting. "It's going to be close. No complacency. Nose to the grindstone. Let's get to work!" he said Wednesday in his first message on the social network, linking to a video in which he cautions supporters that polls will get tighter in the next 10 days and urges them to work to get out the vote and to make plans to cast their own ballots.
Clinton told reporters aboard her plane that her campaign she's not taking anything for granted.
"There's not an ounce of complacency," Clinton said. "I feel good. But I am really determined that nobody is going to rest or stop or in any way think this election is over before it's actually over."
Trump's Challenge
Trump is battling the flip-side of complacency, discouragement among his supporters. The Republican presidential nominee said in an interview Wednesday with Bloomberg Politics co-managing editor Mark Halperin that polls are underestimating his support in several battleground states where he's currently trailing Clinton. He ticked off a list that included Pennsylvania, North Carolina and New Hampshire, and said a final push by his campaign will put him over the top in others.
"We are gonna win," Trump said.
Trump's campaign team, though, recognizes the candidate's deficit and has devised a strategy to try to limit voting among three constituencies crucial to Clinton -- white liberals, young women, and blacks -- by attacking her vulnerabilities on stage and in advertising, Bloomberg Businessweek reported.
While Clinton has a focus on winning, Democrats also are looking at the widest possible margin of victory to quash any claims by Trump that the result was skewed by fraud, and to repudiate his campaign message. At a fundraiser in San Diego on Oct. 24, Obama said the goal is "to make sure she wins big, to send a clear message about who we are as a people, to send a clear message about what America stands for."
Although Clinton and Trump are waging national campaigns, their focus is on roughly a dozen states that historically have swung between the two parties in presidential elections. Florida, with 29 electoral votes, is the biggest prize among them, and it's where Clinton spent Tuesday and Wednesday this week.
Florida Fight
A Bloomberg Politics survey released Wednesday showed Trump holding a 2 percentage point advantage over Clinton in Florida, though some other recent polls give Clinton a narrow lead.
"I am very worried. I want people to get out and vote. I don't want them to sit back," said Laura Jackson, 66, a Clinton supporter who drove two hours from Republican-heavy Fort Myers to be at Clinton's Tampa rally.
Trump has visited Jackson's area a few times in the past month and has drawn big crowds that have only motivated her more to volunteer registering voters and to prod her Clinton-supporting friends to vote. "I'm concerned because the polls are getting tighter," she said, referring to the Bloomberg Politics survey. "We're scared now."
As she frequently does in Florida, Clinton invoked the name of Democrat Al Gore. Gore won the national popular vote by more than a half million ballots in 2000 but lost the presidency when George W. Bush, after a recount, litigation and a U.S. Supreme Court decision, carried Florida by 537 votes.
"Every vote counts," she said. "Just ask my friend, former Vice President Al Gore."
Florida Senator Bill Nelson said concerns about complacency are best calmed by talking about the potential for getting too comfortable. "That's why you talk about it," he said. "And you get your people out." Clinton, he said, has a "great organization" in the state that's showing its effectiveness with big early voting totals for Democrats.
Clinton has been pushing early voting heavily in the battleground states as a way to bank votes and overcome what traditionally has been an a Republican advantage in Election Day turnout. Her campaign has touted encouraging results in states including Florida and North Carolina, where there's been an increase in participation in key Democratic counties from 2012 despite a reduction in early vote locations.
Even so, the early vote numbers in states such as Ohio and Iowa are lagging from 2012, coinciding with the tight polls in those states, said Michael McDonald, an associate professor of political science at the University of Florida who tracks early-voting statistics. In Ohio, where polls show the race essentially tied, 204,000 fewer absentee ballots had been requested statewide as of Oct. 21 compared with the same point in the 2012 election, according to the Secretary of State's Office.
— With assistance by Mark Niquette, and Margaret Talev
Before it's here, it's on the Bloomberg Terminal.
LEARN MORE