BT Second-Quarter Revenue Beats Estimates on Consumer Gains
By
Company cites gains in mobile, broadband, pay-TV businesses

BT's Patterson: Consumer businesses resilient to Brexit woes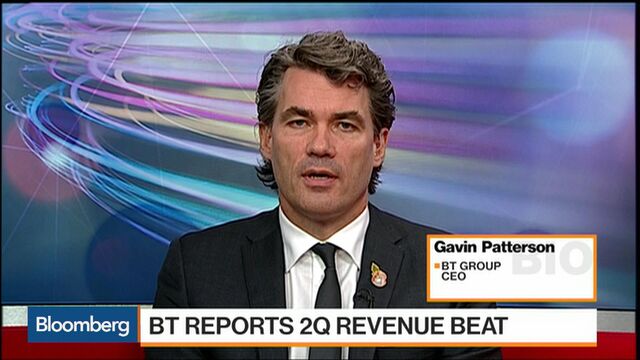 BT Group Plc reported second-quarter sales that beat analysts' estimates, boosted by customer additions in its mobile-phone, broadband and pay-television businesses.
The company added users in all three areas, it said in a statement Thursday. Revenue advanced to 6 billion pounds ($7.34 billion) in the three months ended Sept. 30, a 1.1 percent increase, adjusted to account for the purchase of wireless network EE this year. Analysts were expecting sales of 5.94 billion pounds on average.
Revenue in BT's consumer-facing businesses was up 11 percent, led by gains in broadband and TV. While the U.K.'s decision to leave the EU and the resulting weakening of the pound has had an impact on BT's results, the company's businesses are resilient, Chief Executive Officer Gavin Patterson said in a Bloomberg television interview.
"Broadband and mobile are the last things to go in the home budget," Patterson said. "People will give up vegetables before they will give up broadband." 
More broadly, uncertainty about how U.K. lawmakers will balance various interests as they formulate plans for Brexit could put investment in the country at risk, Patterson said.
"It's clear that the harder the Brexit, the harder it's going to be for U.K. economy," he said.
BT said it made progress reining in costs, generating a 0.9 percent adjusted increase in earnings before interest, taxes, depreciation and amortization to 1.89 billion pounds.
The company also confirmed an accounting probe at its Italian unit, reported by Bloomberg News in September. The investigation has found historical accounting errors and the company has "reassessed certain areas of management judgment" at BT Italia. In the second quarter, the company wrote down 145 million pounds as a result, and said the investigation is ongoing. Bloomberg reported previously that BT had suspended two top managers at BT Italia, citing people familiar with the matter.
"It would be wrong at this stage to discuss the inappropriate behavior," Patterson said on the call.
BT shares have fallen 18 percent this year, as concerns about the health of its pension and a review by regulator Ofcom have clouded the outlook for the former U.K. telecom monopoly. They climbed 0.6 percent to 385.45 pence at 9:22 a.m. in London.
The net pension deficit stood at 9.5 billion pounds at Sept. 30, up from 6.2 billion pounds on June 30, BT said.
Rivals like Sky Plc and Vodafone Group Ltd. have called for the breakup of BT, saying its control of the U.K.'s only national fixed-line network is slowing the introduction of super-fast internet access throughout the country. They say BT has dragged its feet on investing in the Openreach network, while spending on mobile-phone and television businesses that compete with theirs.
BT said its open Openreach unit added 440,000 broadband customers, over half of which were from external service providers.
"We remain of the view that our own proposals for significant governance change provide every benefit that Ofcom is seeking while avoiding extensive, disproportionate costs," BT said in the statement. "We will continue to engage with Ofcom over the coming months."
Before it's here, it's on the Bloomberg Terminal.
LEARN MORE