Wanda's Wang Goes to Shanghai Disney as Rivals Mend Fences
Bloomberg News
Chinese billionaire's Oct. 26 visit to 'observe and study'

Wanda chairman had said he wanted to 'smash' U.S. rival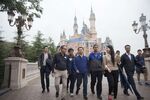 Wang Jianlin visited Walt Disney Co.'s new Shanghai resort on Wednesday, a sign the Dalian Wanda Group chairman is mending ties with the U.S. entertainment giant months after he issued a challenge to drive his theme parks rival out of China.
"The visit to Shanghai Disneyland is both an observation and study," Wang said in a statement posted on Wanda's website, which included photos of China's second-richest man touring the $5.5 billion resort accompanied by Disney executives. Wang also met with Disney CEO Bob Iger last week on a visit to the U.S., Wanda said in a separate statement.
Wang, who is planning to open a slew of Wanda City theme parks throughout China, issued his challenge to Disney as early as May, a month before the Burbank, California-based company opened its first resort in mainland China. Disney misread the Chinese market and shouldn't have stepped on his home turf, Wang said at the time.
The Chinese real estate and entertainment mogul was accompanied on his visit by Andrew Bolstein, vice president of operations, and Murray King, vice president of public affairs at Shanghai Disney Resort, according to a Disney spokesman.
Disney shares rose 0.8 percent to $93.49 by the close of trading in New York. Its shares have fallen 11 percent this year, against the 4.7 percent rise in Standard and Poor's 500 Index.
Surpass Disney
In an interview with CNN posted on the U.S. cable news channel's website on Sept. 29, Wang said that while Disney was his biggest partner when it comes to movies, it was his "arch-rival" for the entertainment tourism industry. "So of course we want to smash them," the Chinese billionaire said, according to the CNN report.
That's after Wang said in a China Central Television program, which aired in May, that Shanghai Disneyland was "one tiger" that would be no match for his planned 15 to 20 entertainment parks, which he referred to as his "pack of wolves." Wang also said Wanda aims to surpass Disney as the world's largest tourism company by 2020.
Two of the Wanda theme parks have opened this year in Hefei and Nanchang, eastern Chinese cities that are within four-hour's train ride from Shanghai.
Wang had a "cordial conversation" when he met with Iger last week, according to the statement from Wanda. The Wanda chairman had been in Los Angeles where he unveiled subsidies worth more than $150 million a year to lure filmmakers to his new studio complex in China's coastal city of Qingdao.
Companies including Lions Gate Entertainment Corp., Arclight Films and Wanda-owned Legendary Entertainment have agreed to use the Qingdao facility, Wanda said.
— With assistance by Jing Yang De Morel
Before it's here, it's on the Bloomberg Terminal.
LEARN MORE