Viacom International Chief Bob Bakish May Serve as Interim CEO
By
Veteran company executive would be third CEO in as many months

Choice fills leadership void as company weighs deal with CBS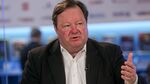 Viacom Inc. is close to naming longtime executive Bob Bakish interim chief executive officer as the company explores a possible merger with CBS Corp., according to people with knowledge of the matter.
Bakish will have the opportunity to become permanent CEO, said one of the people, who asked not to be named discussing private deliberations. The decision to name him isn't final, and someone else could be chosen, they said. Viacom's board is scheduled to meet Monday but could sooner.
Viacom, the owner of cable channels including MTV and Nickelodeon, will look to Bakish to provide stability and leadership as the board weighs a potential recombination with CBS, a process that could take weeks or months. A graduate of Columbia Business School, he has worked at Viacom since 1997 and has run the company's international networks since 2011.
The appointment would make him Viacom's third CEO in as many months. Bakish would succeed Tom Dooley, Viacom's interim chief since August. Dooley took over after billionaire Sumner Redstone and his daughter Shari, who control both companies, ousted longtime CEO Philippe Dauman following a power struggle and court fight.
 
Dauman had been a close ally of Sumner Redstone, but the company faltered under his leadership and he resisted Shari Redstone's efforts to replace him by going to court. He stepped down in August. Dooley, previously Viacom's chief operating officer, has been interim CEO since then. He plans to leave by mid-November, a few days after Viacom reports fiscal fourth-quarter earnings on Nov. 9.
The Redstone family holds a roughly 80 percent voting stake in both Viacom and CBS. The two media companies were split a decade ago and the Redstones are now pressing them to recombine. The boards of CBS and Viacom are exploring the possibility.
The controlling shareholders want CBS CEO Leslie Moonves to run the combined business, people with knowledge of the matter have said. Yet Viacom needs a leader in the interim.
Bakish was one of several possible internal candidates, along with Chief Financial Officer Wade Davis and Scott Mills, the head of human resources and chief administrative officer, people with knowledge of the matter said in late September. As head of international networks, Bakish oversaw the operations of networks like Spike and the Paramount Channel outside the U.S., as well as acquired properties like Channel 5, a U.K. broadcaster.
Viacom was unchanged in extended trading. The stock rose 0.9 percent to $37.75 at the close in New York and is down 8.3 percent this year. CBS rose 1.4 percent to $56.78 in regular trading and is up 20 percent this year.
National Amusements Inc., the Redstone family company that holds controlling stakes in both Viacom and CBS, proposed a month ago that the two companies be recombined. The Redstones made clear at the time they wouldn't support an acquisition by a third party or any deal that would end their control.
Before it's here, it's on the Bloomberg Terminal.
LEARN MORE