U.S. ELECTION WRAP: Trump Sees Some Gains With 13 Days to Go
New polls show Donald Trump gaining ground in the battlegrounds of Florida and New Hampshire, while other surveys point to clear leads by Hillary Clinton, both nationally and in key swing states.
By and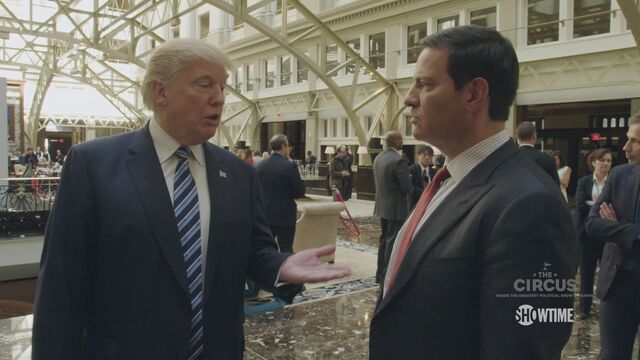 Donald Trump, who has rejected the validity of polls showing him lagging behind Hillary Clinton, received some good news Wednesday as new surveys showed him gaining ground in two critical swing states: Florida and New Hampshire.
In N.H., Clinton's lead has narrowed to 46% vs Trump's 42% in a 4-way race, a new Monmouth University Poll showed. In September, Clinton led her GOP rival by 9 points, 47%-38%
Poll volatility was on display late Wednesday afternoon when an NBC News/Wall Street Journal/Marist poll found Clinton ahead of Trump in N.H. by 9 points, 45%-36%, up 7 points from last month's survey 
In Nevada, Clinton and Trump are tied at 43% among likely voters, another NBC/WSJ/Marist poll found; an AP/ GfK poll showed Clinton leading Trump nationally by 14 points among likely voters, 51%-37%. 
Meanwhile, Trump holds a slim advantage in Florida as coveted independent voters narrowly break his way in the battleground state, according to a new Bloomberg Politics poll

Trump's showing in the poll is stronger than in other recent surveys in the Sunshine State; Clinton had an advantage of 3.1 points in the RealClearPolitics Florida average on Tuesday
While Trump currently doesn't have a path to the 270 electoral votes needed to win the presidency, or even to 265 votes, "he's not deteriorated as badly in the battleground states" as in national polls, Bloomberg Politics' Mark Halperin said on MSNBC's "Morning Joe"

Trump has "no doubts" about winning White House, he told Halperin in interview, and that polls are underestimating his support in several battleground states
Read more from interview here
MILLENNIALS
Among the youngest U.S. voters, Clinton is dominating Trump, according to a nationwide survey by Harvard University's Institute of Politics

The Democratic nominee is backed by 49% of likely voters ages 18 to 29, followed by Trump at 21%, Libertarian nominee Gary Johnson at 14% and Green Party nominee Jill Stein at 5%; in a hypothetical two-way contest, Clinton received 59% support and Trump was backed by 25%

After months of trying to attract younger voters, Clinton appears to have turned a corner, Time magazine reported

'BREXIT' CONCERNS
Trump doesn't represent an "American Brexit," Cowen analyst Chris Krueger wrote in note to clients, referring to the U.K. national referendum vote in June to leave the European Union, a a result that defied predictions

The U.S. presidential election is determined by the electoral college, not a national referendum

NOTE: Trump last week predicted that Election Day will be "Brexit times five"

ON THE TRAIL
Trump took a short break from the campaign trail to attend the formal opening of his new hotel in Washington, D.C., a few blocks from the White House

The project was completed "under budget and ahead of schedule," Trump said
"We don't hear those words too often in government, but you will"
Trump's official opening of his D.C. hotel comes on same day Chef Jose Andres, who is in a legal battle with Trump, stumps for Clinton in Florida

Trump's hotel was supposed to feature a restaurant by Andres, a famed Spanish chef

Clinton also is in Florida, where she claimed that Trump relied on undocumented workers to reduce costs while building his new luxury hotel
Trump, in Bloomberg interview, rejected Clinton's allegation about the hotel's laborers 
The GOP nominee is set to campaign on Wednesday in the battleground of North Carolina; Clinton will be there on Thursday with First Lady Michelle Obama

Former President Bill Clinton will stump for his wife on Friday in Pennsylvania

U.S.-RUSSIA
In an interview with Reuters, Trump questioned how Clinton would negotiate with Russian President Vladimir Putin after demonizing him

The GOP nominee also said Clinton's plan for Syria would "lead to World War Three," because of the potential for conflict with military forces from nuclear-armed Russia

Meanwhile, a Kremlin spokesman told reporters that Putin is ready to hold talks in his nation's interest with any U.S. leader
Putin's presence as an issue in the U.S. campaign -- with Clinton and Trump accusing one another of being a potential "puppet" of Moscow -- raises questions as to how such rhetoric might influence U.S.-Russia relations

Trump's "peculiar admiration" of Putin is "not only odd, but dangerous," Kathryn Stoner, author of "Resisting the State: Reform and Retrenchment in Post-Soviet Russia," wrote in a debate on the matter in the New York Times
The next U.S. president will inherit not a Russia problem but a "Putin problem,": Stoner
In contrast, Matthew Rojansky, director of the Kennan Institute at the Wilson Center, said the U.S. approach to Russia has failed and obsessing over Putin must stop

In an interview with Bloomberg News, Michael McFaul, former U.S. ambassador to Russia who served while Clinton was secretary of state, said there shouldn't be any "new resets" with Russia next year

McFaul said he has no doubt Clinton, if elected, would "engage with Putin pragmatically and realistically" while seeking ways to "deter and contain Russian aggressive policies

As for Trump, Stephen Sestanovich, who served in President Bill Clinton's State Department, told Bloomberg there may be something in Putin's style that appeals to Trump:

''The idea that you can succeed even while telling the rest of the world to drop dead," Sestanovich said

In a political role reversal, it's Democratic nominee Clinton, not her Republican opponent, who has emerged as the "hawk" on Russian policy, the New York Times reported last week

Sestanovich said a Clinton administration wouldn't have to "reinvent the wheel" when it comes to Russia
The main ingredients of an effective Russia policy wouldn't "be so different from what produced successful policy in the past," including strong alliances that limit Russian opportunities to "make trouble": Sestanovich

CLINTON'S BIRTHDAY
Clinton turned 69 years old Wednesday; USA Today took a look back at what was going on in the former first lady's life in prior decades

The Democratic nominee, via Twitter, posted a photo of herself as a girl: "Happy birthday to this future president"
Clinton celebrated on Tuesday night by attending an Adele concert in Miami
Earlier Tuesday, Clinton was serenaded by a mariachi band singing "Happy Birthday" on a Univision Spanish-language talk show, whose hosts gave her cake and bottle of tequila

ETC.
Mitt Romney said he regrets not doing a better job conveying conservative economic principles four years ago when he was the Republican presidential nominee, CNBC reported; Romney spoke in Washington at a Chamber of Commerce event 
Romney's 2012 running mate, House Speaker Paul Ryan, should pay for his lack of support for the current GOP nominee, Trump said privately, New York Times reported, citing two close Trump aides the newspaper didn't identify
Trump wants his team working on transition efforts to refocus on the election race, Reuters reported

Transition team, led by N.J. Gov. Chris Christie, was asked to cut back on work identifying candidates for various administration posts

Republican National Committee field staffers made more than 11.5 million knocks on doors, surpassing the number of interactions in 2012, a senior GOP representative said on a conference call with reporters
A group of Florida scientists is asking to meet with Trump to discuss climate change, Politico reported
Wall Street Journal updated its list of what has been learned so far from the WikiLeaks release of e-mails purportedly from the Clinton campaign
Trump's family fortune originated in a Canadian brothel; read Bloomberg story here
Sen. Amy Klobuchar, D-Minn., told Bloomberg's Masters in Politics podcast that Clinton may decide to move on from Merrick Garland and nominate someone else to the Supreme Court to fill the vacancy left by Antonin Scalia
A sledgehammer-wielding man destroyed Trump's Hollywood "Walk of Fame" star in an early-morning attack Wednesday, The Hill reported

CONGRESSIONAL ELECTIONS
SENATE RACES (Republicans hold 54-46 majority)
AZ: Republican Sen. John McCain's campaign released Spanish-language TV ad with testimonials from military veterans who are Hispanic

Another McCain TV ad, introduced yesterday, said the Armed Services Committee chairman "led the fight" in protecting A-10 aircraft at Davis-Monthan Air Force Base in Tucson
Neither spot mentions Democratic Rep. Ann Kirkpatrick, a sign of McCain's confidence as polls show him with clear lead in state where Clinton-Trump race is closer

CA: Democratic Rep. Loretta Sanchez's campaign released TV ad in Los Angeles market describing her as "the real deal" and saying she's the "only one" candidate who's lived and worked her entire life in southern California, has experience in national security and homeland security issues, and has bipartisan record

Ad also notes Sanchez's votes against Iraq War and Wall Street rescue package
Sanchez is underdog against Democratic state Attorney General Kamala Harris, a more liberal candidate backed by Obama and incoming Senate Democratic leader Chuck Schumer

FL: Republican Sen. Marco Rubio and Democratic Rep. Patrick Murphy's "second and final" debate tonight is "among their last chances to gain an edge in the competitive contest and to draw the support of undecided voters who've yet to cast their ballots," Miami Herald reported

Rubio led Murphy 51%-41% in Bloomberg Politics poll conducted Oct. 21-24 by Selzer & Co. of 953 likely voters (+/- 3.2 ppts)
Debate at Broward College in Davie begins at 7pm eastern time

GA: Republican Sen. Johnny Isakson's campaign released TV ad saying his job-creation plan "reaches every corner of Georgia," including Atlanta's high-tech corridors, south Georgia's farms, and the Port of Savannah "that trades with the world"

Isakson favored to defeat Democrat Jim Barksdale, though libertarian candidate in Senate race and close presidential election in Georgia raise possibility of Isakson garnering less than the majority of votes needed for victory
If no candidate wins a majority, a runoff between the top two vote-getters would be held Jan. 10, one week after 115th Congress convenes

IN: Republicans "may have ripped the bark off" Democratic ex-Sen. Evan Bayh "but they haven't chopped him down entirely in a race that will help decide whether Democrats regain the Senate majority," the Washington Post reported

Bayh's big early lead over Republican Rep. Todd Young has evaporated as Republican groups bashed him over owning homes in Washington and Florida and making millions of dollars with Apollo Global Management and McGuireWoods after leaving Senate in 2011
Bayh's campaign released TV ad accusing Young of "corrupt behavior" that's "hurting Hoosiers"; the ad references Young wrongly claiming homestead deduction and his 2010 House campaign paying fine for accepting excessive campaign contributions

NH: Democratic Gov. Maggie Hassan's campaign released TV ad featuring her daughter, who says "all families have challenges, and my mom instilled in us very early on the importance of finding solutions to those challenges"

Ad includes footage of Hassan's son, who has cerebral palsy; Hassan has said his multiple doctors and medications made her "well-aware of the flaws and strengths of our health care system"
Hassan and Republican Sen. Kelly Ayotte tied at 46% in Monmouth University poll conducted Oct. 22-25 of 401 likely voters (+/- 4.9 ppts)

NV: Democratic Senatorial Campaign Committee released TV ad showing Las Vegas woman praising Planned Parenthood and attacking Republican Rep. Joe Heck's anti-abortion position, accusing him of backing measures to "make abortions illegal" and "turning doctors into criminals"

Ad cites Heck's vote in 2012 for bill that would have banned abortions in Washington, D.C., after 20 weeks, and his vote in 2015 for bill that would ban abortions in U.S. after 20 weeks, with penalties for medical professionals who violate ban
Senate Leadership Fund, a Republican super-PAC aligned with Majority Leader Mitch McConnell, released TV ad saying retiring Democratic Sen. Harry Reid "has failed Nevada for 30 years" while criticizing Democrat Catherine Cortez Masto's record as state Attorney General
Heck this month rescinded his support for Trump yet declined to say who he would vote for in presidential election, Reno Gazette-Journal reported

PA: Republican Sen. Pat Toomey's campaign released TV ad saying "Hillary Clinton should not have a blank check with our jobs and our security"

Ad, which first aired this morning in Johnstown market, also says Democrat Katie McGinty "would give Hillary everything she wants" while "Pat Toomey would not"
Republican strategist Christopher Nicholas said on C-SPAN Toomey "aggressively keeping Donald Trump at arm's length" and denouncing his statements have "served him well"; Toomey hasn't said if he'll vote for Trump

''If you're Pat Toomey, you want to get most of the Trump vote in the state outside the Philadelphia area, and then you want to do better than Trump will in that part of the world," Nicholas said

Democratic strategist Mark Nevins said on C-SPAN the "presidential election is going to have a lot to do with how that Senate race plays out"

"If Pennsylvania goes for Secretary Clinton by 5, 6, 7 points or even more, I think it's going to be hard for Senator Toomey to overcome that headwind, and I think that could carry Katie McGinty across the finish line," Nevins said; narrower margin for Clinton is "obviously to Senator Toomey's advantage"

WI: Democratic ex-Sen. Russ Feingold's campaign released TV ad saying Republican Sen. Ron Johnson is "hurting Wisconsin families" with his positions on Social Security, student loan relief and trade pacts


HOUSE RACES (Republicans hold 246-186 majority)
DONATIONS: Pfizer Inc.'s PAC sent $127k to federal candidates and political committees in the first 19 days of Oct., including to some would-be freshmen overwhelmingly favored to win on Nov. 8, according to Federal Election Commission filing

Democratic candidates who received Pfizer PAC money included Lisa Blunt Rochester in DE-At Large, Darren Soto in FL-09, Anthony Brown in MD-04, Donald McEachin in VA-04; Republicans included Andy Biggs in AZ-05, Neal Dunn in FL-02, David Kustoff in TN-08, Scott Taylor in VA-02

CA-10: Democrat Michael Eggman and the Democratic Congressional Campaign Committee released Spanish-language TV ad tying Republican Rep. Jeff Denham to Trump and invoking Trump's 2005 comments about making unwanted sexual advances toward women

Central Valley district includes Modesto, Tracy and Turlock and is more than 40% Hispanic
Denham and Eggman in rematch of 2014 race Denham won 56%-44%
CO-06: Republican Rep. Mike Coffman's campaign released TV ad highlighting his endorsement by Denver Post's editorial page

Coffman opposed by Democratic state Sen. Morgan Carroll in suburban Denver district that opted for Obama in 2012 election

FL-07: Republican Rep. John Mica said "we're just begun to fight" and "we're firing back" against Democrat Stephanie Murphy and allied groups, The Hill reported

National Republican Congressional Committee in TV ad said Murphy is a "mystery candidate" who's backed by Minority Leader Nancy Pelosi and supports Iran nuclear deal

IA-01: Priorities USA Action, the super-PAC favoring Clinton, is "expanding its target list" into House races by airing ads linking Republican Rep. Rod Blum to Trump, the Washington Post reported

Blum opposed by Democrat Monica Vernon, a former Cedar Rapids councilwoman, in eastern Iowa district that voted 56%-42% for Obama in 2012
Blum and Vernon will debate tonight at 8pm eastern time/7pm Iowa time on KCRG-TV

IA-03: Republican Rep. David Young and Democrat Jim Mowrer will debate tonight at 9pm eastern time/8pm Iowa time on Iowa Public Television

Young was first elected in 2014 by 53%-42% in district that includes Des Moines, Council Bluffs

KS-03: Republican Rep. Kevin Yoder's campaign released TV ad featuring endorsement from George Brett, Hall of Fame baseball player for the Kansas City Royals from 1973 to 1993

Ad first ran last night on Kansas City's Fox affiliate shortly after it aired Game 1 of the World Series
Another Yoder ad is narrated by his wife, who praises his interest and work on education issues
Yoder reported raising more than $111k in past 48 hours from donors including PACs of members of Congress and Comcast Corp., as polls show closer race with Democrat Jay Sidie

LA-03: Republican Scott Angelle released 60-second TV ad promoting his opposition to Obama administration's energy policies, including proposed $10-per-barrel fee on oil

Angelle, a state public service commissioner who ran for governor in 2015, is top candidate among 12 running in all-party election Nov. 8; if no candidate wins majority, top two vote-getters compete in Dec. 10 runoff
Republican Rep. Charles Boustany is leaving open the strongly conservative southwestern district to run for Senate

MN-08: Democratic Rep. Rick Nolan, narrating TV ad while driving truck, says he'll "always defend Social Security and Medicare" and Republican businessman Stewart Mills "is at it again, spending millions on another negative smear campaign"

Vice President Joe Biden will campaign with Nolan Oct. 28 in Duluth, according to Duluth News Tribune
Nolan and Mills in rematch of 2014 race that Nolan won by <2 ppts in district that includes Iron Range

NH-01: Republican Rep. Frank Guinta's campaign released TV ad asking voters to "imagine if Hillary Clinton wins the White House" and saying Democratic ex-Rep. Carol Shea-Porter and independent Shawn O'Connor would "rubber-stamp" Clinton's agenda

Guinta would benefit from O'Connor winning votes at Shea-Porter's expense, thereby dividing anti-Guinta vote
Guinta and Shea-Porter are opponents for fourth straight election in competitive district that includes Manchester

NV-03: ESAFund, a conservative super-PAC led by TD Ameritrade founder Joe Ricketts, in TV ad referred to Democrat Jacky Rosen as a "Washington puppet" controlled by Reid and Pelosi

ESAFund backs Republican businessman Danny Tarkanian over Rosen in race for competitive metropolitan Las Vegas district

NY-24: Republican Rep. John Katko and Democrat Colleen Deacon "questioned each other's records in government service and their ability to help Central New York" in their first of three debates yesterday, Syracuse.com reported

Katko, who's seeking a second term in Democratic-leaning area, said he's "one of the most independent members in all of Congress" and had six of his bills signed into law
Deacon, a former aide to N.Y. Democratic Sen. Kirsten Gillibrand, said she wants "to be a voice at the table where there hasn't been a voice before" and work to protect Social Security and Medicare and fight for working families
Debate aired on Time Warner Cable News and can be seen here

PA-08: Republican Rep. Mike Fitzpatrick said in TV ad his brother and would-be successor, Republican Brian Fitzpatrick, "not about solving problems as a Republican or a Democrat, he's about solving problems as an American," PoliticsPA reported

Brian Fitzpatrick and Democratic state Rep. Steve Santarsiero seek competitive district that includes all of Bucks County and part of northern Montgomery County near Philadelphia
Before it's here, it's on the Bloomberg Terminal.
LEARN MORE