May Accused by Opposition of Seeking 'Bankers' Brexit'
By and
Shadow chancellor McDonnell comments in London speech

McDonnell attacks Tories' 'secret deals' and 'chaotic' Brexit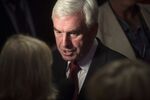 The opposition Labour Party will push for the U.K. to have full access to the European single market and fight  a "Bankers' Brexit," said John McDonnell, the party's chief voice on economic policy.
McDonnell, who shadows the position of chancellor of the exchequer, accused Prime Minister Theresa May's Conservative government of favoring financial industries over manufacturers and small businesses in how it's thinking about Brexit, in a speech in London on Thursday.
"It's important we negotiate access for the financial sector, because there's a risk to anything between 70,000 and 100,000 jobs," McDonnell said in an interview with BBC Radio 4's "Today" show. "But we can't have a situation where the government goes off to negotiate on behalf of the financial sector and ignores small businesses, ignores manufacturing and ignores other sectors of the economy."
The Tories "want to turn Britain into a Singapore of the North Atlantic," McDonnell said in his speech. Labour would instead work with the European Union to protect industries like steel and broker deals to ensure companies like Google "pay their fair share in tax."
McDonnell also highlighted the risk of inequality from May's policy of favoring "an elite few, not the majority." Since her attack on global elites in an Oct. 5 speech at the Conservative Party conference, May and her leading ministers have sought to send a more reassuring message to banks that the financial industry won't be sacrificed.
McDonnell accused May of overseeing a "chaotic Brexit" and called on her to make clear the government's approach to negotiating Britain's divorce from the EU. Retaining access to Europe's single market will be crucial, he said.
He attacked the government for favoring "secret deals" rather than seeking a consensus over Brexit, and sought to dispel accusations that Labour would harm the financial sector.
"We will fight for every job in the financial services sector," he said in answer to questions. "But it cannot be done in this chaotic way."
— With assistance by Eddie Buckle
Before it's here, it's on the Bloomberg Terminal.
LEARN MORE