U.K. Must Spend More on Investment and Infrastructure, CBI Says
By
Hammond's Autumn Statement has rarely been more important

Monetary policy is overburdened according to BOE's Carney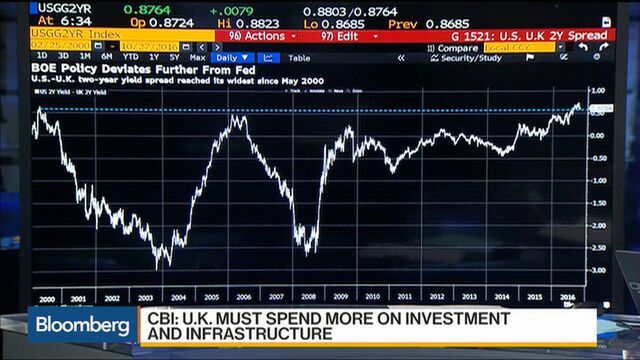 U.K. businesses are demanding action from Chancellor of the Exchequer Philip Hammond to boost productivity and stimulate confidence to counteract the uncertainty caused by Brexit.
The government should boost annual public investment by 6 billion pounds ($7.3 billion) to 2 percent of gross domestic product, the Confederation of British Industry said Thursday in a set of recommendations for Hammond's mini-budget, known as the Autumn statement, net month. It urged him to move forward with 425 billion pounds worth of proposed rail and road infrastructure projects to boost productivity in outlying regions.
Britain should "invest for the future," CBI Director-General Carolyn Fairbairn said. "There are things the government can do immediately to support the economy in an uncertain economic environment. Central to this is pressing ahead with key infrastructure projects."
While Hammond has relaxed the government's approach to deficit-reduction, he's indicated that there will be be no spending "splurge" in the statement on Nov. 23. The U.K. is already on course to borrow billions of pounds more than planned this year as it attempts to cope with the fallout from the nation's vote to leave the European Union. In September alone, the deficit widened by 10.6 billion pounds.
Hinkley, HS2
The CBI emphasized that public finances should be balanced over the economic cycle. It Warned that economic growth may slow to less than 1 percent in 2017, and said that rarely has the chancellor's address to parliament been so important.
The business group also praised the government's commitment to the Hinkley Point nuclear power plant and the High Speed 2 railway, saying HS2 should be used as a "catalyst" for other infrastructure projects. It urged a speedy delivery of plans for a new high-speed rail system across the north of England and better road links from London to other regions.
Spades in the Ground
In a separate statement on Tuesday, the industry body praised the decision to expand Heathrow airport and said it was crucial to get "spades in the ground" as soon as possible.
Other proposed stimulus measures included an increase to the annual investment allowance until 2018, cuts in business rates and greater investment in research and development -- to the tune of 3 percent of GDP.
Monetary policy has been the main tool for economic stimulus since the referendum, with the Bank of England cutting interest rates to 25 basis points and extending its program of quantitative easing in August. 
Governor Mark Carney told lawmakers on Tuesday that monetary policy was "overburdened" in providing support for the economy and suggested that the government could play a bigger role.
"Monetary policy cannot do it all," he said. "The policies of the government are not monetary policies, they're structural policies, fiscal policies, income policies, social policies, other range of policies that rightfully address these broader issues."