U.K. Fines Vodafone $5.6 Million for Customer Billing Failures
By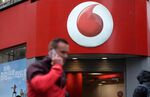 British regulators fined Vodafone Group Plc 4.63 million pounds ($5.63 million) for failing to credit customers who bought mobile-phone minutes and data, and then mishandling complaints that came in afterward.
Over 17 months, more than 10,000 customers lost 150,000 pounds, one investigation found, the regulator Ofcom said in a statement. The mistakes resulted from a new billing system, the regulator said.
"Only after Ofcom intervened did the company take effective steps to stop pay-as-you-go customers from paying money for nothing, and to reimburse those affected," Ofcom said.
The problems were exacerbated by Vodafone's failure to comply with rules on handling complaints, Ofcom said.
"Vodafone's customer service agents were not given sufficiently clear guidance on what constituted a complaint, while its processes were insufficient to ensure that all complaints were appropriately escalated or dealt with in a fair, timely manner," Ofcom said.
In a statement, Vodafone said the problems arose from a complex technology migration, and said it was working on addressing the issues for more than a year before they were sufficiently resolved. All of the customers it could identify were refunded, Vodafone said. The company said it is focused on serving its customers' needs.
"It is clear from Ofcom's findings that we did not do that often enough or well enough on a number of occasions," the company said. "We offer our profound apologies to anyone affected by these errors."
Before it's here, it's on the Bloomberg Terminal.
LEARN MORE