Trump Has No Doubts About Winning White House
"We are gonna win," the Republican presidential nominee tells Bloomberg's Mark Halperin.
By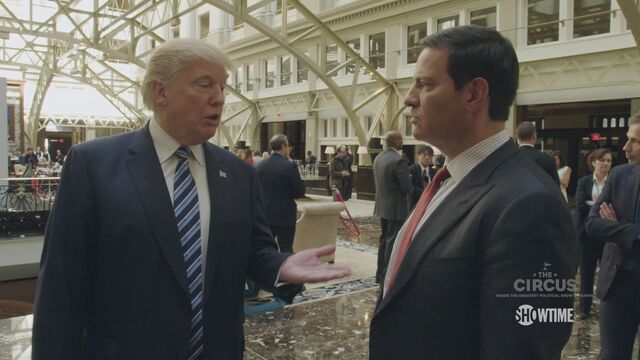 At the ribbon-cutting ceremony of his new luxury Washington hotel, Donald Trump characteristically showed no sign of self-doubt in the face of polls showing Hillary Clinton with a comfortable lead in the presidential race less than two weeks before Election Day.
In an interview with Bloomberg Politics co-managing editor Mark Halperin, the Republican presidential nominee said polls are underestimating his support in several battleground states while his supercharged final push would put him over the top in others.
"We are gonna win," Trump said. If he wasn't absolutely sure that he'd clinch at least 270 electoral votes, Trump said he'd shift his language by vowing to "try to win" without guaranteeing it.
Surveying the electoral map, Trump offered a much brighter forecast than the one suggested by polls in swing states like Pennsylvania, North Carolina, New Hampshire and Florida. A national poll released late Wednesday by Associated Press/GfK showed him losing to Clinton by a massive 14 points, 51%-37%, while a Fox News national survey also released Wednesday had Clinton ahead by three points, 44 percent to 41 percent. A CNN average of the five most recent national polls, shows Clinton leading by six points, 47 percent to 41 percent. 
The Battlegrounds
"I think we're going to do fantastically in Pennsylvania," he said, even though he's trailing by 4.3 percentage points, according to the Real Clear Politics average.
"I think we're winning North Carolina," he continued, where he's trailing in nearly every recent poll.
"I think we will soon be up in New Hampshire," he said. Later Wednesday, a new Monmouth University Poll showed Clinton's lead narrowing but still formidable at four percentage points in a four-way race. In September, Clinton led by nine.  An NBC/WSJ/Marist poll Wednesday put the NH margin at nine points. 
Trump also said that his margin of victory in Florida would be larger than the two percentage point lead that a new Bloomberg Politics poll has him beating Clinton. "I think we're winning Florida actually by much more than your poll says. You just have us two points up," he said.
Clinton, however, leads by 1.6 percentage points in the RCP average of the Sunshine State and more than doubles Trump's support in a nationwide survey of millennials by Harvard University's Institute of Politics.
Builder-in-Chief
In celebrating the success of the Washington hotel project, Trump reached for a catchphrase he's repeated since his bestselling book, "The Art of the Deal."
"Under budget and ahead of schedule," he said. "Our country has to do things under budget and ahead of schedule," adding "We can't build a highway, we can't build a bridge, we can't fix a tunnel, we're in such trouble so you know, I'm very happy with the way it's worked out."
Trump refuted Clinton's criticism that the construction relied on undocumented workers, saying his company used the e-verify system to confirm the eligibility of each one.
But he was less clear about Clinton's charge that foreign products were being used in the building. "That I don't know," Trump said. "I would like to make it so there weren't but unfortunately this country doesn't make things anymore. I mean if you look, our country doesn't make things anymore."
About the Messenger
While brimming with confidence about the state of the race and brimming with energy despite his breakneck campaign schedule, Trump was less sure about his ability to effectively communicate to enough voters.
"I don't know if I'm a great messenger, but the message is absolutely the right message," he said.
His movement was gaining an incredible amount of strength in the closing days, strength that would prove decisive at the ballot box. His evidence? At a rally this week, local authorities refused to further pack a venue, leaving a long line of supporters outside.
"You know the reason why they couldn't get in?" Trump said. "Stampede."
Before it's here, it's on the Bloomberg Terminal.
LEARN MORE