To Make Golf Fun, Just Add a Nightclub
Topgolf's driving-range-and-sports-bar-and-nightclub is one of the fastest-growing entertainment chains in the U.S.
By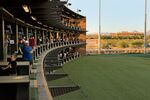 It's a Friday night in late September, when tourism begins to pick up after the heat of summer in Scottsdale, Ariz. A group of eight twentysomething guys are enjoying the warm evening on an open-air deck, reclining on low couches arranged around a table loaded with aluminum bottles of Coors Light. This Is How We Do It throbs from speakers above. A few hundred yards away, the light display at the Talking Stick Resort shimmers in pastel hues of blue, green, pink, and purple. One of the guys grabs a club, approaches the patch of artificial turf where a ball sits waiting for him, and swings, launching it on a low parabola toward Talking Stick's casino.
He and his friends are at Topgolf, the driving-range-meets-sports-bar-meets-nightclub that's one of the fastest-growing recreational entertainment chains in the U.S. Scenes like this are playing out at 25 other locations across the country tonight—people eating, watching sports, nodding along to pop songs, and hitting golf balls, all without moving more than a few paces from their beers. The three-level Scottsdale location is packed by 8 p.m.; the wait for one of its 102 hitting bays, each of which seats eight, is half an hour. This, a hostess tells me, is relatively short—the night before, she says, the wait was as long as three hours. There are kids with parents, couples on dates, and at least one bachelorette party. Those waiting bide their time in a full-service sports bar, drinking margaritas and eating flatbread pizza.

As should be clear by now, anybody looking for "a good walk spoiled" will want to skip Topgolf. "Golf is just the vehicle by which they deliver fun," says Jim Koppenhaver, president of industry consultant Pellucid. "It takes away most of the barriers to fun of the traditional game." Since 2005 the number of golfers in America has fallen 20 percent, from 30 million to 24 million, according to the National Golf Foundation. At Topgolf there's no need to buy clubs, pay dues, or set aside an afternoon to play a full 18 holes. Instead, there's the bare pleasure of whacking a ball with a club—plus beer, burgers, and flatscreens set to sports. The approach is less hushed reverence, more Dave & Buster's with 9-irons.
The first Topgolf opened in 2000 in Watford, England, a commuter town northwest of London. It was the brainchild of Dave and Steve Jolliffe, golf-loving twins who embedded radio-frequency identification chips in balls to track them. They invented a game to go with the balls, putting holes in the turf, each about 50 feet wide with a flag in the center, to use as targets. The "top" in "Topgolf" stood for "target oriented practice."
The company has since dropped the acronym, but the basic game the Jolliffes invented is still played at every Topgolf. In Scottsdale the hostess leads us to a bay on the second deck—I've brought along my dad, who, like me, hasn't been on a golf course in years. The tee faces 215 yards of turf bounded by a net more than 150 feet high. It's pay-by-the-hour—$45 during peak times at this venue—for a bay about the size of a den. Each player gets a Topgolf membership card, which the hostess swipes at a touchscreen to start our time. She explains the basic rules: No running up to the tee to hit, Happy Gilmore-style. ("We had people doing that," she says.) Only one person at a time past the red line separating the couches from the tee. And no aiming for the carts that circle the outfield sweeping up balls. The 10 holes, ranging from 25 yards to 185 yards away, look like meteor craters. There's also a "trench target" along the far net.
Topgolf's rules are generous by design. Any ball that rolls or drops into any hole scores. (You can choose more demanding scoring formats.) The farther away the hole and the closer the ball comes to the flag, the more points you get. Each player gets 20 balls per round. After each shot, a screen reports where the ball landed, the yardage, and the points scored. As we play, a waiter comes by to take our order of lagers, chips and guacamole, Buffalo wings, and something called "bacon mac 'n' cheese spring rolls." A TV shows late-season baseball.

The original Watford venue, and two more that opened in England after it, had no flatscreen TVs and no music. There was beer, pub food, and a high-tech way to practice golf. Erik Anderson, founder of private equity fund WestRiver Group and chief executive officer of Topgolf Entertainment Group, decided to bring the idea stateside in 2005. He paid a licensing fee to Topgolf's English owners and opened the first U.S. venue, in Alexandria, Va., in August of that year; locations in Dallas and suburban Chicago followed in 2007. They were still relatively modest: tees on two levels with a bucket of balls and a few deck chairs at each. Despite the recession and golf's accelerating decline, people came and spent. By the end of 2008 the company had almost 700 visitors per day at its U.S. venues.
In 2009, Anderson and a group of U.S. investors bought Topgolf's technology for an undisclosed fee and decided to overhaul the floor plan for future locations. They added a third level, tripling the size of each venue to 65,000 square feet; replaced the buckets with motion-sensing ball dispensers; and, in a key change, put TVs and lounges—effectively, the entire sports bar experience—at each bay. "We realized that this was really an integrated entertainment and sports experience," Anderson says.
The first new-generation venue opened in Allen, Texas, north of Dallas, in 2011. Within weeks there were waits to get a bay on a Saturday night. When a Houston location opened the following year, there were waits from its first day. In the past five years, Topgolf has opened 23 venues, more than half of them since the beginning of 2015. A flagship in Las Vegas, featuring two swimming pools, a concert hall, and views of the Strip, opened in May. In September the company lined up $275 million in financing to build 7 to 10 locations a year. (Each costs $20 million to $25 million to open.) "We think there's room for 100 or so in the U.S. and an equal amount globally," Anderson says, though other than the original locations, the company hasn't yet opened any outside the U.S. Revenue last year was about $300 million; this year it will be about a half-billion dollars. Topgolf's success has already inspired competitors. FlyingTee opened in Tulsa earlier this year, offering a similar combination of food, drink, and golf-as-arcade-game.
Each new Topgolf employs about 450 people, about 30 percent of them full time. To find people who can foster its party vibe, Topgolf has created a custom interview format. At the San Antonio venue, where I sat in on a recruiting event in September, hopefuls are greeted by a handful of employees, called the Tee-Up Crew, decked out in oversize sunglasses and leis and waving balloons and foam fingers. As a DJ works through hip-hop hits Watch Me (Whip/Nae Nae), Turn Down for What, and Cupid Shuffle, one older applicant, a man in khakis and a white golf shirt, hovers on the edge of the circle gamely trying to dance along with the others.
The 60 or so job seekers, mostly twentysomethings and teenagers, look like San Antonio—a mix of white, black, and Latino. The average age of a Topgolf employee is about 27, says Amber Weiss, the company's head of talent acquisition and compensation. The awkward dance-along is part of a carefully staged process that also includes group brainstorming and an "X-factor" audition: 90 seconds for the applicant to do or say whatever he wants in front of a panel of three. "We're with them for three hours," Weiss says. "We're looking for behaviors throughout that time. How do they treat each other? What do they do when they don't think they're being watched?" She says they divide applicants into three categories: rock stars, zombies (applicants who just go through the motions), and skunks (those who refuse to engage).
Back in Scottsdale, the night is just getting started. As the DJ plays Worth It, a man at a bay to our left steps across the tee line to stand behind his date and help her with her form—it's against the rules, but the staff seems unconcerned. On our right are the bachelorettes. One woman lines up four balls, smacks them one after another, and shouts, "Get in there!" Next to them is the table of young dudes, one of whom is apparently too drunk to connect with his swings. "Strike one!" shouts a friend. He whiffs again. "Strike two!" To avoid a strikeout, he gets down on his stomach and uses the club like a pool cue to poke the ball off the tee.

Before it's here, it's on the Bloomberg Terminal.
LEARN MORE