Tesla Analysts Brace for Earnings Confusion on Reporting Change
By and
Forecasters hustle to revise models amid shift in practice

Estimates vary widely as automaker hews closer to GAAP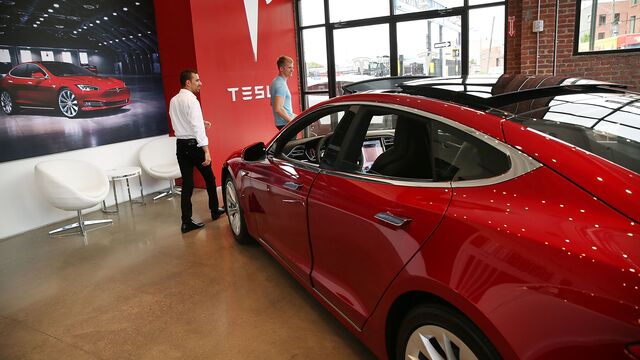 A change in the way Tesla Motors Inc. will report quarterly results after today's market close has created a bit of a last-minute headache for analysts, with earnings estimates varying widely.
The electric-car maker is phasing out most of the non-GAAP adjustments it's traditionally made, including ones for resale value guarantees or vehicles leased through banking partners. Starting today, when the company discusses third-quarter adjusted non-GAAP earnings per share, it plans to exclude only stock-based compensation.
The U.S. Securities and Exchange Commission in recent months has raised concern that public companies may be straying too far too often from Generally Accepted Accounting Principles. Though Tesla has telegraphed its plan for weeks, many analysts are only now revising forecast models and some are sitting out the guessing game entirely this time. That means it may be challenging to draw firm conclusions about whether Tesla missed or beat Wall Street expectations -- giving added importance to what Chief Executive Officer Elon Musk says on a follow-up conference call about cash or production plans.
For now, the average estimate in a Bloomberg survey of analysts stands at an adjusted loss of 54 cents a share, based on seven forecasts that have comparable methodologies that the firms say take the new practice into account. While all seven of those projected a loss, there are others who say the company may post a profit.
"About half of consensus estimates are still unadjusted; therefore, headline EPS comps will be challenging," wrote UBS analyst Colin Langan, who says the company will be helped by credits its electric cars get for being zero-emissions vehicles. "We expect Q3 EPS of $0.40, including +0.21 from ZEV credits." Tesla has already said it delivered 24,500 cars in the third quarter.
Ben Kallo of Robert W. Baird is projecting a loss of 72 cents a share. "We are updating our model ahead of Q3 results to reflect the phase-out of certain non-GAAP metrics," he wrote in a research note to clients Wednesday. "For Q3, we now expect revenue of $1.985B and non-GAAP EPS of -$0.72."
Adjusted measures are permitted by regulators and used by many companies to strip out business costs such as one-time merger expenses, litigation charges and stock-based pay. They can also mask recurring problems. In May, the SEC issued new reporting guidelines that urge companies to dramatically limit the use of adjusted figures. The SEC also cautioned managers against giving such numbers more prominence than conventional results that conform to GAAP.
Tesla began taking heed of regulators' concerns in August. That month its earnings results discussed GAAP numbers before its adjusted ones for the first time since 2012.
Before it's here, it's on the Bloomberg Terminal.
LEARN MORE