Botin's Commitment to Brazil Pay Offs for Banco Santander
By
Chairman Botin is counting on business in emerging markets

Net profit, barely changed from a year earlier, beat estimates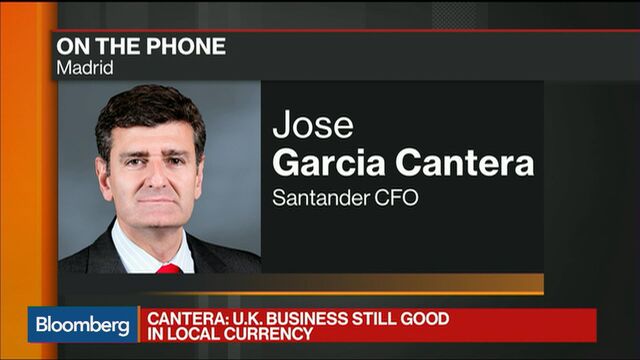 Since taking over as executive chairman two years ago, Ana Botin has defended Banco Santander SA's business in Brazil, even as it weighed on shares. Her strategy paid off in the third quarter.
The Brazil unit generated higher income from loans, fees and trades in the three months through September, that in a country mired in recession. The performance helped Spain's biggest bank offset pressure at home and in Brexit-battered Britain to beat estimates of a drop in group profit.
"Results were better than expected on Brazil business and less provisions on Spain," said Daragh Quinn, an analyst at Keefe Bruyette & Woods with an under-perform recommendation on the stock. "However, negatives for the group include net interest income in Spain and provisions in Brazil."
Botin is counting on Santander's business in emerging markets to help the lender weather diminished growth expectations in mature markets. The bank lowered its profitability target for 2018 last month, citing record-low interest rates, higher regulatory costs and weak demand for credit in the U.K. and other countries where it has a large presence.
'Worst Over'

Brazil overtook Britain to become Santander's largest market during the quarter, while the U.K. business wound up dragging on the group. Profit from the U.K. declined 24 percent when reported in euros, reflecting weakness in the pound around the vote to leave the European Union. In Brazil, net income rose 27 percent in euros from a year earlier, although higher provisions took some of the shine off the performance.
"The worst in Brazil is clearly over, the prospects for Brazil look better," Chief Financial Officer Jose Antonio Garcia Cantera said in a Bloomberg TV interview Wednesday after the bank published results. Provisions rose 17 percent to 951 million euros ($1.04 billion) from 813 million euros, mainly due to a single client, Garcia Cantera told analysts in a conference call. He didn't elaborate.
After a two-year slump, Brazil is expected to return to growth in 2017, and President Michel Temer is trying to win back investors. He won't have to persuade Botin. Earlier this year, she reaffirmed her confidence in Latin America's largest economy, saying the long-term story of Brazil is growth.
Brexit Effect

Britain, meanwhile, faces tougher times, according to Nathan Bostock, head of Santander's U.K. unit. "Although we have not seen an immediate impact following the EU referendum, we do expect a more challenging macroeconomic environment ahead," he said.
Santander's shares dropped 35 percent last year as Brazil confronted a selloff in the real. They are down 2.4 percent this year compared with a 17 percent decline in the benchmark STOXX Europe 600 Banks Price Index, which tracks the region's lenders.
The bank recorded a net income of 1.7 billion euros in the third quarter, an increase of 0.9 percent from 1.68 billion euros a year earlier. Analysts surveyed by Bloomberg had estimated 1.54 billion euros on average.
Net interest income, or revenue generated from the difference between what banks charge for loans and pay on deposits, dropped to 7.8 billion euros from 7.98 billion euros a year ago. Profit fell 13 percent in Spain, with net interest income declining 13 percent.
Before it's here, it's on the Bloomberg Terminal.
LEARN MORE