S&P's Not Yet Ready to Upgrade Indonesia's Rating from Junk
Bloomberg News
Ratings company to meet with finance minister in coming weeks

Indonesia failed to win rating upgrade from S&P in June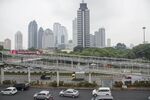 S&P Global Ratings may not be ready to upgrade Indonesia's credit rating from junk yet, concerned by rising bad debts and risks to the growth outlook.
While S&P is "broadly optimistic" about Indonesia's economy, there are worries that are still holding back a higher rating,  Kyran Curry, a director of sovereign ratings and S&P's primary analyst for the country, said by phone from Singapore on Tuesday.
"It's very hard for me to recommend to a rating committee a higher rating on a country like Indonesia when there are material headwinds that are presenting at the moment," he said. "And one is in the corporate sector and the second one is in the banking sector."
Indonesia failed in June to win an upgrade from S&P, which rates the nation's debt at BB+ with a positive outlook. S&P said at the time that while the country's fiscal framework had improved, it still faced challenges on its budget performance. The ratings company will meet with Indonesian Finance Minister Sri Mulyani Indrawati within the next few weeks before it makes its next assessment due in December.

The banking sector is "still a fairly profitable system, it's self-funded, it's not reliant on external savings to fund its loan book growth and lending standards are adequate," Curry said. "But at the same time non-performing loans are rising because of the stresses in the corporate sector."
Uncertain Outlook
He added that capital adequacy ratios are sound, liquidity is "still ok" and that there are reasonable buffers in place.
The non-performing loan ratio climbed to 3.2 percent at the end of July from 2.7 percent a year earlier, according to data from the Indonesia Financial Services Authority.
"So this is not all a positive story," said Curry. "There are some downward risks there, and combine that with the economic outlook which remains uncertain at the moment then the risks are still quite material."
S&P is the last of the three main credit-rating companies to keep Indonesia on junk status. Curry said S&P still maintains a positive outlook on the nation's debt and that President Joko Widodo had put in place good policies that demonstrated he was leading an administration that "was more reformist than previous governments."
Josua Pardede, an economist at PT Bank Permata in Jakarta, said Indonesia still faces fiscal risks. He estimated the tax shortfall for this year will be more than 200 trillion rupiah ($15 billion), causing the budget deficit to widen to around 2.7 percent of gross domestic product. The government has a deficit cap of 3 percent of GDP.
"We've seen in the last two years that although the subsidy on energy is already being reallocated to more productive sectors, the fact remains the tax shortfall has increased," he said. "That's the reason why S&P has not been ready yet to upgrade Indonesia, but I think next year Indonesia should have a greater chance."
Tax Amnesty
Widodo, also known as Jokowi, pushed through a tax amnesty program this year that's earned the government about 98 trillion rupiah so far, helping to ease pressure on the budget.
He has pledged to ramp up spending on new roads, ports, railways and airports to boost economic growth to 7 percent. Growth has been lagging following a slump in commodity prices, with the central bank this week forecasting expansion at the lower end of its 4.9 percent to 5.3 percent range this year.
"We would observe that the tax amnesty bill is showing dividends and it looks like it's going to lead to improved revenue performance going forward. That's very important," Curry said. Economic growth remains "relatively good," which will support the government's revenue and fiscal performance, he said.
Indonesia has also made strides in managing inflation and the currency, with the central bank allowing more flexibility for the rupiah to be determined by the market, Curry said.

"From a governance viewpoint what we've been seeing and why the rating is on a positive outlook at the moment is that there is much better policy coordination between the BI and the Ministry of Finance and the other areas of economic policy," he said.
Indrawati's return to the country as finance minister after a stint as a World Bank managing director in Washington has also reinforced S&P's assessment of Indonesia.
"This new finance minister comes to the role with very impressive credentials and we think it's strongly likely that she will address some of the momentum in following through on the government's fiscal priorities," Curry said. "She's a very gifted policy maker and we expect that to really help the fiscal story."
— With assistance by Thomas Kutty Abraham
Before it's here, it's on the Bloomberg Terminal.
LEARN MORE