Obama to Hit the Road for Clinton as Campaign Nears Conclusion
By
President will travel most of last week before election

White House is hoping for a rout and focusing on down-ballot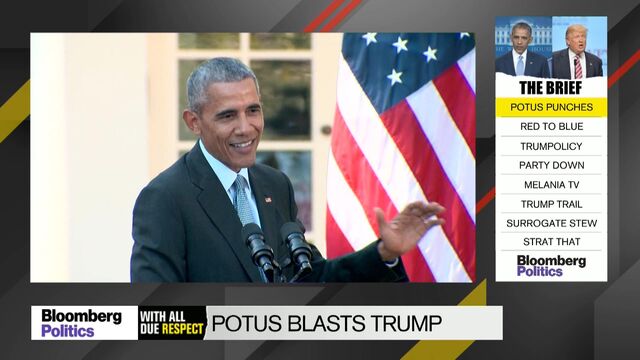 President Barack Obama is slamming his foot on the gas pedal ahead of Election Day, planning to be on the road campaigning for Hillary Clinton most of the final week before voters head to the polls, a person familiar with the president's plans said.
The campaign blitz underscores Obama's desire not just to bolster the Democratic presidential nominee in the race to replace him, but to deliver margins he believes would repudiate the rhetoric and tactics of her opponent, Republican Donald Trump.
"We've got to work as hard as we can, not just to make sure that Hillary wins, but to make sure she wins big, to send a clear message about who we are as a people, to send a clear message about what America stands for," Obama said at a fundraiser in San Diego on Monday. "We don't just want to eke it out -- particularly when the other guy is already starting to gripe about how the game is rigged."
Obama's schedule emphasizes that while Clinton has opened a decided polling advantage in the presidential race two weeks before the election -- the Democratic nominee led Trump by 9 percentage points in the latest Bloomberg Politics national survey of likely voters -- Obama remains a uniquely helpful ally. The president's approval rating is 52 percent, according to the latest Gallup tracking poll, and surveys show he is better liked and trusted than either of the candidates running to replace him.
The president hopes to both fortify Clinton's advantage and to use Trump -- and his record of controversial statements and actions, particularly involving women and minorities -- as a cudgel against down-ballot Republicans. Obama has already appeared at events for five Democratic candidates, and his travel in the final week will include more stops on behalf of people running for seats in the House and Senate, White House Press Secretary Josh Earnest said.
In recent appearances in Nevada and Florida, Obama hammered Representative Joe Heck and Senator Marco Rubio, Republicans seeking election and re-election to the Senate, for condoning Trump's behavior.
"You can't object to the things that Trump says and what he stands for, when he starts undermining our democracy by saying he may not even accept the results of an election and then say that you wish you could stick with him," Obama said at a Las Vegas rally in support of Democratic Senate candidate Catherine Cortez Mastro. "That's not leadership. That's cynical."
At the fundraiser in San Diego, Obama said he and first lady Michelle Obama were working particularly hard in the closing days of the campaign because they saw the election as a referendum on American values.
"She understands, as I understand, that some more fundamental values are at stake in this election," Obama said. "It has to do with our basic standards of decency."
In addition to campaign travel, Obama is cutting scores of advertisements for down-ballot Democrats. He's taped television commercials for at least five Democratic candidates for the Senate, five competing for House seats, and Governor Kate Brown of Oregon, according to a Democratic official. He's recorded nearly a dozen radio spots for Democratic congressional candidates, and plans to record robocalls, television ads or radio ads for around 150 state legislative races.
Aides say there's another reason Obama is eager to campaign -- he's enjoying himself.
"Having an opportunity to travel across the country and address large enthusiastic crowds who are clearly excited to see him out on the stump -- it's fun," Earnest said. "He gets a lot of energy from that."