Lloyds Says It Can Maintain Lending Margins Despite Low Rates
By
CFO says net interest margin will likely stay at 2.7% in 2017

Some analysts discount capital boost driven by accounting move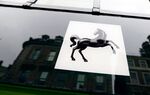 Lloyds Banking Group Plc, Britain's largest mortgage lender, said it expects to maintain lending margins next year and reassured investors on its outlook for dividends.
The bank's net interest margin should hold steady around 2.7 percent in 2017 even as the Bank of England keeps interest rates at record-low levels, and the firm will generate enough capital to pay a higher dividend for this year, Chief Financial Officer George Culmer said on a call with analysts on Wednesday. The stock rose, after earlier dropping as much as 3.8 percent on a decline in third-quarter profit.
"As we look forward now, we feel pretty good" about the outlook for net interest margin, Culmer said on the call. The measure, which is the difference between income from lending and the cost of funding, was 2.69 percent in the third quarter.
Chief Executive Officer Antonio Horta-Osorio, 52, is attempting to navigate record-low interest rates and a potential economic slowdown sparked by the country's vote to leave the European Union. He told analysts the BOE's 100 billion-pound ($120 billion) Term Funding Scheme, cutting interest rates for depositors and removing expensive wholesale market funding will help the bank to maintain its profit margins.
Profit Decline
Third-quarter profit dropped 15 percent on a 1 billion-pound charge to compensate customers who were wrongly sold loan insurance. Excluding the charge and other one-time items, profit fell 3 percent to 1.91 billion pounds, the London-based bank said in a statement Wednesday, missing the 2.04 billion-pound average of six estimates compiled by Bloomberg News.
The firm's core Tier 1 capital ratio rose to 13.4 percent from 13 percent at the end of June, driven by a gain tied to switching the way it classifies U.K. sovereign bonds on its balance sheet. The figure is closely watched because Horta-Osorio has pledged to return excess cash above 13 percent to shareholders.
Although the increase came from a one-off accounting benefit, it will still count when the bank comes to assess how much cash it can return to investors through dividends, Culmer said.
"This is not an inferior form of capital," Culmer said on a call with analysts later on Wednesday. "It will form part of distribution deliberations at the end of the year."
Capital Generation
The bank reiterated that it will generate about 160 basis points of capital this year, after cutting its guidance in half-year earnings from 200 basis points following the Brexit vote.
"Crucially, capital generation – the raw material for our positive view on dividends – remains good," analysts led by Jason Napier at UBS Group AG wrote in a note to clients with a buy rating on shares.
Culmer's comments came after some analysts questioned the quality of the boost in the bank's capital ratio. The lender said it reclassified 20 billion-pounds of gilts to available for sale from their previous status of held to maturity, which added 80 basis points to the ratio. That helped offset a 20 basis-point hit from its pension fund swinging to a 740 million-pound deficit in the period.
"When a bank resorts to stuff like this, you know they are definitely reaching down the back of the sofa," said Chirantan Barua, an analyst at Bernstein with an underperform rating on the shares. "The higher capital print is misleading."
The increase in provisions for wrongly sold payment protection insurance come after the U.K.'s Financial Conduct Authority pushed back a proposed deadline for consumer complaints by one year to mid-2019, forcing lenders to set aside additional funds for compensation. Lloyds has now taken more than 17 billion pounds in charges for PPI, more than any other major British lender in a scandal that has cost the industry more than 30 billion pounds since it first began in 2011.

Pretax profit fell to 811 million pounds from 958 million pounds a year earlier. Impairments climbed 30 percent from a year earlier to 204 million pounds, more than the 184 million pounds analysts estimated. Revenue climbed 1 percent to 4.28 billion pounds.
Operating costs were little changed from a year earlier at 1.92 billion pounds. Horta-Osorio is about three-quarters of the way through his plan to eliminate 12,000 roles by 2017 to reduce expenses.
Lloyds is exposed to a potential slowdown in the U.K. economy from the country's vote to leave the European Union, with about 95 percent of its assets in Britain. Although the bank isn't seeing any change to consumer habits since the June 23 vote, small business customers have paused their investment plans, Horta-Osorio said.
The bank has seen "some retraction on the investment and loan side, but nothing that is too significant," the CEO said on a call with reporters. So far "it's too early to assess any longer-term trends."
— With assistance by Stephen Morris
Before it's here, it's on the Bloomberg Terminal.
LEARN MORE