Masters in Politics Podcast
Klobuchar Says She's Unsure Clinton Would Stick With Garland for Court
"That is going to be entirely up to her and I really couldn't predict what would happen," the Minnesota senator said.
By and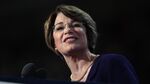 If she wins the presidential race, Hillary Clinton may decide to move on from Merrick Garland and nominate someone else to the Supreme Court to fill the vacancy left by Antonin Scalia. 
"That is going to be entirely up to her and I really couldn't predict what would happen," Amy Klobuchar, the senior U.S. senator from Minnesota, told Bloomberg's Masters in Politics podcast. "She has said that she's going to make her own decision. I do think he's someone who's qualified and would get probably confirmed rather quickly, but that it's going to be up to her."
Garland's nomination has been stalled in the Senate as Republicans have refused to hold hearings on his confirmation. Klobuchar says she remains optimistic that if Clinton wins, her colleagues could still confirm Garland in the lame-duck session. 
"Well, I'm hopeful we'll have a hearing and can get a vote. There have been some rumblings about that certain senators have talked about doing that, again Senator Flake. Senator Grassley was at a town hall and someone asked and he said, 'Well, enough people, other senators, talk to me about it maybe I'll look at that.' To me we just can't keep going like this," Klobuchar said.
Citing the backlog of cases facing the Supreme Court, Klobuchar warned that further delays would be risky. 
"Can you imagine if we wait another six months, or a year, with all of these cases pending it's gotten to the point where it will be a constitutional crisis?" Klobuchar said. 
Looking ahead to other big issues facing Congress, like immigration reform and tax reform, Klobuchar does predict that under a Clinton presidency, both parties will find a way to work together. "I'm not saying it will be perfect and that people won't have arguments and disagreements, there will be some name-calling it, but I don't think people want to continue this newfound anger and this newfound use of words and divisiveness on a daily basis," Klobuchar said. 
In the second half of the podcast, Bloomberg Politics reporter Kevin Cirilli discusses covering the presidential campaign of Donald Trump. 
Before it's here, it's on the Bloomberg Terminal.
LEARN MORE