Ericsson Names Wallenberg Insider as CEO to Revive Fortunes
By
Incoming CEO Borje Ekholm is former head of Investor AB

Analyst: 'Hard to see this as a fresh wind coming in'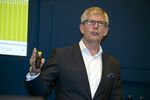 Sweden's Wallenberg dynasty tightened its grip over Ericsson AB, its troubled, most high-profile asset, moving a trusted executive and former head of its investment company to lead the embattled network equipment maker.
Borje Ekholm, a board member at Ericsson, will start as chief executive officer Jan. 16, according to a statement Wednesday. Ekholm was CEO of Investor AB, the Wallenberg family's publicly traded holding company, for a decade through mid-2015. He takes over from Jan Frykhammar, who has been acting CEO since July.
In Ekholm, Ericsson gets an executive who's helped oversee the company as it sailed into the current storm, rather than an outsider who would signal more radical change. He inherits the task of turning around Ericsson amid a slump in spending by its phone-carrier customers that's led to a 44 percent drop in the stock this year, the ouster of former CEO Hans Vestberg and a surprise collapse in sales and profit delivered two weeks ago.
"It's hard to see this as some fresh wind coming in," Daniel Djurberg, an analyst at Handelsbanken in Stockholm, said by phone. While the appointment creates a lot of questions, "he's been on the board for over 10 years, I believe he knows telecom industry quite well."

After rising earlier, Ericsson fell following a press conference with the new CEO. Ekholm offered little in terms of guidance on what he plans to do, saying only that he supports further cost cuts Frykhammar has discussed, and that the company will have to invest in some technologies while de-emphasizing others. He didn't offer specifics.
"That's something I feel very comfortable about and something I think we can do," Ekholm said.
Ericsson fell 1.2 percent to 44 kronor at 11:39 a.m. in Stockholm, after gaining as much as 3.5 percent earlier. The share drop gives Ericsson a market value of 147 billion kronor ($16.5 billion).
Ekholm, who is in his mid-50s, was Investor AB's CEO between September 2005 and May 2015, when he changed roles to become head of the investment company's new Patricia Industries unit. The division includes the company's wholly-owned subsidiaries, partner-owned investments and financial investments, including Molnlycke Health Care, Permobil, Aleris, Vectura and 3 Scandinavia. Investor AB's other division focuses on active ownership in listed core investments.
For Gadfly columnist Leila Abboud's take on the Ekholm hire, click here.
Ericsson has been muddling through an industry slump that's cut deeper than it expected as competition from Huawei Technologies Co. and Nokia Oyj exacerbated a cyclical downturn. The crisis at the company has drawn out Investor and Ericsson's other big shareholder, Industrivarden AB, which both have made uncharacteristic public comments on the situation and the urgency needed in finding new leadership.
The two investors each chipped in to give Ekholm 2 million call options that will pay off if the stock almost doubles to 80 kronor after seven years.
The appointment of Ekholm, an engineer and long-time Wallenberg executive, is surprising but mainly positive, said Carina Lundberg, head of responsible ownership at Swedish insurance company Folksam, which owned 30 million Ericsson shares as of Oct. 14.
"In this acute situation he can offer stability and calm, which is a prerequisite for the company to move forward," Lundberg said by phone. "He has the potential, but you can never be sure when it comes to Ericsson. He needs to show that he's not only an investment company CEO but that he can be an operational leader."
During Ekholm's tenure as CEO, Investor AB's share price tripled in value. He oversaw the spin-off Husqvarna AB from appliance maker Electrolux AB in 2006, the acquisition of Molnlycke in 2007 and the investment in Biovitrum and the subsequent merger between the healthcare company and Swedish Orphan International in 2009. More recently he led the purchase of shares in Wartsila Oyj in 2012 and the acquisition of Permobil in 2013.
Investor AB has about 22 percent of the voting rights in Ericsson and shares control of the company with Industrivarden, a Stockholm-listed holding company run by chairman and billionaire Fredrik Lundberg.
— With assistance by Anna Molin, Niklas Magnusson, and Kasper Viita
Before it's here, it's on the Bloomberg Terminal.
LEARN MORE