Five Things You Need to Know to Start Your Day
Get caught up on what's moving markets.
By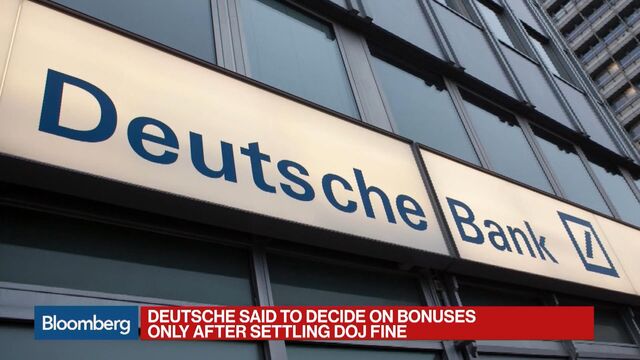 Want to receive this post in your inbox every morning? Sign up here.
Deutsche Bank reimagines bonuses, Trump leads in Florida poll, and Brexit is still bad news. Here are some of the things people in markets are talking about today.
Bonuses
Deutsche Bank AG, Europe's biggest investment bank, is exploring ways to change how it pays bonuses as it continues efforts to shore up its balance sheet. According to people familiar with the matter, executives are looking at options including replacing cash payouts with shares in the company. The bank, which reports earnings tomorrow, continues to be under pressure from investors concerned about it capital levels. Shares in Deutsche Bank were 0.8 percent higher at 6:00 a.m. ET. 
Trump leads in Florida poll
Republican presidential nominee Donald Trump held a two-point lead in Florida, according to the latest Bloomberg Politics poll, which includes third-party candidates. In a hypothetical two-way race, Trump's lead over Clinton drops to one point, highlighting the importance of the independent vote. On the campaign trail, Trump has seized on news that Obamacare costs are due to rise next year.
More bad Brexit news
London house prices are forecast to drop 5.6 percent next year as uncertainty about Britain's future dampens the market, according to the Centre for Economics and Business Research. Optimism over U.K. stock prices is also fading, with the cost of hedging against price swings rising to the highest since early June. On the policy front, the big question continues to be whether Mark Carney will stay on as governor of the Bank of England after he refused to clarify his position during a Q&A session in the U.K. parliament yesterday. Meanwhile, the Resolution Foundation has predicted that there will be an 84 billion-pound ($102 billion) weakening in the U.K.'s public finances over the next five years and Goldman Sachs Group Inc. analysts figure the pound is 10 percent too expensive.
Markets drop
Overnight, the MSCI Asia Pacific Index slipped 0.1 percent while Japan's Topix index gained o.4 percent, lifted by positive earnings reports. In Europe, the Stoxx 600 was down 0.8 percent at 6:20 a.m. ET as Bayer AG and builder Vinci SA reported disappointing earnings. S&P 500 futures were 0.4 percent lower in the wake of Apple Inc.'s disappointing results. 
Coming up...
At 8:30 a.m. ET we get wholesale inventories data, with analysts expecting a modest return to growth of 0.1 percent in September. At 9:25 a.m. Markit releases its preliminary services and composite PMI numbers for the U.S. economy, with new homes-sales data for September also due at 10:00 a.m. ET. 
What we've been reading 
This is what's caught our eye over the last 24 hours.