Clinton Says AT&T-Time Warner Deal Raises Concerns and Questions
By
Government must conduct 'thorough analysis,' candidate says

Time Warner shares trading 17% below offer price on skepticism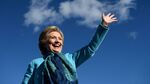 Hillary Clinton said AT&T Inc.'s proposed $85.4 billion deal to acquire Time Warner Inc. raises concerns and should be closely scrutinized by U.S. regulators before they decide whether to sign off on the tie-up.
"It raises questions and concerns and they should be looked into," the Democratic presidential nominee told reporters on her campaign plane on Wednesday. "So I'm going to follow it closely, and obviously if I'm fortunate enough to be president, I will expect the government to conduct a very thorough analysis before making a decision."
Since Clinton leads in the polls over Republican nominee Donald Trump, her words -- her first on the topic -- could be another note of caution for investors, who are already skeptical the deal will be completed. Time Warner shares closed yesterday at $88.70, 17 percent below AT&T's offer price. The companies have said they expect to close the deal by the end of 2017.
Investors take Clinton's remarks seriously. In August, she sent Mylan NV's shares plummeting as much as 6.2 percent after calling for the company to drop the price of its EpiPen emergency allergy shot. She drove the Nasdaq Biotechnology Index down on the morning of Sept. 21, 2015, when she tweeted: "Price gouging like this in the specialty drug market is outrageous. Tomorrow I'll lay out a plan to take it on."
AT&T, the largest U.S. phone carrier and pay-TV provider, has said the purchase of Time Warner will let it provide more programming consumers want over whatever device they prefer. Time Warner, which owns the Warner Bros. movie studio and cable channels like HBO and CNN, doesn't compete directly with AT&T, so a merger wouldn't be harmful to consumers, the companies have argued. AT&T didn't immediately respond to a request for comment Thursday.
Critics such as Free Press, a telecommunications advocacy group, have said the deal would concentrate too much power over media in one company's hands.
Trump said over the weekend he'd try to block the deal if elected. Lawmakers from both parties also have called for government scrutiny.
With AT&T and Time Warner, the deal will be scrutinized by antitrust regulators, who assess for anti-competitive effects, and possibly by the Federal Communications Commission as well, which can take a broader look.
— With assistance by Scott Moritz
Before it's here, it's on the Bloomberg Terminal.
LEARN MORE