Christie Aide Says 7 Witnesses Lied, Mistaken at Trial's End
By
Kelly says innocent explanations behind e-mails and texts

Closing arguments in bridge lane-closing case set for Thursday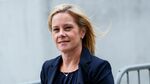 The George Washington Bridge traffic jams trial is wrapping up after a former top aide to New Jersey Governor Chris Christie said seven prosecution witnesses lied or had faulty memories in testifying against her.
Bridget Anne Kelly, Christie's former deputy chief of staff, concluded her fourth day of testimony Wednesday in federal court in Newark. She denied that she helped to orchestrate a plot to create traffic jams by closing access lanes to the bridge in September 2013 to punish Mark Sokolich, the mayor of nearby Fort Lee, for not endorsing the governor's re-election.
Kelly, 44, also said there were innocent explanations for several e-mails and texts that prosecutors offered as evidence that she participated in the scheme. They include one infamous e-mail that she wrote in August 2013, a month before the lane closings, in which she said, "Time for some traffic problems in Fort Lee." She said she deleted e-mails about the lane closings in December 2013 because she was scared that Christie and his top aides appeared to be setting her up as a scapegoat.
Kelly is on trial with Bill Baroni, former deputy executive director of the Port Authority of New York & New Jersey, which owns the bridge. Both Kelly and Baroni testified that they believed the lane closings were for a traffic study and were duped by Baroni's former subordinate, David Wildstein, who pleaded guilty and testified as a prosecution witness over eight days.
After Kelly's testimony, U.S. District Judge Susan Wigenton instructed jurors on the conspiracy, fraud and civil rights charges against Kelly and Baroni. Jurors are expected to hear lawyers summarize the case in closing arguments on Thursday and Friday.
For more on bridge scandal, click here
In a closed-door session Wednesday, lawyers got into a heated exchange over how Wigenton should instruct jurors on a key aspect of the conspiracy charge. The indictment reads: "The object of the conspiracy was to misuse Port Authority property to facilitate and conceal the causing of traffic problems in Fort Lee as punishment of Mayor Sokolich."
But prosecutors argued that they only had to prove that the object of the conspiracy was to misuse Port Authority property, not to punish Sokolich. Defense lawyers said that the six-week trial was all about whether Kelly and Baroni intended to punish Fort Lee's mayor, an outcome that both deny. 
"We have a right to argue, 'Ladies and gentlemen, this is what we've been charged with, and we feel the government has not proven that case, has not proven that charge,' " Kelly attorney Michael Critchley said.
But Wigenton sided with the government, saying that motive isn't an element of the crime. 
"The bottom line is that the object is the misuse of Port Authority property," Wigenton said. "They are not charged with punishing Mayor Sokolich. They're charged with misusing Port Authority property."
Valid Defense
In instructing jurors, Wigenton also said prosecutors must prove that Kelly and Baroni intended to violate the law. She said that if they had a good-faith belief that the lane closures were part of a legitimate traffic study, that is a valid defense. On the other hand, she said, if they closed their eyes "to what would otherwise be obvious" -- that the traffic-study was a cover story for a political plot -- they can be convicted.
Regardless of the verdict, the trial has been damaging for Christie, who has been cast as a profane bully prone to outbursts. 
Kelly said she told the governor a month before the lane closings that they were scheduled to occur as part of a traffic study overseen by Wildstein and would cause "tremendous traffic problems" in Fort Lee. Christie has repeatedly denied knowing about the lane closings before or while they occurred.
The case is U.S. v. Baroni, 15-cr-00193, U.S. District Court, District of New Jersey (Newark).
Before it's here, it's on the Bloomberg Terminal.
LEARN MORE