Chipotle's Customers Aren't as Forgiving as Bank of America Predicted
Customer numbers are still down at the burrito chain.
By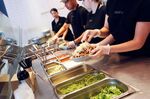 In February Bank of America Corp. upgraded its price target on Chipotle Mexican Grill Inc.

The company's shares are now further from the target than at any time since the bank made that call.
The bank's analysts ran a survey early this year to gauge how many of the company's customers would return following a slew of food safety concerns at the burrito chain. The team came away with conclusions that caused them to upgrade their 12-month price target to $475 from $425 — conclusions which yesterday's earnings data suggest may have been rather optimistic.

The stock was at $372.26 by 11:02 a.m. in New York, trading at more than a two-year low. 
"Our survey supports our view that although some consumers have cut off Chipotle for good with no plans to return, most consumers who have stopped going to Chipotle over the last several months are likely to return at some point," the team, led by Joseph Buckley wrote at the time. Chipotle's earnings report this week says that's not yet the case. The fast-food chain said that same-store sales continued to see sharp declines. Since the company's public-health issues have largely abated, those numbers provoke the question of when those customers plan to return. 

A more recent Morgan Stanley survey from July had far more pessimistic conclusions, and caused the firm to downgrade shares of the company. 
"A full sales recovery to prior peak volumes could take years in our view, as evidenced by the fact that, according to our survey, approximately 25 percent of CMG customers either have stopped going or reduced frequency, even six months after the last reported food safety incident," the team, led by John Glass, wrote.

The chain has tried to entice diners back by spending more on marketing and ads, but a 22 percent same-store drop in sales versus the second quarter is just one data point that suggests that's not yet having an effect. Despite another tough quarter, Chipotle's management said on the call that same-store sales will rebound sharply in 2017.
The firm's Co-Chief Executive Officer, Montgomery Moran, said that the company is shifting to a model that will yield solid returns even if customers don't return in their prior voumes. "Prior to last year's issues, Chipotle had the strongest economic model in the industry," Moran said. "Of course, this model has been weakened due to lower sales volumes that we've seen this year. While it's critical to fully restore sales volumes and keep improving them from there, we also know that we need to improve our economic model now so that we can provide healthy returns even at lower volumes."