markets
BOJ's JGB Purchase Target Is Seen Fading Away Before Too Long
By and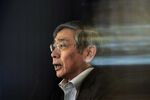 The Bank of Japan may drop references to its annual 80 trillion yen ($770 billion) target for government bond purchases from monetary policy statements in coming months, according to people familiar with discussions inside the central bank.
The key directive for staff charged with implementing the BOJ's new policy framework is managing the yield curve for short-term and long-term borrowing costs, with the quantity of bond buying now clearly secondary to this, said the people, who asked not to be named because the talks are private.
While the majority view inside the BOJ puts interest rate goals above volume considerations for purchases of Japanese government bonds, there is still a minority that emphasizes both aims as equally important, according to the people. This group points to the amount of JGB purchases as crucial to supporting inflation expectations, they said.
Governor Haruhiko Kuroda and the policy board next meet Oct. 31-Nov. 1 to discuss any adjustments to their monetary framework, which has morphed from a program that started out three-and-half years ago focused squarely on expanding the money supply. In January, Kuroda added a negative rate on some funds commercial banks park at the BOJ, then last month introduced a target for yields on 10-year JGBs.
Click here to see Bloomberg's survey of forecasts for BOJ policy.
Potential conflict between the old and the new goals, and questions about the sustainability of the massive bond buying program, has fueled expectations that the central bank may begin reducing JGB purchases. Four of 41 economists who responded to a question by Bloomberg on tapering bond purchases said this could begin in 2016. Nineteen forecast a reduction next year, with the remainder projecting this in January of 2018 or later.
There is also debate among economists and investors about how the central bank will manage its new target for anchoring the 10-year yield around zero percent. People familiar with talks inside the BOJ told Bloomberg that officials are likely to tolerate larger movement in yields from the zero target in times of volatility than they will when market movement is more orderly.
There won't be any specific range above and below zero for managing the yield, said the people. In times of an orderly market, including gradually declining yields, the BOJ will be ready to reduce purchases of bonds to keep near the zero target, they said.
Click here to read more on why the BOJ is targeting the yield curve.
The yield on 10-year JGB's was at minus 0.065 percent at 4:35 p.m. in Tokyo on Wednesday, from a record-low minus 0.3 percent reached in July.
Yutaka Harada, one of the most committed reflationists on the BOJ board, said on Oct. 12 that the central bank would increase bond buying if needed to lower yields toward zero but that it would not reduce purchases from the current pace to raise yields toward zero in times of economic shock.
Before it's here, it's on the Bloomberg Terminal.
LEARN MORE