Xi's Agents of Fear Keep Party on Edge in Anti-Graft Fight
By
Graftbusters' sweeps keep officials guessing about who's next

Xi seeks to extend four-year-old campaign in key party meeting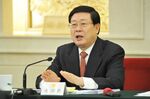 The Sept. 10 front page of the Tianjin Daily portrayed Huang Xingguo, then leader of one of China's biggest ports, as the quintessential city official: Two stories extolled him receiving delegates from Taiwan's opposition party and telling a group of teachers about plans to improve their livelihoods. 
The state-run newspaper told a different story on Sept. 11. A banner headline announced the Communist Party's decision to investigate the acting Tianjin party secretary for "serious disciplinary violations," a euphemism for graft. The probe effectively ended Huang's four-decade political career, leaving a key space on the country's political chessboard vacant.
Such sudden take-downs -- once rare events in China -- have come with increasing frequency as President Xi Jinping's anti-corruption campaign enters its fifth year. More than 1 million officials have been punished as of the end of last month, according to government statistics. At least 120 officials at the vice-ministerial rank or above have been among those ensnared, including Zhou Yongkang, the country's former security chief, and Ling Jihua, the former chief of staff to Xi's predecessor.

Cadres have been detained after high-profile public appearances and dragged away on symbolic dates, snatched from airports, conferences, train platforms and weddings. The fear that anyone could be next has helped Xi keep the party off balance and sustain the crackdown into his all-but-certain second term.
"One of the major goals of an anti-corruption crackdown is to demonstrate that the risk of getting caught is both real and higher than widely assumed," said Andrew Wedeman, director of China Studies at Georgia State University and author of "Double Paradox: Rapid Growth and Rising Corruption in China." "'Snatching and dragging away' are thus part of the public drama."
For an explainer on China's plenum, click here
In previous eras, officials under scrutiny of the party's powerful Central Commission for Discipline Inspection, or CCDI, quietly disappeared from public view, feeding speculation about their fates and robbing the eventual investigation announcement of shock value. These days, officials such as Li Jia, former party boss of the southern boom town of Zhuhai, can be hosting Kyrgyzstan dignitaries one day and detained the next, as happened in March.
The Tianjin case was among a series of high-profile anti-corruption moves ahead of a key party gathering this week in Beijing.
The Central Committee's plenum, which ends Thursday, is expected to help Xi institutionalize the anti-corruption drive with the adoption of two documents: a new code of conduct for party cadres and institutions, and an amendment of internal rules that will strengthen disciplinary bodies. It will also set the stage for a larger party congress next year during which Xi will preside over a twice-a-decade leadership reshuffle.
Personal Chefs
Earlier this month, the government announced suspended death sentences against two former officials convicted of accumulating tens of millions of dollars in ill-gotten gains, among the most severe graft judgments handed down since Xi took power in November 2012. Last week, Chinese state television gave the crackdown the theatrical treatment, launching a prime-time miniseries showing how once-powerful officials spent millions of dollars on everything from jade bracelets to personal chefs. 
The show's finale Tuesday featured, Jiang Jiemin -- the former China National Petroleum Corp. head serving a 16-year prison term for corruption -- confessing on camera: "I'm the historic sinner of CNPC."
The publicity push shows Xi's determination to press on with an unprecedented campaign that has helped him weaken resistance to controversial policies and consolidate more power than any Chinese leader since Deng Xiaoping. The president said in January he wanted to make China a place where "nobody dares to be corrupt" and has expressed frustration over officials "who haven't taken back their hands" despite the threat of prosecution.
Almost two-thirds of the officials investigated under Xi involved activities that took place after he launched the campaign, the CCDI said Oct. 20. Perceptions about China's corruption problem have actually worsened since Xi took power in 2012, according to Transparency International.
For a look at how China's economy is weathering the anti-graft drive, click here
Qiao Mu, a media professor at Beijing Foreign Studies University, said it appeared that the anti-corruption campaign "seemed to be getting tired and authorities decided a bit of drama could attract the public's attention." The surprise sweeps also serve to "put officials in a constant state of anxiety, to make them fear and make them pledge loyalty," Qiao said.
While the corruption campaign continues to weigh on restaurateurs, hoteliers and luxury retailers, a Bloomberg Intelligence analysis in June suggested that graft has overall hurt more than helped China's slowing economy. Liu Li-gang, Citigroup Inc.'s chief China economist, told Bloomberg Television on Monday that Xi's consolidation of power was a positive for investors because it suggested that the implementation of economic policies "will be more decisive down the road."
Xi's chief agents of anxiety are the CCDI inspectors. Led by Wang Qishan -- a long-time friend and key adviser to the president -- they've inspected more than 200 local governments and work units since May 2013, with scores of new teams installed in the provinces and central agencies.
Window Escape
In March 2015, inspectors detained Qiu He, the former deputy party secretary of Yunnan province, at a Beijing hotel after he attended the closing ceremony of the National People's Congress, according to a report by the official China Youth Daily that detailed the capture of several officials. That January, they summoned then Nanjing city party chief Yang Weize while he was in the middle of chairing a municipal party meeting. He was later caught trying to escape through a window.
While such methods show officials the risks of corruption, more action was needed to improve transparency if Xi wanted to create a country where nobody dares to be corrupt, said Wedeman, of Georgia State University. No one in the government, for instance, has proposed setting up an independent corruption watchdog, even though Wang last year compared the party's self-policing to "performing surgery on yourself."
"No regime has ever eradicated corruption," he said. "The critical question is whether Xi and Wang can sustain the crackdown, albeit in a less brash and dramatic form, on into the long run."
— With assistance by Keith Zhai
Before it's here, it's on the Bloomberg Terminal.
LEARN MORE