U.S. ELECTION WRAP: Democratic Senate Odds Rise as Clinton Gains
The odds of Democrats winning back control of the Senate are up after Donald Trump lost ground following the Oct. 7 release of the now infamous "Access Hollywood" tape, one analyst says
By and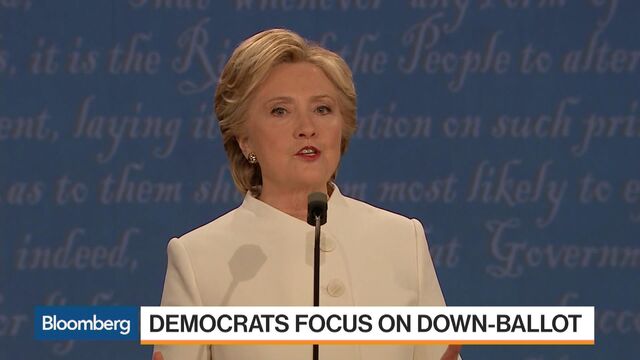 A Democratic-controlled U.S. Senate next year is now more likely than a tied chamber or Republicans retaining their majority, according to Cook Political Report's Jennifer Duffy.
Democrats are positioned to pick up 5-7 seats owing to the slow GOP "unravel" that started Oct. 7, when the "Access Hollywood" tape featuring Trump surfaced, Duffy wrote
Duffy was forecasting a net gain of 4-6 Senate seats for Democrats two weeks ago, while warning that the Trump drama threw the 2016 elections into "unchartered waters"

If Hillary Clinton wins on Nov. 8, Democrats would need 4 Senate seats to tie the chamber, with the vice president as the tie-breaking vote; a 5-seat gain would give Democratic lawmakers a Senate majority; they lost control of the chamber in the 2014 election

"Since the release of the 'Access Hollywood' tape, Senate Republicans have seen their fortunes dip, particularly in states like Florida, North Carolina, New Hampshire, Nevada and Pennsylvania where Clinton has established a lead," Duffy wrote

"In fact, of the Senate seats in the 'toss up' column, Trump only leads in Indiana and Missouri where both Republicans are running a few points behind him"

SENATE TOSS-UPS
Senate race analysis by the nonpartisan Cook Political Report shows seven states in the "toss up" column, including Missouri as of Sept. 30

"A Republican Senate incumbent defending a seat in Missouri is not typically a candidate for the toss up column, even in a presidential year, but that's exactly where first-term U.S. Sen. Roy Blunt has landed," Duffy wrote at the time

With two weeks until Election Day, the GOP doesn't have a lot of time to improve their chances of holding onto the Senate, and "Trump won't be any help" as the Republican presidential nominee lacks a strong ground operation: Duffy

"The GOP's only hope is to start running a checks-and-balances message, or more blatantly, a don't-give-Clinton-a-blank-check message to motivate their base": Duffy

"Toss up" races historically are won mainly by one part or another and not split

"Since 1998, no party has won less than 67 percent of the seats in Toss Up. While the 2016 election has broken every political science rule and trend, we'd be surprised if this becomes one of them": Duffy

As far as the House of Representatives, Cook analyst David Wasserman earlier this month said Republican losses could reach the double-digit range, though he wasn't ready to predict that Democrats could pick up the 30 seats they would need to take control of the House

POLLS
Clinton and Trump are statistically tied in Arizona, with Trump getting 46% backing among likely voters to Clinton's 45%, according to Monmouth University poll

Four percent plan to vote for Libertarian Gary Johnson and 1% for Green Party's Jill Stein
GOP Sen. John McCain leads Democratic challenger Ann Kirkpatrick 50%-40% in his re-election bid

Clinton leads Trump 46%-39% in North Carolina, according to New York Times Upshot/Siena College poll
Trump is winning when it comes to Halloween mask sales, NBC News reported

Customers said they would rather dress up as the Republican presidential nominee over Clinton, according to poll commissioned by the Spirit Halloween costume chain

ON THE TRAIL IN FLORIDA
Clinton and Trump both were in the Sunshine State on Tuesday *Trump focused on Miami's Cuban Americans, a group that typically backs Republicans though this year has resisted a decisive show of support for the GOP presidential nominee, Miami Herald reported

Trump still hasn't consolidated the conservative vote in Florida, according to the newspaper

The most recent Reuters/Ipsos poll of likely Florida voters shows Clinton ahead of Trump 42%-38% in a four-way race, with Libertarian Gary Johnson at 6%, Green Party's Jill Stein 2%; in a one-on-one match-up, Clinton's lead narrows to 42% vs Trump's 40%
Trump's prospects in Florida are starting to look so grim that some Republicans are bracing for what could be a huge loss in the country's biggest battleground state, Politico reported
Meanwhile, Clinton has a "secret weapon" in Florida -- the state's newly arrived Puerto Ricans; read Bloomberg story here
The Reuters/Ipsos survey shows 40% of likely voters backing incumbent GOP Sen. Marco Rubio and 38% supporting his Democratic challenger, Rep. Patrick Murphy; 12% of respondents said they didn't know or declined to say, 6% said they were voting for someone else

Some Latinos have expressed anger over Rubio's endorsement of Trump, NPR reported

Clinton, who increasingly is turning attention to helping down-ballot Democrats, told Floridans on Tuesday that unlike Rubio, Murphy "has never been afraid to stand up to Donald Trump"

ADVERTISING
A new TV ad attacking Trump is reminiscent of the Sept. 1964 ad "Daisy" released by Lyndon B. Johnson's presidential campaign

The 60-second ad juxtaposed a petal-picking child with images of nuclear obliteration to caution against a Barry Goldwater presidency. It aired only once, yet is remembered as perhaps the most powerfully negative TV ad ever created
The anti-Trump spot uses similar apocalyptic footage, Bloomberg's Mark Halperin and Steven Yaccino reported
Read full story here

Groups backing Republican House and Senate candidates are running new campaign ads urging voters to elect them as a check on a potential Democratic White House, a change in tone that acknowledges Clinton's strength in the polls, according to Wall Street Journal

UTAH & IDAHO
Clinton's push for Utah continues as her running mate, Sen. Tim Kaine, wrote an op-ed for the Deseret News, which is owned by the Mormon church, focused on his own faith and time as a volunteer on a mission trip in Honduras
A new poll out of Idaho may give some clues on how Trump might fare throughout the nation's "Mormon Corridor," which runs through Idaho, Nevada, Utah and Arizona

While Trump has strong lead over Clinton in Idaho overall, 52%-23%, Clinton is narrowly ahead, 37%-36%, in the state's Second Congressional District, which has a sizable Mormon population, according to new Emerson College poll
Recent Emerson surveys show Trump tied or losing in Nevada, Utah and Arizona

ENDORSEMENTS/DENOUCNEMENTS

CLINTON CAMP
Newly released emails show divisions within Clinton's political circle about the handling of the controversy over her use of a private e-mail server as secretary of state, with some irked that the arrangement wasn't publicly disclosed earlier, Wall Street Journal reported
The super-PAC backing Clinton sped up its fundraising pace in the first three weeks of October, raising $18 million, a spokesman said Tuesday: Wall Street Journal

ETC

CONGRESSIONAL ELECTIONS
SENATE RACES (Republicans hold 54-46 majority)
PROJECTIONS: Cook Political Report projects Democratic gains of between five to seven seats, enough to overturn Republican majority

"The GOP's only hope is to start running a checks-and-balances message, or more blatantly, a don't-give-Clinton-a-blank-check message to motivate their base," Cook Report's Jennifer Duffy wrote
SCHUMER: N.Y. Democrat Chuck Schumer, who would become Senate majority leader if Democrats overturn GOP majority, made more than $6m in political donations in Q3 including $3m to Democratic Senatorial Campaign Committee, per FEC filing

Schumer's campaign committee donated $500k apiece to political committees helping Democrats Evan Bayh in IN, Maggie Hassan in NH, Catherine Cortez Masto in NV, Katie McGinty in PA and $250k each to political committees aiding Jason Kander in MO and Deborah Ross in NC
Schumer, a shoo-in to win fourth term, is one of the top fundraisers in Congress and still had $20.5m in campaign cash on hand at start of Oct.
AZ: Republican Sen. John McCain led Democratic Rep. Ann Kirkpatrick 50%-40% in Monmouth University Poll conducted Oct. 21-24 of 401 likely voters (+/- 4.9 ppts)

McCain leads even though Trump has 46% to Clinton's 45% in Republican-leaning state; McCain is winning 79% of Trump and 19% of Clinton backers, according to poll
FL: Republican Sen. Marco Rubio in Spanish-language TV ad highlighted his opposition to human rights abuses in Cuba and promoted his work to extend sanctions on Venezuela

Florida First PAC, which backs Rubio, released 15-second TV ad referring to Democratic Rep. Patrick Murphy as an "epic liar," citing exaggerations in his professional and educational background that Politifact vetted
In another 15-second TV ad, Florida First PAC said Murphy was an "epic failure" who was "named the least effective" in Congress
Ad cites 2015 InsideGov story that calculated "effectiveness score" based on how many of a member's sponsored bills were approved by a committee; Murphy has been in Democratic minority for his two terms and that's "not a sufficient way to rate a member's effectiveness," according to Politifact
Murphy appeared with Clinton at Coconut Creek rally, at which Clinton said Murphy, unlike Rubio, "has never been afraid to stand up to Donald Trump"
MO: Majority Forward, a Democratic group, released TV ad comparing Democrat Kander's military service in Afghanistan after 9/11 to Republican Sen. Roy Blunt's ties to lobbyists, as narrator says Kander represents "America at its best" while Blunt is "Washington at its worst"
NH: Republican Sen. Kelly Ayotte's campaign released TV ad saying Democratic Gov. Hassan "supports the health-care law that is hurting New Hampshire families" and "can't stand up to her party"

Hassan said in Oct. 14 radio debate "there are issues" with the Affordable Care Act and "we do need to make improvements," though we "don't want to go back to a time" when insurers could bar people with so-called pre-existing conditions from buying plans
Hassan's campaign in statement said repealing ACA would jeopardize state's Medicaid expansion to 50,000 residents
Ayotte and Hassan participated in candidate forum earlier today at St. Anselm College in Manchester and will debate again Oct. 27 on NH1
PA: Republican Sen. Pat Toomey's campaign released TV ad highlighting past praise from Democratic vice presidential nominee Tim Kaine and Democratic ex-Gov. Ed Rendell

Kaine, a Virginia senator, told McClatchy in 2013, "We have differences of opinion on a whole lot of things, but in terms of seriousness that he brings, the intellect he brings and the sort of civility, he's a good person to deal with"
Rendell, who is chairman of Democrat McGinty's campaign, once referred to Toomey as "a man of uncommon decency"
Toomey also invoked Rendell's comment in an anti-McGinty ad in May, when Rendell criticized Toomey's campaign and said he had "serious doubts about my earlier characterization of him"
Toomey emphasizing praise from Democrats in state that's likely to vote Democratic for president for seventh straight election
WI: The "nasty, personal tone" of rematch between Republican Sen. Ron Johnson and Democratic ex-Sen. Russ Feingold "showed no signs of abating" as Johnson portrayed Feingold as "an out-of-touch elitist, hypocrite, phony and a liar," the Associated Press reported

Johnson, seeking second term in state Trump is likely to lose to Clinton, said Republicans discouraged by Trump should "set that aside" and vote in Senate race
HOUSE RACES (Republicans hold 246-186 majority)
SPEAKER RYAN: Speaker Paul Ryan last week sent $400k to the National Republican Congressional Committee and $250k to the Republican Party in his home state of Wisconsin, according to FEC filing

Ryan, strongly favored to win 10th term in WI-01, had $9.5m campaign cash on hand on Oct. 19
FUNDRAISING: N.Y. philanthropist Philip Munger, one of the Democratic Party's biggest donors, has been giving money directly to House Democrats in highly competitive races in the past few days, according to FEC reports

Munger, son of Berkshire Hathaway vice chairman Charles Munger, has donated to Tom O'Halleran in AZ-01, Doug Applegate in CA-49, Morgan Carroll in CO-06, Charlie Crist in FL-13, Rep. Brad Ashford in NE-02
CA-17: Of Bay Area's congressional races, "the one to watch" is all-Democratic rematch between Rep. Mike Honda and technology lawyer Ro Khanna that's "getting increasingly acrimonious," San Jose Mercury News reported

Honda, subject to Ethics Committee probe, trailed Khanna 39%-37% in top-two primary in June; "results were particularly ominous" for Honda, who led Khanna 48%-28% in 2014 primary before just edging him out in general election 52%-48%
CA-25: NRCC in TV ad referred to Republican Rep. Steve Knight's opponent as "Beverly Hills lawyer Bryan Caforio" and said he's a "carpetbagger" who would increase taxes and spending

Knight seeking second term in district that includes northern Los Angeles County and most of Simi Valley in southeastern Ventura County; Santa Clarita, the district's most populous city, is about 30 miles north of Beverly Hills
FL-07: Court-ordered redistricting put Republican Rep. John Mica "in a tough re-election fight," the News Service of Florida reported in profile of contest

"It is a much more competitive district" and "they're coming after the seat" said Mica, who's opposed for 13th term by Democrat Stephanie Murphy, a "well-financed newcomer" who teaches business and social entrepreneurship classes
IN-09: Republican businessman Trey Hollingsworth gave $250k more to his campaign yesterday, according to FEC report

Hollingsworth and Democrat Shelli Yoder seeking southern Indiana seat Republican Rep. Todd Young is giving up to run for Senate; Hollingsworth began race with clear advantage in GOP-leaning district but polls now show close race and Yoder has shot at upset
NH-01: Republican Rep. Frank Guinta and Democratic ex-Rep. Carol Shea-Porter "clashed over old arguments and fought over new issues" in their first debate, according to NH1 News

Debate also included independent Shawn O'Connor, who said "voters are ready for a change" and "this is Rocky IV" in reference to Guinta and Shea-Porter being opponents in fourth straight election
Guinta received $2k campaign contribution from Ryan on Oct. 10, according to FEC filing
NV-03: NRCC TV ad links Democrat Jacky Rosen to Senate Minority Leader Harry Reid and House Minority Leader Nancy Pelosi, with narrator saying Rosen would "rubber-stamp their agenda" and is "their candidate, not yours"

Ad doesn't mention Republican nominee Danny Tarkanian, who's vying with Rosen for metropolitan Las Vegas district Republican Rep. Joe Heck is giving up to run for Senate
NY-19: Democrat Zephyr Teachout and Republican John Faso covered a "wide range of issues including property taxes, national security, trade and the economy" in debate yesterday in Woodstock, according to Time Warner Cable News

Teachout, a law professor, and Faso, a former state legislator, "found some common ground" on need to combat heroin overdose epidemic
NRCC TV ad referred to Teachout as a "zany professor" who supports tax hikes and former Democratic presidential candidate Bernie Sanders
Winner will succeed retiring Republican Rep. Chris Gibson in competitive district in central Hudson Valley
TX-23: Republican Rep. Will Hurd in TV ad said "protecting our homeland is more than just an honor, it's my responsibility"

Hurd notes his CIA background and says he's "witnessed dysfunction, and felt your frustration" as spot shows footage of Hurd grilling FBI director James Comey over Clinton's use of a private server as Secretary of State
Hurd in rematch with Democratic ex-Rep. Pete Gallego in competitive, Hispanic-majority district stretching from San Antonio to El Paso
VA-10: Republican Rep. Barbara Comstock in TV ad said she's "worked with Democrats and Republicans to get results for northern Virginia," noting her support for tax relief and House-passed 21st Century Cures Act, which would provide billions of dollars to accelerate drug development and disease research

Ad notes endorsement from Washington Post editorial page, which said Oct. 22 Comstock had shown "ideological rigidity" in state legislature but "has taken some steps to temper her hard-right conservatism," including protecting Metro funding and opposing government shutdown
Comstock's ad doesn't mention Democratic businesswoman LuAnn Bennett, who's seeking to deny Comstock second term in upper-income district running from Washington, D.C., suburbs west to West Virginia line
Democratic Congressional Campaign Committee, which backs Bennett, released TV ad criticizing Comstock and Trump's anti-abortion stances and accusing Comstock of repudiating Trump late in the election for political purposes
Before it's here, it's on the Bloomberg Terminal.
LEARN MORE