Trump Campaign Says Fundraising Operation Moving Full Steam Ahead
The campaign took issue with a report that it was winding down fundraising efforts for the Republican Party.
By and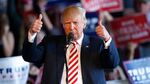 Donald Trump's presidential campaign said it's continuing to seek large donations, disputing a Washington Post story that said it was halting big money fundraisers that help the Republican Party's get-out-the-vote effort for down-ballot races. 
"We've kind of wound down," Steve Mnuchin, Trump's national finance chairman, was quoted as saying in the Post article. 
In an e-mail to Bloomberg Politics minutes after the story was published on Tuesday, however, Mnuchin called it "not accurate."
Another chief fundraiser who works closely with Mnuchin was adamant that high-dollar fundraising is continuing.
"We are still working to raise major donor money," said Lew Eisenberg, the finance chairman for the Trump Victory Fund, citing an event hosted by Donald Trump Jr. scheduled for "later this week."
Mnuchin told the Post that Trump hadn't scheduled fundraising events for the remainder of the campaign. 
"We have minimized his fundraising schedule over the last month to emphasize his focus on political [events]," Mnuchin said. "Unlike Hillary, who has been fundraising and not out and about, he has constantly been out and about."
The question of how much the Republican Party can rely on the Trump campaign for big money fundraisers comes as the party has begun to fear over its control of Congress. The Senate Leadership Fund, a super-political action committee that supports Republican candidates, has mounted a last-ditch $25 million effort to try to save six key Senate races, Politico reported Tuesday. 
—With assistance from Zachary Mider.
Before it's here, it's on the Bloomberg Terminal.
LEARN MORE