The Case for London Heathrow's $20 Billion Makeover
The U.K. government has spent years talking about the need for more runway space.
By and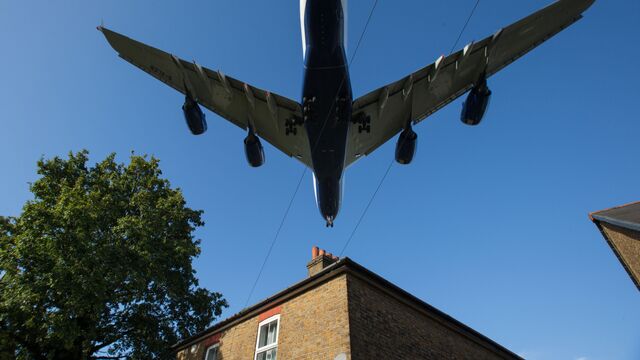 The U.K. government backed a plan to add a third runway at London's Heathrow Airport, choosing a £16 billion ($20 billion) expansion of what is already Europe's busiest hub instead of adding a second runway at rival Gatwick. Here's why this is a crucial step for the U.K. and has been years in the making:
Overcrowding
Heathrow is already operating at close to full capacity. Nearly 75 million passengers passed through in 2015, up from more than 65 million in 2010. A third of those people were only there to transfer planes. But growth at airports in Frankfurt, Amsterdam and Paris Charles de Gaulle have narrowed Heathrow's lead in Europe.
Faster growth
The third runway — and construction of a sixth terminal — will add up to 16 million long-haul trips by 2040, U.K. Transport Secretary Chris Grayling said in parliament, compared with up to 3 million that could have been added at Gatwick.

Economic boost
New long-haul routes bolster connections to Asia and South America, which Britain sees as its future business partners. Heathrow has better rail and road links to the rest of the country than Gatwick, supporting freight and passengers from regions like Scotland and Northern Ireland. The government expects the runway to add 77,000 more local jobs over 14 years and bring £61 billion in benefits to the wider economy.
Brexit effect
The U.K.'s vote to leave the EU added more pressure on the government to spur investment at home and stay competitive with the rest of Europe. The bill to expand Heathrow would include paying out to people whose homes are in the way. "Expanding Heathrow must be a key building block in the government's Brexit plan," airport Chief Executive Officer John Holland-Kaye said in June. The third runway would "send the strongest possible signal that Britain is open for business."
Airfares
The U.K. government says the plan will prevent airfares from rising as much as they would without an expansion, arguing that the additional capacity will boost competition and lower fares. Airlines, including British Airways, have warned that any increase to airport fees to fund the expansion could be passed onto passengers.
Next steps
A final proposal won't go to Parliament until winter 2017-2018. The runway isn't slated to be operational until 2025, Heathrow says. That is, if all goes smoothly. Already, signs of continued opposition are appearing. Local lawmakers, environmental campaigners and residents said they would continue to try to block the expansion.
Before it's here, it's on the Bloomberg Terminal.
LEARN MORE