Tata Surprise Raises Deleveraging Doubts for Bond Investors
By
Tata Group was focused on being fiscally prudent under Mistry

S&P doesn't see ratings impact and expects continuity on debt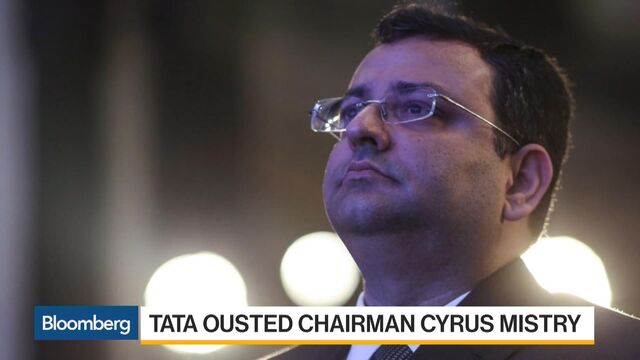 The abrupt ouster of Tata Group's chairman of almost four years is raising investor doubts over whether India's biggest conglomerate will sustain its push to reduce debt.
Chairman Cyrus Mistry, 48, was replaced by his 78-year-old predecessor at a board meeting on Monday. Ratan Tata, a scion of the founding family, will serve as the interim chief and look for a more permanent successor, Tata Sons Ltd. said in a statement. Ratan Tata didn't disclose the reason for the shuffle at a 25-minute meeting with executives, though he said the group will honor all of Mistry's commitments, according to a person with direct knowledge of the matter.
Under Mistry, Tata Group was focused on being fiscally prudent and exiting non-profitable businesses, in contrast to its expansionary phase under Ratan Tata when it bought Jaguar Land Rover and steelmaker Corus Group Plc. Tata Steel said in July it had entered into talks with companies including Germany's Thyssenkrupp AG on a possible joint venture in Europe, after reviewing bids for its U.K. assets.
"This sudden change of chairman without communicating to investors is definitely a concern," said Jenny Zeng, Hong Kong-based portfolio manager & head of credit research for Asia fixed income at AllianceBernstein, which manages about $479 billion globally. "Before Mistry, Tata was focused on acquisitions. Now that he's gone does that mean that they are going back to their old strategy?"
The 5.95 percent dollar bonds of Tata Steel due 2024 dropped the most in over five weeks on Tuesday and fell 0.07 cent on the dollar to 102.13 on Wednesday. Its stock was little changed after slumping 2.5 percent on Tuesday. Tata Group companies outperformed India's benchmark stock index by more than 20 percent during Mistry's tenure. S&P Global Ratings said the businesses have been managed "fairly independently" and it doesn't see any immediate impact on its ratings.
"There has been some focus on deleveraging through sale of certain assets, which we expect will be continued irrespective of whoever is the chairman," said Abhishek Dangra, Singapore-based director of corporate ratings at S&P. "The most important point for us actually is continuity."
Baring Asset Management Ltd. said that it doesn't see any immediate impact as the group doesn't just count on one person to make decisions, but that more clarity on future direction would give investors comfort.
"They can do it better to make it more transparent who's going to replace him and what the new chairman's going to set out down the road," said Sean Chang, Hong Kong-based head of Asian debt at the firm.
'Reasonable to Assume'
Mistry had been behind the push to dispose Tata Steel's U.K. assets, a lossmaking business it is "better" rid of, AllianceBernstein's Zeng said. She said she is concerned the group will engage in more non-core asset acquisitions and it is "reasonable to assume" Mistry's strategy didn't suit the family.
Ratan Tata multiplied group revenues to $100 billion from 100 billion rupees ($1.5 billion) in 1991. He also increased debt 11-fold in his final 10 years. Mistry was unwinding some of the expansion. Tata Power Ltd., which posted a full-year profit in March 2015 after three years of losses, plans to sell stakes in Indonesian coal mines. Tata Communications Ltd. and Indian Hotels Co. are looking to offload overseas assets.
"Investors historically have put lot of emphasis on the implicit support from the parent" when holding bonds of subsidiaries in India, said Raja Mukherji, Hong Kong-based head of Asian credit research at Pacific Investment Management Co. who declined to talk specifically about Tata. Any change in senior management, "usually causes some volatility," he added.
— With assistance by Lianting Tu
Before it's here, it's on the Bloomberg Terminal.
LEARN MORE