Sumner Redstone Sues Two Ex-Girlfriends on Elder Abuse Claim
By
They 'manipulated and emotionally abused' him, lawyers allege

Redstone lavished cash, gifts on friends, seeks $150 million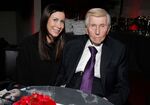 Billionaire Sumner Redstone sued two of his former girlfriends to claw back the millions of dollars he lavished on them, claiming they committed elder abuse.
The lawsuit opens a new front in the legal brawl over the 93-year-old media mogul's mental capacity that kicked off after he evicted the two women from his mansion last year. The board fight that followed for control of his media holdings ended up costing Viacom Inc. Chief Executive Officer Philippe Dauman his job.
There are now two lawsuits in California after Redstone, Dauman and others resolved battles in Delaware and Massachusetts over control of Viacom and the trust that will oversee the billionaire's holdings.
In the case filed Tuesday in Los Angeles Superior Court, Redstone, who now communicates through an iPad programmed with his voice using excerpts of past speeches and interviews, is seeking more than $150 million in damages from Manuela Herzer and Sydney Holland.
"They manipulated and emotionally abused Redstone to get what they wanted -- jewelry, designer clothing, real estate in Beverly Hills, New York, and Paris, and money, lots of it," lawyers for Redstone said in the complaint.
Herzer, 53, lived with Redstone from April 2013 until October 2015, for much of that time along with his then-girlfriend Holland. Redstone threw out Holland in August 2015 after he found out she was having a relationship with another man, and Herzer was ejected six weeks later. That prompted Herzer to file a probate court petition to have Redstone declared mentally incapacitated.
Gifts, Debt
When Herzer's case was dismissed in May, she sued Redstone's daughter Shari, accusing her of manipulating her father. At the time, Sumner Redstone's lawyers promised to sue Herzer and Holland.
"By the time Redstone threw Herzer and Holland out of his home, and out his life, last fall, they had taken him for more than $150 million and left him in debt on account of the immense tax obligations triggered by those 'gifts,"' according to Tuesday's complaint.
Ronald Richards, Herzer's lawyer, said the allegations were an attempt by Shari Redstone to distract from a lawsuit by Herzer over her removal from Redstone's estate. She was to receive $50 million and his $20-million mansion upon his death but was taken out of his will after her eviction.
"Mr. Redstone had many checks and balances between attorneys, doctors, and accounting staff," Richards said in an e-mailed statement. "All of the gifts Mr. Redstone made to my client and to Sydney Holland were made with his full knowledge and blessing."
Holland said the lawsuit is "fictional revisionist history."
"Doctors have testified twice in recent months that Sumner Redstone was of sound mind and, most recently, that he was mentally competent to make such critical and complex business decisions as orchestrating the departure of his long-serving chief executive at Viacom," Holland said in an e-mailed statement. "This is directly contradicted by the claims in this lawsuit that state that Mr. Redstone's physical and mental state were so impaired that he could be easily manipulated."
Bags of Cash
In the spring of 2014, Holland and Herzer were in near total control of Redstone's life, according to the complaint. They had bags of cash delivered to his mansion almost daily, typically bundled in stacks of $100 bills. They had carte blanche with his credit cards, regularly charging thousands of dollars a day.
Herzer sued Shari Redstone, her two sons and members of Redstone's household staff for interfering with her expected inheritance. That case was filed in May, minutes after the probate court judge dismissed her petition to be reinstated as Redstone's health-care agent. In a videotaped deposition showed in closed court, Redstone used expletives to describe his former lover and confidante and said he wanted her out of his life.
According to the lawsuit, in May 2014, Redstone sold all his vested Viacom and CBS stock options, restricted stock and performance stock, at the behest of Herzer and Holland. From the proceeds, he gave them both $45 million.
When Redstone threatened to cut Holland off, she told him that his family hated him and that she and Herzer were the only ones who loved and cared for him, and that if they left, he would die alone, according to the complaint.
The case is Redstone v. Herzer, BC638054, California Superior Court, Los Angeles County.
— With assistance by Christopher Palmeri
Before it's here, it's on the Bloomberg Terminal.
LEARN MORE