Style
Stubbs & Wootton Is Betting You'll Still Feel Patriotic After November
A new pair of slippers doubles down on America.
by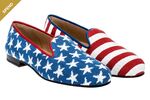 Key Details: Stubbs and Wootton design a patriotic slipper for men and women, made exclusively for Vineyard Vines 
Competitors: Puma American Flag sneakers ($130), Tom's American Flag slip-ons ($40.99), Tod's Customizable Gommino loafer ($425)
Why It's Worth It: Provided you are still excited about America after the results of the Nov. 8 election, you'll have a happy conversation starter at any cocktail party with these cheeky, handmade, loud slippers. 
Stubbs and Wootton, the Palm Beach, Fla.-based purveyor of such preppy items as handmade slippers with your college logo on them and leopard-print espadrilles, has a new offering in honor of the political season. Working in tandem with Vineyard Vines, it's releasing a pair of very loud, very bipartisan slippers needlepointed entirely with the pattern of the American flag. "Just like Vineyard Vines, Stubbs & Wootton represents the finer things in life—with a whimsical touch," Vineyard Vines' founders, Shep and Ian Murray, said in a statement. "It's a perfect collaboration between two American brands, and we're excited to partner with them." (If you want to be even more political, S&W offers a pair of slippers with a Democratic donkey on one foot and a Republican elephant on the other.)

The men's slipper features red and blue contrast leather trim while the women's slipper features tan leather trim. They are handmade in Spain, and this winter you'll likely see them dressed up with tuxes or under a pair of trousers at a polite happy hour. In warmer climes, they'll also go with a swimsuit and a polo or Oxford. It's the new flag pin, but more fun and less presidential.  
The slippers are currently available in select Vineyard Vines stores and vineyardvines.com 

Before it's here, it's on the Bloomberg Terminal.
LEARN MORE