Consumer Companies Raise Doubts on Economy as U.S. Stocks Slide
By
Home-improvement, homebuilding stocks fall to multi-month lows

Double-digit slumps for Under Armour, Whirlpool, Sonic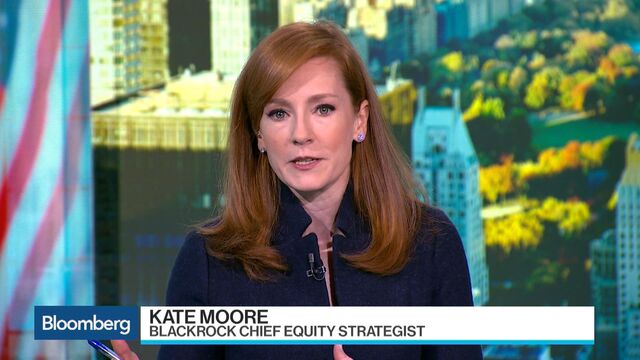 The American consumer might not be as healthy as investors thought.
Disappointing results from fast-food chains to makers of appliances, sports apparel and home-renovation products sparked a selloff in consumer-discretionary stocks amid speculation the economy's biggest engine is sputtering. The S&P 500 Index fell 0.4 percent to 2,143.16 at 4 p.m. in New York, slipping from a two-week high and closing near its average price during the past 100 days. Apple Inc. declined in after-hours trading following its earnings report.
Sonic Corp. plummeted 17 percent, Under Armour Inc. sank the most in almost eight years and Whirlpool Corp. lost 11 percent, rattling investors who anticipated recent signs of wage inflation would embolden spending by American households. Data Tuesday showed consumer confidence fell more than forecast amid concern about the pace of growth. Ahead of Friday's third-quarter gross domestic product report, lackluster consumer earnings point to possible weakness in the largest component of the American economy.
Apple lost 2.1 percent as of 4:57 p.m., even as it predicted higher-than-expected holiday sales, after its fiscal-fourth quarter sales and earnings were mostly in line with analysts' estimates.
"The consumer confidence number really took me by surprise, but we had that bad retail sales report two months ago and then a decent rebound," said Brian Jacobsen, chief portfolio strategist with Wells Fargo Funds Management LLC, which oversees $242 billion. "Reports on U.S. consumers are following more of a saw-tooth pattern which makes it tough to discern the trend."

Weakness in consumer stocks isn't new this year. While still the bull market's leader, the group is the S&P 500's second-worst performer in 2016 with a gain of just 1.3 percent, on pace for its weakest year since 2008. Similarly, groups of homebuilding and home-improvement stocks are on track for their worst years in a comparable period.
"These stocks have really been stalling or showing some underperformance for the last year or so," said Jonathan Krinsky, chief market technician at MKM Partners LLC in New York. "I don't want to buy these names, but to me I'm not viewing it as a reason to sell the broad market."
Consumer-discretionary shares fell 1.2 percent, the worst in six weeks. Mohawk Industries Inc. dropped as the maker of residential flooring reported disappointing earnings. Weak results from paint maker Sherwin-Williams Co. helped drag Home Depot Inc. and Lowe's Inc. down more than 3.4 percent. 3M Co. fell to a five-month low after trimming the top end of its profit outlook. General Motors Co. saw the steepest slide since August amid concerns industrywide U.S. sales are about to plateau after a record six years of gains.
Not all reports were bad, even in the consumer sector. Procter & Gamble Co., which has spent years paring down its sprawling consumer-products empire, climbed the most in 14 months amid signs of renewed sales growth. United Technologies Corp. and Merck & Co. added at least 1.8 percent as results topped estimates. The three had the best gains in the Dow Jones Industrial Average, which slipped 53.76 points, or 0.3 percent, to 18,169.27. About 6.3 billion shares traded hands on U.S. exchanges, in line with the three-month average.
"We're getting some good earnings, but it's still been a fairly mixed picture," said Matt Maley, an equity strategist at Miller Tabak & Co. LLC in New York. "They're going to come out a little better than expected, but not great. My concern is that, with the dollar acting the way it is, the expectations for fourth quarter and first half 2017 earnings are going to be a little more subdued than they were just a few months ago."
The S&P 500 has been stuck in a 64-point trading range after reaching a record in August, as investors assess the likely trajectory of interest rates, the strength of corporate profits and economic data. The index hasn't climbed for three consecutive sessions in more than a month as it struggles for direction. It trades at 18.2 times forecast earnings, the highest since at least 2009, and is 2.2 percent from its all-time high.
More than a third of S&P 500 members are scheduled to post earnings this week, including Alphabet Inc., Coca-Cola Co., Amazon.com Inc. and Boeing Co. Analysts now predict year-on-year profit at S&P 500 members will be flat once the third-quarter reporting is finished, better than projections for a 1.5 percent contraction a month ago.
Investors are also parsing economic reports and comments by policy makers for hints on the timing of the Federal Reserve's next interest-rate increase. Along with the measure today on consumer confidence, releases on durable goods orders and gross domestic product are due later this week. 
Traders are pricing less than one-in-five odds of a hike at the Fed's next meeting, which takes place days before the presidential election, and a 73 percent chance of action in December, up 10 percentage points from a week ago.
"Third-quarter earnings look like they will be a little better than expected, which is key," said Patrick Spencer, London-based vice chairman of equities at Robert W. Baird, which manages $151 billion. "We've got concerns with regard to higher rates in December. That's what's dampening some of the enthusiasm."
— With assistance by Julie Edde
Before it's here, it's on the Bloomberg Terminal.
LEARN MORE