Paschi CEO Morelli Running Out of Time Six Weeks Into Job
By and
Investors fret as chief pitches 5 billion-euro capital raising

Must present recapitalization plan to shareholders by Nov. 24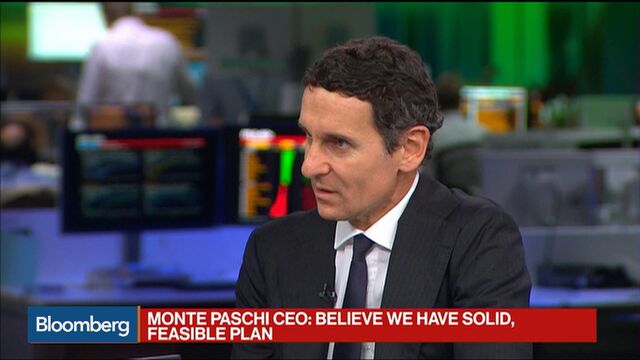 Marco Morelli's honeymoon atop Europe's most troubled bank lasted six weeks.
The newly appointed chief executive officer of Banca Monte dei Paschi di Siena SpA won patience from shareholders as he prepared to execute a turnaround plan. Speculation the lender was nearing a breakthrough in luring a marquee investor to its capital raising even helped the stock double from record lows.

That optimism faltered on Tuesday when Morelli suggested to analysts that his effort to line up investors has only begun. Shares promptly tumbled, ending the day down 15 percent.
"The message was disappointing because there was nothing more than some notice of intent," said Emanuele Vizzini, who manages 3.6 billion euros ($3.9 billion) as chief investment officer at Investitori Sgr in Milan. "It's very questionable that the bank, in the current environment, will find a commitment from an anchor investor, so the execution risk of the whole plan remains very high."

Long plagued by bad debt and scandals to cover up losses, Monte Paschi, bailed out twice, has burned through 8 billion euros in investors' equity since 2014. The bank emerged as the most vulnerable lender in a European stress test in July. Now Morelli needs to sell 28 billion euros in non-performing loans, terminate about 10 percent of the workforce, close one-in-four branches and raise 5 billion euros in capital, more than five times its market value, to reboot the world's oldest lender.
Monte Paschi was little changed at 29.6 cents in Milan trading as of 10:48 a.m. after falling as much as 16 percent earlier. The stock has dropped 74 percent this year.
Long View
Morelli said he's seeking long-term stability. While it's too early to say how much the lender will raise from converted bonds compared with equity investors, meeting the bank's goal doesn't necessarily depend on finding one or more anchor investors, he said.
"Our business plan is based on three pillars: restoring a solid commercial position throughout Italy, dealing with credit in a more systematic way, and third to assure all the people in Monte dei Paschi that this is a situation we need to take care of in an appropriate manner. At this stage, we want to entertain talks with a multitude of different investors and then we'll define the best route we want to pursue."
He will have to carry out his plan as political and economic pressure intensifies ahead of a referendum on Dec. 4. Failure would bode ill for the rest of Italy's banking industry, and, in turn, the third-biggest economy in the euro zone. 
Renzi's Challenge
Straining under 360 billion euros in soured loans, Italy's banks have been handcuffed in providing the credit needed to jolt the economy out of a four-year stupor. Prime Minister Matteo Renzi earlier this year persuaded Italian banks to set up a 4.2 billion-euro rescue fund dubbed Atlante to buoy confidence in the industry. But restoring Monte Paschi to health remains the thorniest task.
Some analysts say it's high time Rome and the lender admit defeat. 
"Monte Paschi needs to be shut down like the troubled U.S. thrifts in the 1980s," said David Hendler, founder of Viola Risk Advisors, a credit analysis firm in Montebello, New York. "Enough is enough."
More optimistic observers counter that Morelli, Monte Paschi's onetime chief financial officer and a veteran of both Bank of America Corp. and JPMorgan Chase & Co., deserves a chance. Those two U.S. banks are helping Morelli carry out the recapitalization, which may include a debt-for-equity swap, a portion for retail investors and a block of shares for a big institution or two. Italian newspapers have reported that sovereign-wealth funds from Qatar and Abu Dhabi, as well as People's Bank of China, may be looking at the offering.
Rosy Forecasts
If he manages to wipe the slate clean, Morelli says Monte Paschi should produce 978 million euros in net income in 2018 and 1.1 billion euros in 2019. The bank also expects a return on tangible equity, a measure of profitability, of more than 10 percent in 2018. That's after Monte Paschi lost 1.5 billion euros in the third quarter.
"It's a well-structured plan and a step ahead for the bank's survival," said Carlo Alberto Carnevale Maffe, a professor of business strategy at Milan's Bocconi University.
Investors may find Morelli's growth targets unrealistic in an economy with an unemployment rate of 11.5 percent and record low interest rates.
And the clock is ticking. Shareholders will meet in the bank's headquarters in the medieval Tuscan city of Siena on Nov. 24 to approve the capital increase. Until Morelli signs on a key institution, the bank's shares may continue to swing on each fragment of news.
If that wasn't enough pressure, Italian voters will go to the polls on Dec. 4 to decide on a referendum Renzi put forward to streamline the government and solidify his grip on power. All year long he's been scrambling to make sure a banking crisis doesn't derail his reform efforts, but if Morelli doesn't deliver on his turnaround plan that could yet happen.
"As the referendum approaches, the uncertainty around the execution plan will compound the uncertainty around Italian stability," said Gianluca Codagnone, the head of Fidentiis Equities in Milan.
— With assistance by Anna Edwards, Francesca Cinelli, and Manus Cranny
Before it's here, it's on the Bloomberg Terminal.
LEARN MORE