markets
Options Traders Keep Faith in Tata Stocks Despite Board Turmoil
By and
No impact seen on individual group companies: OPC Asset

Stock declines are an opportunity to buy: Vachana Investments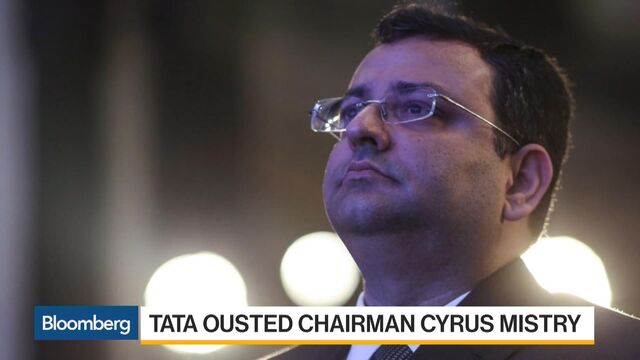 Options traders are confident that the ouster of Tata Group Chairman Cyrus Mistry won't have a long-term impact on India's $100 billion salt-to-steel business empire, convinced that the individual companies are in stable hands.
Stocks of some of the conglomerate's largest members, including Tata Consultancy Services Ltd., Tata Motors Ltd. and Tata Steel Ltd., are hovering above the so-called stability level, signaling bullishness, according to Bloomberg's option dashboard. That's even after the shares declined by as much as 4 percent.
"Group level changes aren't going to impact individual companies," Ajay Bagga, executive chairman at OPC Asset Solutions Pvt., said by phone from Mumbai. "The Tatas have a steady hand and retain the faith of the market. There were a few short sellers initially but stocks are attracting buyers at lower levels."
| Stock  | Price  | Stability Level | Bias |
| --- | --- | --- | --- |
| Tata Steel | 416.85 | 400 | Positive  |
| Tata Consultancy | 2400.5 | 2400 | Positive |
| Tata Global  | 150.2 | 140 | Positive |
| Tata Motors | 554.3 | 550 | Positive |
| Tata Chemicals | 562.1 | 560 | Positive |
| Tata Communications | 656.6 | 660 | Negative |
The stability price level captures participants' trading behavior using information from derivatives market data, including open-interest distribution. When stock prices close above the stability line, it signals a bullish bias.
Mistry, 48, was replaced by Ratan Tata, a 78-year-old member of the founding family and the previous chairman who will serve as the interim chief and take part in the search for a more permanent successor, according to the statement. Tata asked companies to focus on being leaders in their businesses and not be concerned about the change in management, according to a statement issued on Tuesday.
"We are long on Tata Steel and Tata Motors as the change will bring greater focus on the group's cash cows, catapulting them into the next league," Ashish Chaturmohta, head of derivatives and technical analysis at Sanctum Wealth Management Ltd., said by phone from Mumbai. "We're not seeing any liquidation in them."
Assets Sale
Mistry's exit marks the end of the push to transform the conglomerate into a more prudent enterprise than the company that bought Jaguar Land Rover and steelmaker Corus Group Plc under Ratan Tata. In recent years, the group refinanced loans and sold assets to help tackle debt levels that had bloated to more than $30 billion. Tata Steel in March said that it could consider selling its U.K. operations after years of losses.
The development dragged down the India's S&P BSE Sensex from a three-week high. Tata Consultancy dropped 1.2 percent. Tata Steel slid 2.3 percent, paring an intraday loss of 4.2 percent. Tata Motors lost 1.1 percent at the 3:30 p.m. close in Mumbai.
Some investors see the declines as an opportunity.
"Investors with a long-term horizon must use the declines as an opportunity to buy," said Rudramurthy B.V., head of research at Vachana Investments Pvt. in Bengaluru. "Today's is a temporary reaction." He's bullish on Tata Global Beverages Ltd., the Indian partner of Starbucks Corp., and its subsidiary Tata Coffee Ltd.
The group, founded in 1868, employs more than 660,000 people and has 29 listed units with a combined capitalization of more than $100 billion. Tata Consultancy Services is the group's biggest unit and India's largest company by market value.
— With assistance by Kannan Singaravelu
(
Updates with Ratan Tata comment in fifth paragraph.
)
Before it's here, it's on the Bloomberg Terminal.
LEARN MORE