Obama Said He Watched Video of Trump's Lewd Comments on Women
By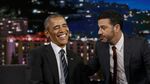 President Barack Obama says he knew right away the video of Donald Trump crudely describing unwanted advances on women would change the presidential election.
The president said on ABC-TV's "Jimmy Kimmel Live" on Monday night that he listened to the Republican presidential nominee's comments on Oct. 7, the day the video was made public by the Washington Post.
Obama said that if an ordinary office worker had a similar video come out, "It'd be a problem for him." "And he's not running for president," Obama said.
Trump has said the 2005 video amounted to "locker room talk" and that he never undertook the actions he described, although a series of women subsequently accused the billionaire businessman of inappropriately groping them. He has denied the allegations.
The president used his late-night appearance to mock Trump.
During Kimmel's "mean tweets" segment, Obama read a missive from Trump declaring that Obama would go down as "perhaps the worst president in the history of the United States."
"Well, @realdonaldtrump, at least I will go down as a president of the United States," Obama shot back.
Obama said he laughed watching Trump answer questions during presidential debates, and said that when he was woken up at 3 a.m., he didn't "tweet about people who have insulted me."
Obama faulted Trump for rating women "on a one to ten score" and "questioning the integrity of elections and the will of the people."
"If you are willing to say anything and do anything even when it undermines everything that has been built by previous generations, that's a problem," he said.
Obama said his daughters poked fun at him for taking Snapchat too seriously, and complained that security measures had made his iPhone virtually useless.
Obama said the U.S. doesn't know who was responsible for a cyber attack that crippled access to top web sites last week, and said an ongoing challenge is balancing "all the benefits of being in cyberspace" with the protecting data.
Obama said he isn't worried about his e-mail getting hacked.
"My rule has been, through my presidency, I assume some day, some time someone will see this e-mail," Obama said.
Before it's here, it's on the Bloomberg Terminal.
LEARN MORE