Norway PM Solberg Warns Record Stimulus Drive Can't Last Forever
by
Solberg says investments will return as economy normalizes

Finance Minister Jensen says economy now looking brighter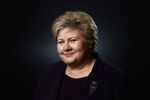 Norway's stimulus overdrive can't last much longer now as the economy of western Europe's biggest crude producer emerges from the oil crash, its prime minister said.
Facing an election next year, Prime Minister Erna Solberg also said her mission to wean the economy off its oil reliance is going according to plan even as it has been made more difficult by the plunge in oil prices.
"The measures we've taken have been very related to research and development and the construction sector to keep activity up," she said in an interview in Stavanger, Norway, after meetings with the oil service companies. "When the economy now enters a more normal phase, investments will return to construction. What's important is that we don't keep this extraordinary stimulus too long."
Solberg earlier this month unveiled a budget that will use a record amount of oil wealth next year to keep the economy humming, raising withdrawals from its wealth fund to 121 billion kroner ($15 billion). Still, as the economy is now showing signs of recovering, the stimulus effect will fade to 0.4 percentage point from an 1.1 percentage point impulse this year.
The government predicts the mainland economy will grow 1.7 percent next year, up from 1 percent this year. Unemployment will fall to 4.3 percent by 2018 from 4.7 percent this year. Still, investments in the offshore industry will decline 10 percent next year and 6.8 percent in 2018, continuing a two-year decline.
Finance Minister Siv Jensen, in a separate interview on Tuesday, said the economy is starting to "brighten" while acknowledging challenges in the job market. "Our measures seem to have had an effect," she said.
"We're in a good position before the election," she said.
Before it's here, it's on the Bloomberg Terminal.
LEARN MORE