Heathrow Runway Approved as Funding, Planning Hurdles Remain
By , , and
Third runway wins government backing after years of delays

Johnson, Goldsmith reiterate opposition as Conservatives split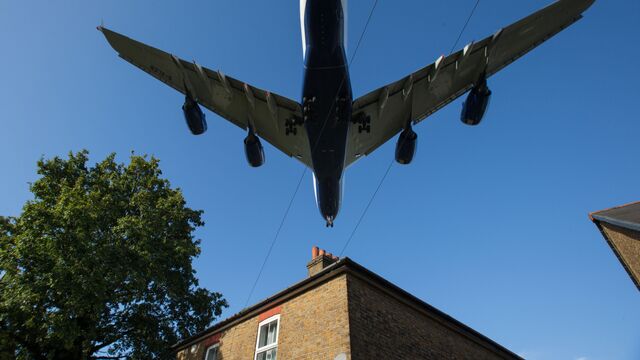 Prime Minister Theresa May's government gave the green light to an expansion of London's Heathrow airport, leaving open questions about how it would be funded and how long it will take to get built.
The announcement Tuesday endorsed the conclusions last year of a state-sponsored commission that said Heathrow, and not its rival Gatwick, is the best candidate for growth amid a crunch in U.K. flight capacity. The 16 billion-pound ($20 billion) construction of a third landing strip at Heathrow -- the first full-length runway in southeast England since World War II -- will allow the 70-year-old airport to handle 135 million passengers a year.

A public consultation will now be held before final government proposals are put to Parliament in the winter of 2017-2018. Despite high-profile protests from members of her Conservative Party and the opposition, May probably has enough support to get it through Parliament. Still to hash out are the details of how it will be financed: The private sector will pay, but the government has urged the airport not to increase landing charges to fund the expansion.
Transport Secretary Chris Grayling told lawmakers that the runway would open in around nine years "on the current timetable." May's spokeswoman, Helen Bower, said the target is to complete the work "as quickly as possible" and that the project is "deliverable by 2030."
Tony Travers, professor of politics at the London School of Economics, said he gives the runway a 70-75 percent chance of being built. "It's more likely to happen now than ever before," he said in an interview. "Which is not the same as saying it will actually happen. The big change is Brexit, and the need to send out comprehensible signals to the rest of the world. This is a comprehensible signal. It shows that Britain is functioning, and London is functioning."
Panel Unanimous
Keen to show the U.K. is open for business after June's vote to leave the European Union, May pushed through a decision that has divided opinion for decades, with unanimity in the committee of ministers that approved the plan.
Ministers with "strongly held views" against expanding Heathrow will be free to speak out against it, in a break from normal practice, though not in Parliament. Foreign Secretary Boris Johnson, who has been the most prominent of those critics, said he doesn't expect the runway to be built. Johnson's successor as London mayor, Sadiq Khan of the opposition Labour Party, said the expansion will be "devastating for air quality."
Heathrow, once on the western edge of London, is now surrounded by suburbs whose residents complain about life under the flight path. Opponents of the plan include politicians whose constituencies will be affected by expansion.
Planning Steps
The government will now set out its proposal as a draft national policy statement and ask for the views of the public and lawmakers. Once the House of Commons has voted, Heathrow will be able to submit a planning application to local authorities, with the transport secretary having the final right of adjudication. Only then can construction start.
The entire process before building begins could take as long as six years, starting with at least two years to develop the national policy statement and get it past legal challenges, according to Duncan Field, head of U.K. planning at law firm Norton Rose Fulbright in London.
"It could then be another two or three years after designation of the NPS before development consent is finally obtained and a further year or more before all legal challenges are exhausted," he said in an e-mailed statement.
While Heathrow remains Europe's busiest airport, indecision over its expansion has seen that lead diminish in recent years as competitors including Frankfurt, Amsterdam and Paris add flights on their multiple runways. Fast-growing hubs further east, including Dubai and Istanbul, are also grabbing a bigger share of the most lucrative long-haul transfer traffic.
Fund-Raising Record
The new runway will benefit the U.K. economy by as much as 61 billion pounds and will create as many as 77,000 extra jobs over the next 14 years, the government said. The private sector will pay for the expansion, and the government said whatever plan the airport and airlines come up with should allow landing charges to be kept "close to current levels."
Heathrow said the expansion will be funded through a combination of equity and debt. "Heathrow is by far the largest wholly privately funded airport in the world and has a strong track record for raising funding globally," it said in an e-mailed statement, pledging to keep charges "close to today's levels." Shares in Ferrovial SA, which owns 25 percent of Heathrow, rose as much as 1.4 percent on news of the approval before falling 0.9 percent.
May's predecessor, David Cameron, put off a decision on Heathrow in December when he said more studies were needed on the environmental impact of a hub surrounded by the urban sprawl of west London and with flight paths over the center of the city. His earlier move to appoint an Airports Commission led by former Financial Services Authority Chairman Howard Davies to adjudicate on expansion had in turn avoided making the runway decision a potential vote loser in the 2015 general election.
Greening, Goldsmith
Cameron had been hamstrung by a "no ifs, no buts" commitment not to expand Heathrow issued in the run-up to the 2010 election, as well as opposition to the plan among prominent figures in his own party, including Justine Greening, the education secretary, and Zac Goldsmith, the conservative candidate in London's last mayoral election, whose constituencies are under the flight-path, as well as Johnson.
Late on Tuesday, Goldsmith resigned his Richmond Park seat in the House of Commons, honoring a previous pledge to force a by-election if Heathrow was expanded. He earlier told lawmakers that the government "has chosen a course that is not only wrong, it is doomed" and that the decision would be "a millstone around this government's neck for many, many years to come."
Johnson, whose own plan for a new hub airport in the Thames estuary was rejected by the Airports Commission, told Sky News television that he doesn't expect the new runway to be built and said that if it does, London risks becoming a "city of planes."
"No other world city would dream of subjecting so many people to more noise pollution," he said.