Lilly Profit Falls Short as Humalog Insulin Sales Disappoint
By
Third time in four quarters that earnings lower than expected

Cialis, Humalog, Jardiance revenue misses analysts' estimates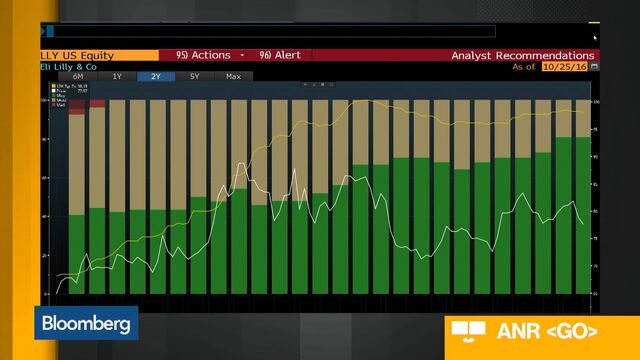 Eli Lilly & Co. posted third-quarter profit that missed analysts' predictions after disappointing sales from both its best-selling treatment, the blockbuster Humalog insulin, and newer products like diabetes pill Jardiance.
Earnings excluding some items were 88 cents a share, the company said Tuesday in a statement, compared with the 96-cent average of estimates compiled by Bloomberg.
It was a transition quarter for Lilly, as John Lechleiter prepares to step down as chief executive officer after 35 years with the Indianapolis-based company and investors wait for trial results of a promising Alzheimer's drug later this year. His successor, David Ricks, currently senior vice president and president of Lilly Bio-Medicines, takes over on Jan. 1.
The shares were little changed at $77.50 at 11:07 a.m. in New York.
'Not Disappointed'
Analysts have been optimistic about Lilly's future. The drugmaker is developing a diverse group of products with potential in diabetes, oncology and immunology that may help make up for weakening sales from drugs that lost patents in recent years, such as the antipsychotic treatment Zyprexa and the antidepressant Cymbalta.
"We are not disappointed," Lechleiter said on Bloomberg TV. "Our pipeline keeps flowing," he said, adding Lilly could end up having as many as 20 new drugs approved in the 2014-2020 period.
It's the third time in four quarters that earnings are lower than analysts predicted. The biggest miss was Humalog, whose revenue fell 9 percent to $641 million, short of the $738 million estimate by analysts. Revenue slumped 14 percent in the U.S., partly because of lower prices. More products passed through government health-insurance programs like Medicare and Medicaid -- which are less profitable than private insurance plans for drugmakers -- and pricing volatility could continue, Enrique Conterno, president of the diabetes division, said on a conference call with analysts.
Sales of Jardiance, a product Lilly is relying on to help drive future growth, tripled to $48 million, but were "clearly below what we were expecting," Chief Financial Officer Derica Rice said in an interview. Revenue was also well below the $62 million predicted by analysts.

Several other drugs, old and new, fell short of analysts' estimates during the quarter. Erectile dysfunction pill Cialis, Lilly's second-best selling product, totaled $588 million in sales, while analysts anticipated $595 million. The psoriasis treatment Talz was also lower than anticipated at $33 million in sales.
Jardiance sold $48 million, lower than the $62 million average estimate. Along with diabetes treatment Trulicity and Humalog, Jardiance remains a key piece of Lilly's future despite the lower-than-expected third-quarter results. Lilly expects a decision by Dec. 4 from the U.S. Food and Drug Administration for an expanded label that says Jardiance helps reduce the risk of death from cardiac events, Conterno said on the call. It would be the first diabetes treatment to carry such a claim.
The Lilly drug that investors and analysts are watching most closely hasn't even launched. The company is wrapping up a large, final-stage clinical trial of its experimental Alzheimer's treatment, solanezumab, after two earlier trials failed. Researchers have seen the final patient in the trial, and Lilly confirmed Tuesday that it plans to announce results before the end of the year.
If successful, the high-risk, potentially high-reward bet would be the first major advance in treating Alzheimer's in a decade and could generate sales in the billions of dollars, according to analysts. More than 5 million Americans suffer from the disease.
More highlights from the third quarter:
Net income fell to $778 million, or 73 cents a share per share, from $799.7 million, or 75 cents, a year earlier.
Lilly reduced 2016 GAAP earnings forecast to $2.66 to $2.76, from $2.68 to $2.78 previously; raised its 2016 sales outlook to $20.8 billion to $21.2 billion, from $20.6 billion to $21.1 billion.
Trulicity sales were $244 million versus $249 million projection from analysts.

Lung cancer medicine Alimta $570 million versus estimates of $552 million.
Insulin treatment Humulin $322 million versus estimates of $318 million.
Osteoporosis drug Forteo $391 million versus estimates of $366 million
Sales of animal health division fell 9.3 percent to $706 million.
— With assistance by Katherine Doherty
Before it's here, it's on the Bloomberg Terminal.
LEARN MORE