French Front-Runner Doesn't Care If Reforms Make Voters Hate Him
by
Juppe tops polls ahead of Republican primary in November

Bordeaux mayor promises painful reforms to reboot economy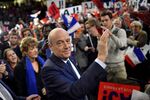 For two decades, the French wine capital of Bordeaux was a giant construction site, and its residents blamed Mayor Alain Juppe.
They cursed him for the chaos that saw entire neighborhoods blocked by excavators as he built a tram network, a giant bridge, a ring road and new riverside parks. But for all the griping, he kept the support of voters. Fifty-one percent backed him in 2001, 56 percent in 2006. By the time he won 61 percent in 2014, the city was transformed.

Now Juppe is offering voters that story as proof he can deliver on the national stage.
After a lifetime in politics, the 71-year-old conservative is the front-runner in the 2017 presidential race with the familiar promise of painful reforms to reverse the country's growing gap with its euro-zone peers in terms of growth and employment. That was what Nicolas Sarkozy promised as he won power of a much healthier French economy in 2007, though that plan was swept away by the financial crisis.
"There is nothing disruptive in what he offers France, but he gives voters the impression that he's not fooling them around with flashy promises," Emmanuel Riviere, head of pollster Sofres-Kantar Public in Paris, said in an interview. "Voters credit him with competence, calmness and solidity, traits they saw as lacking in the last two presidents."
One Term Only
To underline his commitment to reform, regardless of the political cost, the classical-music fan is planning for a one-term presidency with the slogan, "One President, One Mandate." If he wins, Juppe will be the oldest Frenchman to take office as president.
"There's a Juppe method: impose his plans and leave no room for any dissonant voice," said Michel Martial, 59, a pharmacist in Bordeaux who has led local opposition to the mayor's tram project. "The cure he'll force on French people nationwide is going to be virulent."

The candidate's two years as prime minister from 1995 give a sense of how that might play out. Then, President Jacques Chirac handed his protege the unenviable task of fixing the country's health care and pensions systems while cutting the budget deficit to qualify for Europe's monetary union, and Juppe seized the gauntlet.
The country was paralyzed by weeks of street protests that forced him to ditch his pensions fix, but he stuck to his guns over health care and the budget. Those reforms eventually generated a windfall for the French state but by then Juppe was gone, his party kicked out of government in the 1997 legislative elections.
Asked at a Paris conference on Oct. 11 what he'd do if his presidency provoked a similar backlash, Juppe's answer was simple: "We'll hold firm."
Among Juppe's favorite composers is Hector Berlioz, a romanticist of monumental ambition, who struggled to get the recognition he felt he deserved from French audiences for much of his lifetime.
Clinton Joke
Juppe is just as comfortable with the international elite is he is among the French establishment. He was heading the French Foreign Ministry in 2011 when U.S. Secretary of State Hillary Clinton visited Paris and she mistakenly called him Mr. President during a press conference.
"He's been everything but president," she joked at the time, correcting her error. "I haven't either, so we have something else in common." 
With Clinton leading in the polls before November's presidential vote in the U.S., she and Juppe might have more shared experiences to reflect on next time they meet.
Before that though, Juppe has to see off the challenge of Sarkozy, the 61-year-old former president, for his Republican party's nomination. Where Juppe promises budget discipline, Sarkozy is indifferent to European Union spending rules. While Juppe says immigrants are welcome so long as they obey the law, Sarkozy rails against the threat to French traditions, borrowing the rhetoric of National Front leader Marine Le Pen, who wants a referendum on EU membership.
The veteran is firm favorite with voters overall, as polls show they are more worried about the economy than security. But the narrower, less predictable electorate for next month's primary gives Sarkozy's more populist approach a chance.
Planning Cuts
The detail of Juppe's policy plan includes up to 100 billion euros ($110 billion) in spending cuts, pension reform (again), more flexibility in jobs contracts and an end to the 35-hour workweek. He'd also reduce payroll and corporate taxes to bring the burden on French companies in line with its European neighbors.
"What matters to me is that the next French president is in favor of the free market, someone who believes business rather than the state can get the economy moving," said Xavier Niel, the founder of telecoms company Iliad SA, where Juppe aide Virginie Calmels sits on the board. "I just think Juppe is good for entrepreneurs. He is likable and yes, he is blunt."
A reputation for being not just blunt, but cold and aloof, worked against Juppe after he left office, when he was entangled in a corruption probe and eventually given a suspended jail sentence for paying party workers with public money.
But he embraces it all the same. In a television documentary broadcast Oct. 3, he was asked for his response to those who say he is traditional and arrogant. "They should p*ss off," he said.
Last Chance
For the past two election cycles Juppe has bided his time. In 2007 he believed his reputation was still tarnished by his corruption conviction and in 2012 Sarkozy was the conservative incumbent. This time he's aimed to get out ahead of the field.
Sitting on the wooden deck of their house near the Atlantic coast in the summer of 2014, he told his wife Isabelle he was going to run. And since then he's cultivated a tough-yet-moderate image in contrast to Sarkozy's rabble-rousing. Juppe cites the French Enlightenment philosopher Montesquieu to justify his approach, contrasting the "discipline" of moderation with "easy" extremism.
"What draws me to Juppe isn't just what I believe he can do economically to set in motion much overdue reforms, but what he says about what it means to be French," said Ross McInnes, the French-Australian chairman of Safran SA, France's biggest military hardware maker. "I can relate to that. That's my story."
Before it's here, it's on the Bloomberg Terminal.
LEARN MORE