Hammond Sees No Reason to Refuse Future BOE Requests for More QE
By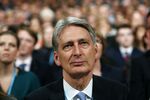 Chancellor of the Exchequer Philip Hammond put paid to speculation the government would seek to interfere in monetary policy by telling lawmakers he saw no reason why he'd refuse a request by the Bank of England for further quantitative easing.
"No request for quantitative easing has ever been refused and I see no reason
why circumstances would be different in future," Hammond said. While he said he couldn't pre-judge the decision, he noted stimulative monetary policy has been "highly effective in supporting the economy."
Hammond's words are an attempt to soothe recent tensions with the BOE after Prime Minister Theresa May said on Oct. 5 that loose monetary policy had had negative consequences. Governor Mark Carney retorted the following week, saying central bankers wouldn't "take instruction on our policies from the political side."
The BOE is required by law to ask for permission from the Treasury before buying bonds. Carney last requested an extension of the bank's QE program in August as he sought to cushion the economic impact of Britain's vote to leave the European Union.
May's office stressed this month that the prime minister was fully committed to central bank. Hammond further backed this, saying "the operation of monetary policy in the U.K. is independent of government."
— With assistance by Lucy Meakin
Before it's here, it's on the Bloomberg Terminal.
LEARN MORE