GM Record Results Fail to End Investors' 'Peak Auto' Unease
By
Shares decline on prospect industry sales have plateaued

Earnings top estimates on demand for U.S. SUVs, China luxury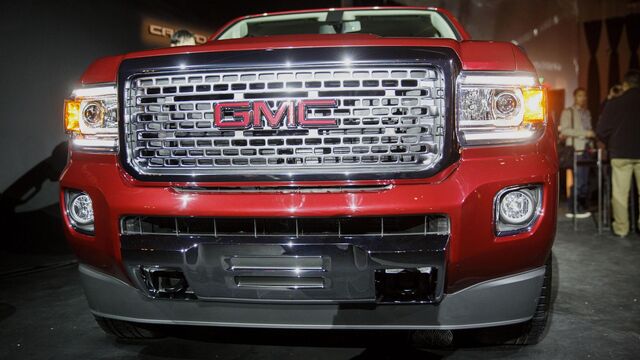 General Motors Co. posted third-quarter profit and sales that set records and beat analysts' estimates -- and still underwhelmed investors who have a nagging feeling that the industry's heydays are over.
GM shares dropped the most since Aug. 2, largely on the same concern that has vexed automakers throughout 2016: that industrywide U.S. sales are about to plateau after a record six years of gains. In addition, GM said Brexit-related issues are undermining its plan to break even in Europe this year. The stock fell 4.2 percent to $31.60 at the close in New York.
"Investors must think this is as good as it gets and that it's peak auto," said David Whiston, a Morningstar Inc. analyst who has a buy rating on the stock. "It's frustrating because GM doesn't deserve to be down this much."
The results were strong enough for GM to predict full-year earnings near the top of its previously announced range. Powered by demand for light trucks in the U.S. and luxury vehicles in China, net income more than doubled to $2.8 billion while revenue jumped 10 percent to $42.8 billion, GM said in a statement Tuesday. Adjusted earnings of $1.72 a share exceeded the $1.47 projected by analysts in a Bloomberg survey.

Talk of a possible plateau has kept automakers underperforming the S&P 500 index, and shares declined broadly in the industry today. GM had dropped 3 percent and Ford Motor Co. 13 percent this year through Monday, compared with a 5.3 percent rise for the benchmark index. Ford, which reports Thursday, said last month that financial results will decline in 2017. Fiat Chrysler Automobiles NV's shares also slipped today after the company raised its 2016 profit forecast for the second time this year.
GM Outlook
GM said it now expects full-year adjusted earnings near the high end of its previously stated range of $5.50 to $6 a share.
The market has hit a plateau, Chief Financial Officer Chuck Stevens told reporters. One issue for investors is that GM got almost all of its earnings before interest and taxes in North America in the quarter. GM's U.S. sales fell 2.6 percent to about 773,000 vehicles, according to Autodata.
Even if there is a slowdown, GM may be able to grow profits next year, Stevens said. The company took out $1 billion in costs in the first nine months of the year and will be bringing several new sport utility vehicles to market that can keeps its margins in North America above 10 percent.
"Over the next 12 to 18 months, we're going to replace all of our compact crossover SUVs and the balance of our mid-sized crossover SUVs," he said. "Those are very profitable products."
Regional Performance
Demand for high-margin SUVs in North America drove GM's performance, along with Chinese buyers' increased appetite for pricey models from the Cadillac and Buick brands. North American earnings before interest and taxes rose about $200 million to $3.5 billion, also the best ever for the period. One reason is the company's strategy of increasing sales to individuals, which have higher margins than fleet deliveries.
In the U.S., GM has benefited from stable sales and better pricing on its cars, which have transaction prices $5,000 higher than the average competitor. That has pushed EBIT margins in its North American business to 11.2 percent, which is also the best-ever for the automaker. At Chevrolet, sales to retail customers rose 2 percent from the year-earlier quarter.

Europe and South America continue to be trouble spots, and Stevens told reporters that Brexit has derailed GM's push to make a profit in Europe business this year. Even so, GM was able to pare losses in Europe to $142 million in the quarter from $231 million a year earlier. South America lost $121 million, compared with $217 million a year ago.
The company had said in July that the U.K.'s plan to exit the European Union could cost it $400 million in this year's second half, as an expected drop in demand hits its British Vauxhall brand. Currency fluctuations related to Brexit cost GM $100 million in the third quarter, meaning the remaining $300 million may come in the fourth quarter.
"The pound sterling has deteriorated further, which creates another headwind for us," CFO Stevens said. "Breaking even this year is going to be very challenging."
Brexit Effects
To counter the Brexit effects and try to reach its goal of breaking even this year in Europe, GM is looking at cost cuts and raised vehicle prices by 2.5 percent in the U.K. starting Oct. 1, Stevens said. "We will look across all aspects of the business and take whatever action is
necessary to get the business back on track," he said.
Equity income from China, where its operations are run as joint ventures with local automakers, held steady at $459 million compared with $463 million in the same quarter last year. China vehicle sales rose 9 percent to a record 2.7 million so far this year, and profitable crossover SUVs like the Buick Envision and Cadillac XT5 are making gains.
Cadillac sales jumped 79 percent in the region from the year-earlier quarter.
Before it's here, it's on the Bloomberg Terminal.
LEARN MORE