Fiat Boosts Profit Target as Jeep Boom Fuels Fatter Margins
By and
Full-year profit forecast raised for the second time this year

Maserati earnings surge on demand for the new Levante SUV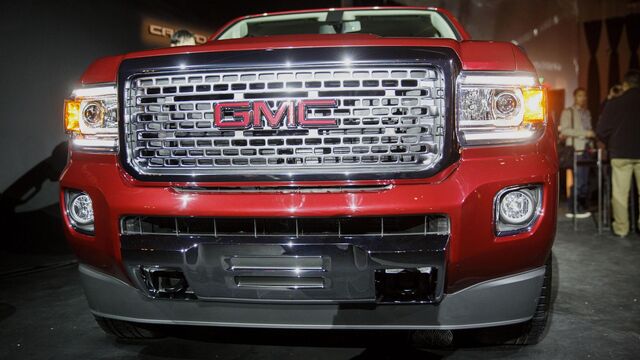 Fiat Chrysler Automobiles NV raised its 2016 profit forecast for the second time this year, boosting the target after third-quarter earnings jumped 29 percent on the Jeep brand's global expansion.
The automaker, which generates the lion's share of its profit in North America, is bracing for slowing growth in the U.S. by shifting production to higher-margin pickup trucks and sport utility vehicles and away from small cars. The strategy is bearing fruit as profit rose last quarter despite a decline in deliveries, prompting Fiat to increase its forecast for full-year adjusted earnings before interest and taxes by 300 million euros to at least 5.8 billion euros ($6.3 billion).
"Profit margins were quite encouraging," said Stuart Pearson, a London-based analyst with Exane BNP Paribas. "The raise to the guidance is helpful but the expectation for that to happen was already there."
Fiat shares rose 0.6 percent at 5.93 euros at 4:41 p.m. in Milan. The stock has tumbled 30 percent this year, valuing the company at 7.6 billion euros.
Amid delays in plans to expand Alfa Romeo, Jeep has been bankrolling Fiat's growth. Third-quarter profit surged 29 percent to 1.5 billion euros, as Jeep sales rose 3 percent, while total deliveries slipped 1 percent. The company expects the offroad nameplate's 2016 deliveries to increase about 17 percent to 1.45 million vehicles as it boosts production in China and Brazil. Its target is to expand annual sales to more than 2 million vehicles within two years from 338,000 in 2009. 
The shift away from low-margin cars like the Chrysler 200 and Dodge Dart caused North America shipments to tumble 8 percent, bolstering profit in the region to 7.6 percent of sales from 6.7 percent a year ago. Overall, the company's margin climbed to 5.6 percent from 4.3 percent.
Maserati Gains
Earnings in Europe, where the compact Jeep Renegade is assembled, surged to 104 million euros from 20 million euros. Luxury marque Maserati posted profit of 103 million euros, compared with just 12 million euros a year ago, as shipments surged 54 percent on the rollout of the new Levante SUV.
Fiat Chrysler also increased its forecast for 2016 adjusted net profit to more than 2.3 billion euros from at least 2 billion euros. The company reaffirmed its goal of reducing net industrial debt to less than 5 billion euros. The figure rose to 6.51 billion euros at the end of September from 5.47 billion euros a year earlier.
Fiat Chrysler's operational performance has become even more crucial after Chief Executive Sergio Marchionne, gave up on a pursuit of a merger with General Motors Co. and other deals have been a struggle. When asked about stalled talks with Samsung Electronics over a partnership with its car-parts business, Marchionne said no deal is expected by the end of the year.
Before it's here, it's on the Bloomberg Terminal.
LEARN MORE