markets
Even Tata CEOs Said to Be Kept in Dark Over Chairman Ouster
By , , and
Ratan Tata returns as interim chairman to fill in for Mistry

Mistry had been pushing group to be more fiscally prudent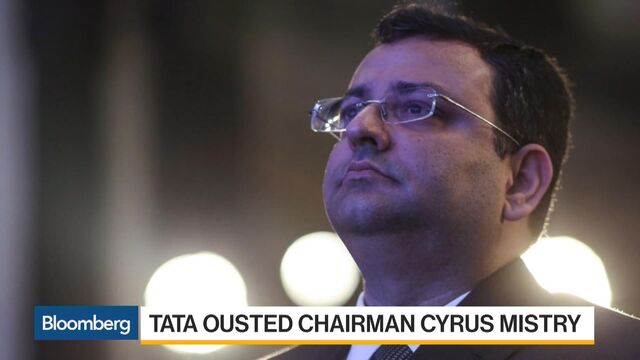 A day after Tata Group abruptly ousted its chairman, heads of the businesses under India's largest conglomerate are still in the dark about what prompted the dismissal.
Ratan Tata, who took over as interim chairman after Tata Sons Ltd. ousted Cyrus Mistry, met with chief executives of most businesses, according to a statement from Tata Sons. Tata didn't disclose the reason for the sudden removal of Mistry at the 25-minute meeting, even though he said the group will honor all commitments made by the ousted leader, according to a person with direct knowledge of the matter, who asked not to be identified as the discussions were private.
The removal of 48-year-old Mistry on Monday signaled an end to his push to transform Tata Group into a more prudent enterprise than the globetrotter that bought Jaguar Land Rover and steelmaker Corus Group Plc under Ratan Tata. As yet, there is little indication of what changes may be afoot under the 78-year-old Ratan Tata during the search for a more permanent successor. Analysts from CLSA Asia-Pacific Markets to Nomura Holdings Inc. said the changes may delay Tata Steel Ltd.'s efforts to revamp its European steel operations.
"This will not get solved overnight," said Sanjiv Bhasin, executive vice president at Mumbai-based brokerage India Infoline Ltd. "It is an ego battle. It will dampen the sentiments of local as well as foreign investors."
For a QuickTake Q&A on Tata Group, click here.
Most group units fell in Indian trading on Tuesday, though some Tata companies such as Tata Teleservices Maharashtra Ltd. climbed as much as 9.3 percent. Tata Consultancy Services Ltd., the group's largest subsidiary, fell 1.2 percent in Mumbai.
"The companies must focus on their market position vis-à-vis competition, and not compare themselves to their own past," Ratan Tata said in the statement on Tuesday. "An institution must exceed the people who lead it."
Tata Sons in a separate statement on Tuesday named Tata Consultancy's Chief Executive Officer N. Chandrasekaran and Jaguar Land Rover Chief Executive Officer Ralf Speth to its board "in recognition of their exemplary leadership in their companies."

Of the nine Tata Sons board members, six voted to oust Mistry, two abstained, while Mistry opposed the decision, according to people with knowledge of the matter, who asked not be identified because the information was private.
Tata Sons also plans to disband Mistry's advisory council, the people said. A spokeswoman for Tata Sons declined to comment beyond the company's two-paragraph statement. Ratan Tata didn't respond to an e-mail seeking comment. Attempts to reach Mistry weren't successful.
To read a Gadfly column on the Tata ouster, click here
Ratan Tata multiplied group revenues to $100 billion from 100 billion rupees ($1.5 billion) in 1991. He also increased debt 11-fold in his final 10 years as he expanded abroad, acquiring European steelmaker Corus Group Plc and marquee brands such as Land Rover, Jaguar, Tetley tea and New York's Pierre hotel.
Mistry was unwinding some of the expansion. Tata Steel Ltd. said in March that it would consider selling its U.K. operations after years of losses. Tata Power Ltd., which posted a full-year profit in March 2015 after three years of losses, plans to sell its stakes in Indonesian coal mines. Tata Communications Ltd. and Indian Hotels Co. are among other units looking to offload overseas assets to help pare debt.
Tata Sons is also fighting a legal battle with NTT Docomo Inc., its estranged partner in an Indian telecom venture. The closely held holding company has created a panel that includes Ratan Tata to find a new chairman within four months.
To read more about why India's making life hard for Docomo: QuickTake Q&A
The Shapoorji Pallonji Group, run by Pallonji Mistry, Cyrus' father and the largest individual shareholder in Tata Sons, said in an e-mail on Tuesday that "while the circumstances are being studied, there is no basis to media speculation about litigation at this stage." 
Mistry's office in a separate statement the same day said the Tata Group has filed a caveat at the law tribunal, which means the group seeks to be notified before any legal action is taken against it by Mistry. A Tata Sons spokesperson declined to comment on the matter when reached by phone.
"Cyrus has not filed any caveats," Mistry's office said. "He has already made a statement that such concerns are misplaced at this stage."
— With assistance by Anurag Kotoky, Rajhkumar K Shaaw, and Jeanette Rodrigues
(
Updates with names of new Tata Sons' board members in seventh paragraph.
)
Before it's here, it's on the Bloomberg Terminal.
LEARN MORE