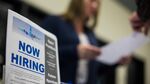 As Americans head to the polls to vote early for a new president, researchers have been taking a keener look at the economic side of U.S. politics.  
Socioeconomic indicators influence engagement with the political system, a new paper from Germany's ZEW finds. Financial markets have been gyrating in response to election-related indicators, based on a Brookings Institution paper. And as candidates pledge to bring American jobs back, labor economists take a look at where they've gone. 
While U.S. election-relevant research makes up the backbone of this week's economy roundup, we're not ignoring the rest of the world — read to the end for studies on the natural interest rate in Japan and the possibility of a yuan bloc in Asia. Check this roundup each week for the latest on interesting and influential global economic research.   
Land of opportunities?
All Americans have equal rights under the law, but not all have equal access to political participation, according to a new study by the ZEW Center for European Economic Research in Mannheim, Germany.
Researchers Paul Hufe and Andreas Peichl looked beyond voting to other hands-on experiences of political involvement — from membership in parties to the chance of meeting face-to-face with officials — and concluded that a big part of whether this happens or not is the consequence of factors beyond an individual's control, such as social and family background. The results are something to ponder as this election season nears its end.
"Political participation is almost like a natural lottery," says Peichl, calling the U.S. a "land of limited opportunities."
Beyond Equal Rights: Equality of Opportunity in Political Participation
To be published October 2016
Released early to Bloomberg, will be available on the ZEW website
Financial markets might fear a Trump presidency
Traders expect that if Republican presidential nominee Donald Trump wins the race, it would reduce the value of the Standard & Poor's 500 and the U.K. and Asian stock markets by between 10 percent and 15 percent, based on a new study by University of Michigan economist Justin Wolfers and Dartmouth College's Eric Zitzewitz. If Democrat Hillary Clinton is victorious, oil prices would be $4 a barrel higher, and the Mexican peso would be worth nearly 30 percent more.

The economists reach their conclusions based on movements in asset prices during the first Sept. 26 presidential debate, during which prediction markets saw a more likely chance of victory by Clinton.
"Market movements over the October 7-9 weekend, during which a tape was released that prompted many Republicans to withdraw their endorsements of Trump, tell a largely consistent story," the authors write. The tapes caught Trump in vulgar conversations about women. 
What do financial markets think of the 2016 election? 
Published Oct. 20, 2016
Available at the Brookings Institution website
Recessions and robots
Markets might doubt Trump, but many Americans like him — perhaps because they believe him when he promises to bring back lost jobs. New NBER research offers some insights into what happened to many of those positions. 
In areas hit hard by the Great Recession, companies restructured their production to make greater use of machines or outsourced labor and higher-skilled workers, based on an analysis of  87 million online job postings in the U.S. between 2007 and 2015. Estimates suggest that ads in hard-hit areas were about 3 percentage points more likely to state requirements for cognitive and computer skills, for example.
Why did this happen? In better economic times, workforce adjustments cost a lot. Recessions can produce a shock that overcomes those frictions, and "firms may have treated the recession as a time of cleansing." 
Do Recessions Accelerate Routine-Biased Technological Change? Evidence From Vacancy Postings
Published October 2016
Available on the NBER website
Japan's natural interest rate is at rock-bottom, too.
America is dealing with some economic headaches, but it's not alone. Research by San Francisco Fed President John Williams and his co-authors has previously shown that central banks are facing much lower interest rates than in the past in the U.S., U.K., euro area and Canada. Now you can officially add Japan to the club. 
The interest rate at which monetary policy is neither stoking nor slowing economic activity and prices is currently about flat once adjusted for inflation, based on new research from the Bank of Japan's Monetary Affairs Department. The rate has been on a downward trend since the 1990s, the authors find, as the nation's potential growth rate slowed. The BOJ has pushed rates into negative territory, so policy is easy now, but a lower neutral setting makes stimulating the economy that much more difficult. 
Developments in the Natural Rate of Interest in Japan
Published October 2016
Available at the Bank of Japan website
The outlook for an Asian RMB bloc
Asia remains a region of diverse financial regimes, but China has pushed and succeeded at internationalizing the renminbi since the 2008 global financial crisis, Columbia University's Takatoshi Ito writes. Because the country is expected to continue to grow relative to advanced countries, "the weight of RMB in the financial markets will increase globally as well as regionally in the foreseeable future."

He predicts that Chinese government development-assistance initiatives including the Asian Infrastructure Investment Bank could give the RMB "the chance to become a regional reserve currency, such as the euro, if not a global one."
This is hardly the first paper on the yuan's potential and progress: The International Monetary Fund included it in its elite basket of global reserve currencies earlier this year, intensifying interest in the topic. Here's a slightly more skeptical take from State Street. 
A New Financial Order in Asia: Will a RMB bloc emerge?
Published October 2016
Available on the NBER website


Before it's here, it's on the Bloomberg Terminal.
LEARN MORE