Egypt's EFG-Hermes Opening New York Office as Auerbach Link Ends
By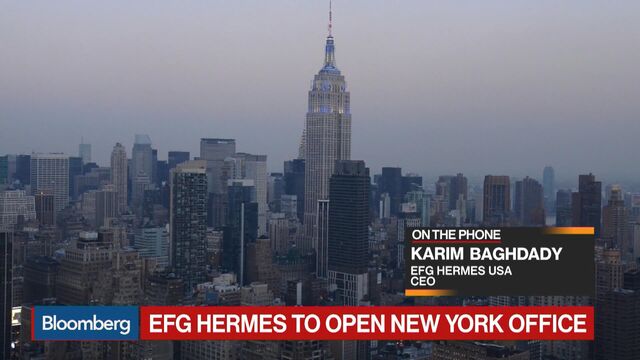 EFG-Hermes Holding SAE, the largest independent Arab investment bank, plans to open a New York office to serve institutional clients in the U.S. as links end with Auerbach Grayson & Co. in the country.
The bank is seeking regulatory approval for the office and hired Karim Baghdady to be chief executive officer of EFG-Hermes USA, according to an e-mailed statement sent Tuesday. The new office will serve U.S. clients seeking access to markets in the Middle East and North Africa and other frontier markets, the bank said, adding that ties with Auerbach -- a brokerage which specializes in foreign stocks -- have ended with immediate effect.
EFG-Hermes is expanding in the U.S. after Saudi Arabia -- one of the eight MENA markets that it covers -- drew almost $70 billion of demand for its debut international bond, with the Americas accounting for almost half the orders placed for the five-year tranche. Saudi Arabia is also working to attract more investors to open up its equity markets to foreigners, including the loosening of restrictions on investing in initial public offerings and stocks.
The new office will "better serve and grow our extensive roster of brokerage clients through our on-ground presence in eight regional markets," EFG-Hermes Chief Executive Officer Karim Awad said in the statement. It will also "serve as a base for the potential growth of our asset management business across the United States," he said.
EFG-Hermes also earlier this year entered the Pakistani market after agreeing to buy 10.2 million shares of Invest & Finance Securities at 15 rupees a share.
Baghdady was most recently director of international sales at CI Capital, where he led the firm's presence in North America. In an interview with Bloomberg Television in Dubai on Tuesday, he said that U.S. clients are interested in the Middle East's growth potential and that the bank's U.S. operations would focus on frontier markets.