Dreamworld Closed Indefinitely as River Ride Deaths Probed
By
Four people die after Australia water-ride raft flipped over

Theme-park operator Ardent Leisure shares plunge up to 22%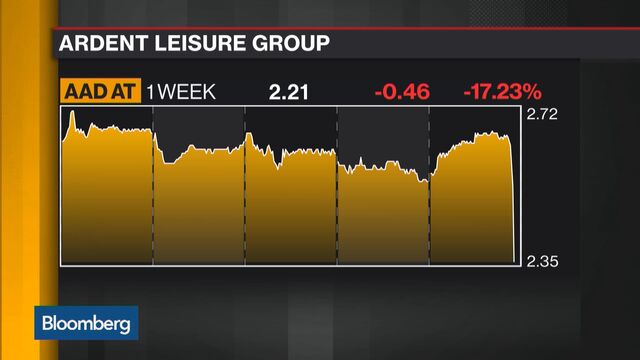 Ardent Leisure Group's Dreamworld, the biggest theme park on Australia's Gold Coast, will remain closed until further notice as police investigate a water-ride accident that killed four people. Shares in Ardent tumbled as much as 22 percent.
Two men and two women died Tuesday when a raft flipped over at the end of the Thunder River Rapids ride, trapping some of them in machinery, Queensland Police Assistant Commissioner Brian Codd told reporters. Two girls, aged 10 and 13, escaped from the raft.
"It's almost a miracle that anyone came out of that," Codd said Wednesday after viewing closed-circuit television footage of the incident. It's a "horrible, horrible tragedy."
With engineers set to examine the equipment Wednesday, Codd said the ride was a crime scene and would be closed for two to three days. The tragedy is the most lethal theme-park accident in Australia in almost 40 years and triggered concerns of a tourism slowdown in the region. Analysts sliced their profit forecasts for Sydney-based Ardent.

After plunging 7.8 percent in Sydney trading late yesterday, Ardent fell a further 7 percent at 11:07 a.m. in Sydney on Wednesday. The decline has eroded the company's market value to A$1.02 billion ($780 million). Dreamworld accounts for about 28 percent of Ardent's total earnings, according to Morgans Financial Ltd.
"Negative customer sentiment is highly likely," Morgans analyst Josephine Little said in a note to clients, cutting her recommendation on Ardent Leisure stock to hold from add. Little forecast theme-park revenue and operating profit at Ardent would decline by 20 percent and 33 percent respectively in the 2017 financial year.
Main Event
Queensland state Premier Annastacia Palaszczuk Wednesday appealed to the public not to defer holiday plans to the Gold Coast because of the tragedy. The region, known for its beaches and surf, is visited by 1.8 million people a year.
Ardent Leisure also owns and operates the SkyPoint observation deck in Queensland, Kingpin bowling centers and 76 health clubs across Australia. Its assets also include 27 Main Event family entertainment sites in the U.S., according to the company's latest annual report.
The Thunder River Rapids ride propels up to six people at a time down a foaming water track at up to 45 kilometers an hour (28 miles an hour), according to Dreamworld's website. The raft flipped backwards after colliding with another raft. Two women, aged 42 and 32, and two men, aged 38 and 35, died at the scene, police said.
Police are in talks with Dreamworld over how long on the entire park will be shut, Codd said.
Lengthy Investigation
"These types of investigation are not quick, they take a lot of time," he said. "It's absolutely vital that we get to the bottom of all aspects of this tragedy.''
Dreamworld said in a statement late yesterday that its "concern now is to support the families of the victims and to provide appropriate counseling to our visitors and staff"
Previous theme park accidents have had material consequences for their operators. In the U.K., Merlin Entertainments Plc, operator of the Alton Towers theme park in central England, was last month fined 5 million pounds ($6.5 million) by a court over a roller coaster crash last year that caused two people to lose limbs.
Attendance at Alton Towers fell as much as 30 percent after the incident, which occurred at the start of the peak season, Citigroup Inc. said in note to clients. The bank forecast a decline in Dreamworld visitor from last year and higher maintenance costs for Ardent. Citigroup cut its rating on Ardent stock to neutral from buy.
There will be "significant negative earnings implications'' for Ardent, Ord Minnett Ltd. said in a note to clients on Wednesday.
A fire on June 9, 1979 at Luna Park in Sydney destroyed the amusement park's ghost train and killed six children and one adult. The fire forced the park to close until 1982, when it reopened under new owners.
Before it's here, it's on the Bloomberg Terminal.
LEARN MORE