markets
Draghi in Berlin Asks for Action to Reverse Long-Term Rate Slide
By and
ECB President says that reforms are required to boost growth

Draghi cites evidence against claim policies worsen inequality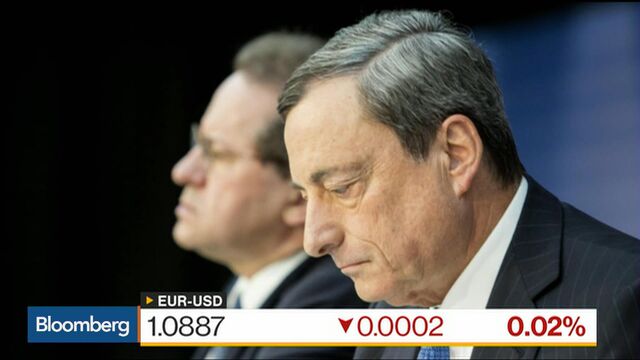 Mario Draghi used his second appearance in Berlin in a month to drive home his message that a three-decade slide in long-term interest rates can only be properly arrested with the help of governments.
The "type of actions we need, if we want interest rates at higher levels, are those that can raise the natural rate," the European Central Bank president said on Tuesday. "And this requires a focus on policies that can address the root causes of excess saving over investment -- in other words, fiscal and structural policies."
Having been the focus of increasingly sharp criticism in the German media and from some political parties that accuse him of hurting savers through low-rate policies, the ECB president mounted a detailed defense of his monetary policy and pushed the blame for low returns firmly elsewhere. Draghi said slower productivity growth, aging societies and an excess of saving have all contributed to driving rates lower.

Though the ECB would preserve its monetary accommodation to help the economy remove spare capacity and bolster inflation, other actions are needed, he said at an event hosted by the German Institute for Economic Research.
It is "clear that the more other macroeconomic stabilization policies work alongside monetary policy, the faster the closure of the output gap will be," Draghi said. Governments in the 19-nation euro area need structural reforms to improve productivity as well as "investment-friendly" tax and regulatory policies.
Parliament Speech
On Sept. 28, Draghi used an appearance at the German parliament to address concerns that savers are being disproportionately disadvantaged by monetary policy and gave a rare interview on national television. Newspapers including Die Zeit and Handelsblatt still ran articles in the past two weeks claiming that rising inflation next year is set to erode savers' purchasing power, while ECB interest rates will likely remain unchanged.
The Bundesbank forecasts an average inflation rate of 1.5 percent in Germany next year -- still below the 2 percent threshold the ECB applies to price growth in the euro area.
Draghi also addressed the accusation that monetary policy has led to a worsening of inequality, by pushing up the prices of assets typically held by the rich. He said that all sectors of society across the wealth spectrum are better off since 2014, as house prices have risen, while bond prices increased modestly and stock prices fell.
He argued that German households have actually become better off since the ECB began credit-easing policies. Draghi strengthened a common argument made by central bankers that their best contribution to economic performance is to keep inflation low. 
"I find it hard to reach the conclusion that, over a longer time frame, the outcome of our policies has been -- or will be -- to redistribute wealth and income in an unfair or unequal way," Draghi said. "We have every reason to believe that, with the impetus provided by our recent measures, monetary policy is working as expected: by boosting consumption and investment and creating jobs, which is always socially progressive."
Watch Next: Draghi Faces a Euro Problem He Can't Solve, Says French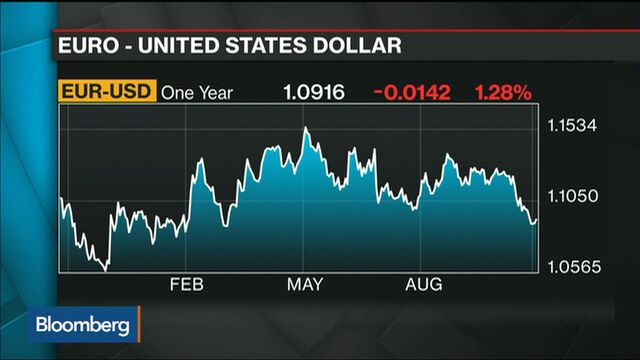 — With assistance by Alessandro Speciale, and Piotr Skolimowski
Before it's here, it's on the Bloomberg Terminal.
LEARN MORE