markets
Developed Markets Are the New Emerging Markets: Goldman's Patel
The switch is on.
By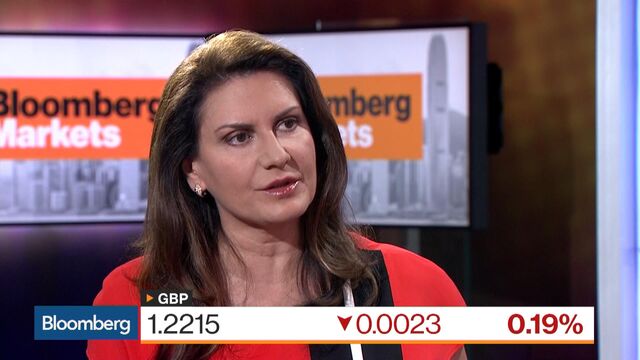 Today's world is defined by volatile developed economies and stabilizing emerging markets.
That's the observation of Sheila Patel, chief executive officer of International Goldman Sachs Asset Management Ltd., who argues that investment strategies should be adjusted to accommodate this topsy-turvy reality.

"When you look at volatility sources they're actually coming from developed markets, whether it's elections, or Brexit, there's quite a bit of uncertainty," she said in an interview with Bloomberg TV on Tuesday, adding the lack of clarity around major central-bank actions to the list.

By contrast, with the recent stabilization in the price of oil, the obvious sources of emerging-market volatility remain in check: "When you come to EM I think you have to continue to look at the stability we're starting to see: China of course is the big one that everyone's watched, been nervous about, and now people have gained a bit more confidence," she said.  

The improved outlook for the world's largest developing economy has helped increase clients' risk appetite. Patel says that in addition to preferring emerging markets to developed ones, Goldman Sachs Asset Management prefers equities to credit. 

While the switch into emerging-market securities depends on a rosier view of China, where Patel says consumer purchasing power remains robust, she advises an approach she describes as "selective," where investors should differentiate "really company by company: it's a place where active is probably making the most sense."

Emerging markets aren't without idiosyncratic challenges. China, for example, is faced with important tasks such as reforming its state-owned enterprises and breaking repeating cycles of bubbles across different asset classes. Still Patel points out that investors, driven by a paucity of developed-market yield, are already scrambling to get their hands on emerging-market assets.
"What do people really need? They need return … At the end of the day, if you can drive alpha through emerging-markets equities, that's return," said Patel. She added that developing debt markets also present promising investment opportunities, and that "Asian fixed income in the years ahead will be critical."
Before it's here, it's on the Bloomberg Terminal.
LEARN MORE