Deutsche Bank Said to Weigh Alternatives to Cash Bonuses
By , , and
Options said to include giving shares in non-core unit or bank

CEO Cryan is seeking to boost capital; no final decisions made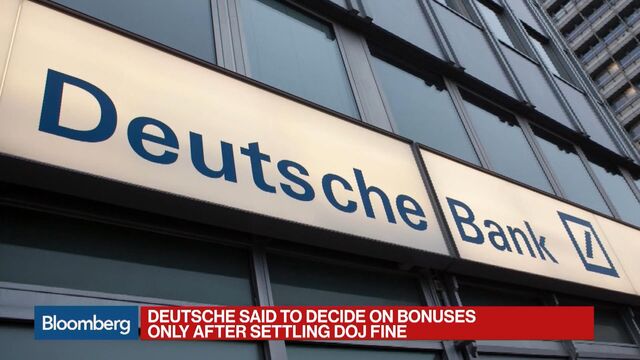 Deutsche Bank AG, Europe's biggest investment bank, is exploring alternatives to paying bonuses in cash as Chief Executive Officer John Cryan seeks to boost capital buffers and shore up investor confidence, according to people familiar with the matter.
Executives at the German lender have informally discussed options including giving some bankers shares in the non-core unit instead of cash bonuses, said the people, who asked not to be identified because the deliberations are private. Another idea under review is replacing the cash component with more Deutsche Bank stock, they said.
"This is something they can try, but they would probably have to expect some resistance from staff," said Andreas Plaesier, an analyst at MM Warburg in Hamburg, who has a hold rating on the stock. "Still, it can be a good way to bind employees to the company."
The supervisory board may discuss the topic of variable pay at a meeting on Wednesday, the day before the firm is scheduled to report third-quarter earnings, though no final decisions are expected, the people said. The measures, if pursued in the coming months, would mostly impact the investment bank, the people said.
The Frankfurt-based lender is still considering other alternatives, they said. Another likely topic of discussion is a full integration of its Deutsche Postbank unit, which had been earmarked for sale, the people said.
A spokesman for Deutsche Bank declined to comment.
For a related article on the Postbank deliberations, click here
Any decision will probably depend on the size and timing of Deutsche Bank's settlement with the U.S. Department of Justice over a probe into the the sale of faulty real-estate securities. Cryan, 55, is trying to reverse a slide in shares that eroded more than 40 percent of the company's market value this year, partly amid concerns about the financial hit from mounting legal costs after the Justice Department initially requested $14 billion to settle the probe.
Deutsche Bank awarded staff 2.4 billion euros ($2.6 billion) of bonuses for 2015, 1.45 billion euros of which was for the combined investment banking and trading unit, according to the bank's annual report. Of the 2.4 billion euros, 49 percent was deferred stock and cash while the remainder was paid out immediately.
Leaving 'Hope'
The bank risks angering staff if it abandons cash incentives entirely, said Alan Johnson, founder of New York-based compensation consultancy Johnson Associates Inc. If the board proceeds, it should at least pay cash bonuses to junior staff and structure something creatively for senior bankers that could dramatically increase in value if the bank recovers.
"They've got low morale already," he said. "The best thing would be to limit the number of people it applies to and give them some hope."
For a look at what to expect in Deutsche Bank's earnings, click here
The idea of handing out stakes in the non-core unit echoes a similar move by Credit Suisse Group AG at the height of the financial crisis, when the Swiss firm used its most illiquid loans and bonds to pay employees' year-end bonuses.
Deutsche Bank has shrunk its non-core operations, reducing the risk-weighted assets of the unit by 80 percent since its inception in 2012 to 27.4 billion euros at the end of June. Cryan accelerated plans to wind down the unit and set a goal in October last year of reducing the RWAs to less than 10 billion euros by the end of 2016. Upon its inception, the majority of the unit's assets stemmed from Deutsche Bank's securities division.
Suspended Dividend
Since taking over in 2015, Cryan has suspended the dividend, reduced bonuses, cut risky assets, frozen new hiring and announced plans to shed some 9,000 jobs. The CEO has already said Deutsche Bank may fail to be profitable this year after posting the first annual loss since 2008 last year.
Asked whether the lender will scrap bonuses for the executive board for a second year, Cryan told Germany's Bild newspaper last month that "nobody has unrealistic expectations."
For a related article on Autonomous examining a bonus freeze, click here
Deutsche Bank is holding informal talks with securities firms to explore options including raising capital should mounting legal bills require it, people with knowledge of the discussions said earlier this month.
"Such considerations make sense given Deutsche's relatively low capital buffers, yet make retaining top staff more of a challenge," said Arjun Bowry, an analyst at Bloomberg Intelligence. "These bonus ideas are not particularly novel -- Deutsche Bank is considering these changes out of necessity."
— With assistance by Kiel Porter, Keith Campbell, Nicholas Comfort, Zeke Faux, and Matthew Monks
Before it's here, it's on the Bloomberg Terminal.
LEARN MORE